10 minutes healthy veggie loaded glass noodles recipe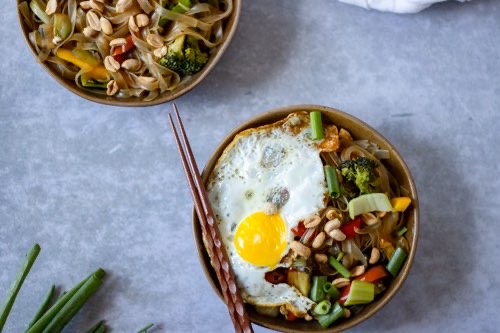 Jump to Recipe
A homemade delicious Pak Choi glass noodle Recipe with lots of vitamins and delicious roasted peanuts, all made in 10 minutes.
I'm really proud of this recipe. Let me tell you why. I really don't like ginger. Not as tea, dessert and for sure not in my warm foods. But there are meals which I have eaten that contain ginger, which were pretty delicious. You have to understand that I love the asian cuisine and they cook with lots of ginger. That's when I knew maybe it isn't the ginger, if not it's how you prepare it.I still don't like the strong taste of ginger and don't want big chunks of it in my food. But sometimes, if you put the right amount of ginger in the dish it creates this sweet and spicy flavor, which gives the food an interesting note.
When I started to cook with ginger, I really sucked at it. I often quit and left it for many months. After years and many recipes later I can finally say I think I have found my own favorite technique of cooking with ginger.
What to know about soy sauce
I can tell you another story about soy sauce. I really love good cooked meals with soy sauce. The soy sauce can add a really unique taste to a meal. I always thought it was easy to cook with soy sauce. Haha, I was so wrong. There are more ways to ruin a dish with this sauce than someone could imagine. I had to learn it myself.
Things happen for a reason. Maybe I should fail, to stay grounded after years in the kitchen and maybe feeling comfy in there. I had to leave the comfort zone of my kitchen and trust the people who are experts in their fields.
Chinese and Japanese people have been cooking with soy sauce for about 2500 years. They mastered their work.
Again after failing, there was always the same thing. I tasted too much salt. Way too much salt. But why ? I researched and found out that like with every ingredient the quality makes a huge difference and the amount you put in the dish.
What should the soy sauce ingredients be?
My favorite kind of soy sauce is Tamari. It only contains soybeans, salt and water. I can work with it best for now, let's see what the future brings. Talking about the quality, I have read an article as I was researching soy sauce and they have interviewed a Chef and expert in this field. He talked about how you can see if the quality of the soy sauce is higher or lower standard.
This hack
was the key for me.
Shake the bottle – if there is lots of foam on the surface that disappears slowly, then it's good quality. If there isn't a lot of foam and it disappears quickly, then it's usually lower standard.

Chef Ken Hom
The Ingredients
Before I created this recipe, I knew it should be colorful. That's actually how I start, most of the time, whenever creating new recipes. Sometimes I just see the colors in my head and have a specific taste in my mouth. Then I go to the kitchen and try to create my imaginary recipe.
As I had a soy sauce taste in my mouth I needed colorful ingredients which harmonize perfectly with the sauce.
Bell Pepper
is the perfect vegetable when it comes to harmonizing with soy sauce. That's why I choose red and yellow bell peppers.
We all know that bell pepper and
broccoli
belong to each other. Perfect, now we have the green delicious ingredient in our picture.
Pak Choi
was the only thing that was missing. I found Pak Choi a few months before creating the recipe and excuse me, how could I sleep on Pak choi. I knew the taste because I had eaten a lot in different authentic asian cuisines but I never saw nor heard of it. As this was my current obsession we had to drive around to 5 different supermarkets to get it , because it was hard to find during the time I wanted to shoot the recipe.
To create a spicy delicious sauce, I used soy sauce, oyster sauce,fish sauce and ginger. Sunflower oil and a sprinkle of sesame oil to have that nut taste, but not too much as it could dominate the dish.
At the end you add sesame seeds, peanuts as much as you like and very important Sweet chili sauce.This makes the recipe heavenly good. I recommend a sweet chili sauce with garlic.
The Recipe is very easy and flexible with the Ingredients
The absolute best thing is the recipe is made in 10 minutes.The noodles only need 3 minutes to cook. During that time you can easily chop the vegetables in the shape you like them the most.
You can also add more Bell Pepper or Broccoli or as I did the other day add extra Pak Choi because I was craving it. If you have vegetables like
mushrooms
or
eggplants
in your pantry which you want to use, feel free.
If you're not able to buy Pak Choi, use
Chinese cabbage
and
onions
instead, they work really well too.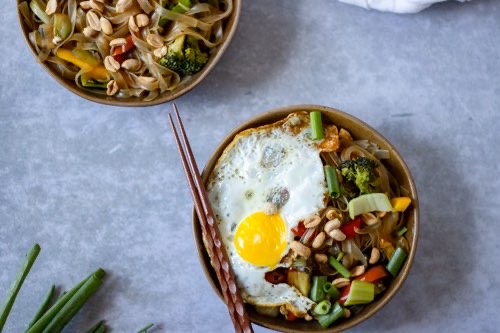 Preptime: 5min
Cooktime: 5min
Waittime:0min
Totaltime:10min
---
Ingredients for the recipe:
| | |
| --- | --- |
| 1 | Broccoli |
| 1 | Red bell pepper |
| 1 | Yellow bell pepper |
| 1 | Pak choi |
| 200g | Glass noodles |
| 50ml | Soy sauce |
| 3tbsp | Oyster sauce |
| 0.5tsp | freshly grated ginger |
| 1tbsp | Fish sauce |
| 1tbsp | Sesame oil |
| 2tbsp | Sunflower oil |
| | Salt |
| | Sesame seeds |
| | Peanuts |
| | Sweet chili sauce |

Click to copy the ingredients as a list to your devices clipboard! Then for example you can paste to your notes app / shopping list!
Click on a list item to cross out what you already finished
Chop all the vegetables and set your stove on high level.

Cook the glass noodles as said in the instruction.

Add the sunflower oil into a pan, so it gets hot.

Add the ginger and saute for about 20 seconds.

Add the vegetable into the Pan and cook for about 2 minutes.

Add the soy sauce, fish sauce and oyster sauce and cook for a minute.

Add the glass noodles.

Add the sesame oil and a little bit of salt.

Serve it with sesame seeds and roasted peanuts.

Don't forget to put sweet chili sauce on top of it. I recommend the sweet chili sauce with garlic.

ENJOY!