amazing moro de maiz (best corn rice recipe)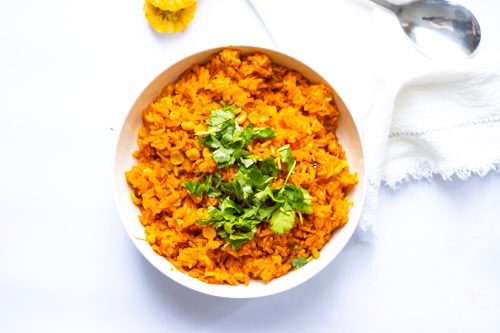 Jump to Recipe
Are you in the mood for some rice but want to level it up? This amazing Moro de Maíz aka the best corn rice recipe will fully do its job and impress you. It is the simplest, most delicious and nourishing dish ever.
WHAT IS MORO?
Moro is a typical flavory Dominican one pot rice dish. The basic ingredients are onion, garlic, salt, tomato paste and then every household has their own ingredients. Most people add Adobo to bring the flavors to the next level, but I don't cook with processed foods. I think we don't need to cook with processed food as we can bring our dishes with minimal effort.
There are different types of Moros, most of them contain different kinds of beans. You can find Moro in the Cuban and Puerto Rican cuisine. Every Island has its unique way to make this flavory dish. For example,
this amazing Congri recipe
(Cuban version of Moro)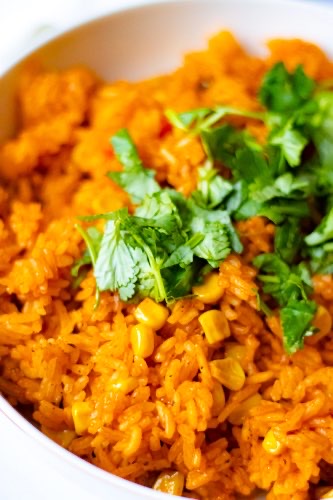 HOW TO SERVE THIS AMAZING MORO DE MAIZ
Moro de Maiz is mostly served as a side dish. In the Dominican Republic it is served with fish or meat. But you don't need to as it is very flavory and can definitely be the main dish. For example, if you're vegan or vegetarian you can eat it with a big salad (toss everything in your bowl: your favorite salad, tomatoes, cucumber, beet root, onion, bell pepper and as a dressing a simple vinegar dressing). It's a must to eat your Dominican rice with some avocado. Believe me it brings it to the next level. For your source of protein, you can use a simple fried egg or your favorite tofu, there are really no limits.
If you're non vegan and you're looking for THE perfect protein source, try my pineapple chicken recipe
saucy & juicy pineapple chicken
. This is by far the perfect side dish for this recipe. Everything together is just out of this world. Both recipes together are like Adam and Eve-meant for each other.
Ingredients
rice.

Any Long grain rice such as Basmati or Jasmin rice.

corn.

Fresh cooked corn or canned corn both work well. But be careful with the canned one. Be sure that it only contains corn and water

celery.

One stick of celery is enough. It's perfect to give the Moro some flavor

capers.

onion.

Half medium sized onion, red or yellow, both work well.

garlic.

Just one small garlic clove for the perfect taste.

cilantro.

A handful of fresh cilantro will give it a wonderful taste.

tomato paste.

This is essential not only for the taste but also for the perfect-colored rice.

water.

vegetable oil.

Choose your favorite. I use organic sunflower oil.

red bell pepper.

Just half bell pepper to flavor the rice.
any tips?
At the point where you add the rice please follow every step correctly.
It is very important that you set your stove on the right level as it can burn easily.
This is the most comment failure that even advanced Dominican rice cooks have.
If you're not sure about the right heat set your stove on medium low heat after your water is cooking.
This ensures that the Moro de Maiz will not burn that fast.
If you're following this tip the corn rice will need a little bit longer but will taste as good as mine.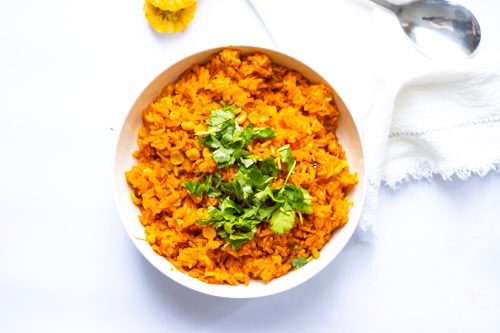 Preptime: 10min
Cooktime: 40min
Waittime:0min
Totaltime:50min
---
Ingredients for the recipe:
| | |
| --- | --- |
| 500g | Rice |
| 250g | Corn |
| 1 | Celery |
| 1tsp | Capers |
| 1 | Onion |
| 1 | Garlic Clove |
| | Cilantro |
| 50g | Tomato paste |
| 1000ml | Water |
| | Vegetable Oil |
| 0.5 | Red Bell Pepper |

Click to copy the ingredients as a list to your devices clipboard! Then for example you can paste to your notes app / shopping list!
Click on a list item to cross out what you already finished
Peel the onion and garlic.

Cut the onion, red bell pepper and celery stick in half.

Give some oil into a pot (capacity of 4 liters) and add the chopp onion, red bell pepper, celery stick, one tsp capers, and 60g tomato paste.

Press the garlic clove into the pot.

Set your stove on high level and let the ingredients set their flavors free for about 1 minute.

Add some salt. Stir it for about one minute.

Add the cooked corn and let it cook for about 2 minutes. Please keep stirring it as we don't want it to burn.

Add 1 liter water and the cilantro. Put a lid on and let it simmer.

Pretest the water if it needs more salt, if so add more salt.

Add the washed rice of choice.

Stir the rice every minute and set your stove on medium level.

Let it simmer and stir it until the rice absorbs the water.

Set your stove on low level (If your stove has Level 1-10 set it on a 2 or 3). Build a hill of rice with your cooking spoon and put a paper or kitchen towel on top of your hill.

Put a lid on the pot and let it cook for 20 minutes.

Remove the kitchen towel. Stir the rice to lose it. Put the lid back on and let it cook for 5 to 10 minutes.

Test your rice. It should be fluffy and mostly delicious.

ENJOY!