awesome quick and healthy creamy chickpea coconut curry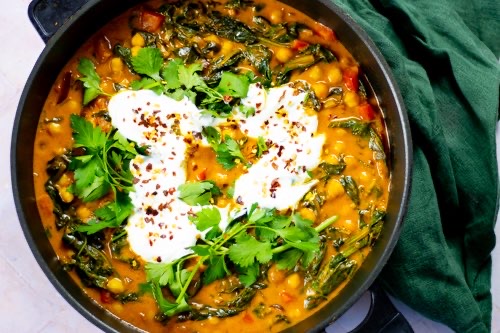 Jump to Recipe
Looking for the perfect nourishing meal, which should be fast made, vegan and taste heavenly good? This awesome quick and healthy creamy chickpea coconut curry is the answer. Made in less than 10 minutes, faster than take out.
We all need at least 3 recipes which are fast made and can save our night. On busy days when you don't have the time and nerves to spend a lot of time in the kitchen, we like to eat fast food or just put some highly processed food in the oven, because we think that it is easier and faster to make. But that is actually not true. If you like to have fast food because you're craving it, that's okay for me. But don't consider having fast food on those days because you think it's easier, less time consuming.
This awesome and healthy creamy chickpea coconut curry is an example of fast made dishes, without the need to sacrifice the nourishing, filling, and taste part.
Why you need to make this awesome quick and healthy creamy chickpea coconut curry..
It's a super simple recipe.
You only need 10 minutes.
You can meal prep. this dish and eat it on various days. You can even freeze it.
It's super delicious.
Everyone loves it, even the kids.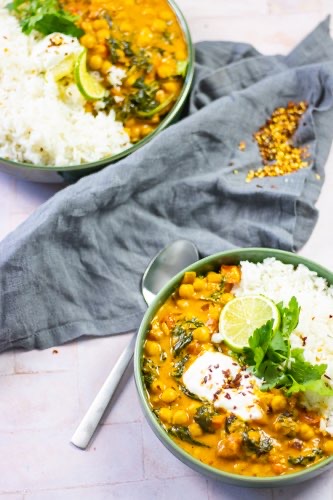 Ingredients for the creamy chickpea coconut curry
Chickpeas.

500g cooked chickpeas. You can prepare the chickpeas the night before or use canned chickpeas.

Spinach.

Fresh washed spinach for the color and to get some iron, magnesium, and calcium, to name a few.

Onion.

I love to use red onion for this recipe, but yellow onion works well too.

Bell pepper.

Just ¼ to give the dish some flavor.

Parsley.

Fresh chopped parsley will add some flavor to this wonderful dish. Parsley is a good source of vitamin A and folate.

Cilantro.

One of the most important ingredients when it comes to adding flavor. Cilantro has many health benefits. It may help lower your blood sugar, has immune boosting antioxidants and may help lower cholesterol as well.

Garlic.

One fresh garlic clove but if you don't have fresh garlic at home use half teaspoon instead. I would prefer fresh garlic as it can help reduce blood pressure and is a source for vitamin B6, manganese and fiber.

Tomato paste.

I recommend using organic tomato paste.

Tomatoes.

You can use 500 g fresh or canned tomatoes.

Coconut cream.

It's high in saturated fats and a good source of fiber.

Lime.

We need something sour to bring the dish to the next level. Nothing better than fresh lime juice. It can promote healthy skin and help to prevent kidney stones.

Spices.

Turmeric.

Paprika.

Pepper.

Brown sugar.

Salt.

Chili flakes.

Caraway seeds.
any tips?
This dish is very simple to cook but very complex in taste. If you are cooking for different people, where some don't eat spicy food, just sprinkle the chili flakes before serving on the plates. Therefore, you can prevent complaints.
For an extra kick sprinkle some lemon juice before eating it, it's perfect.
To keep it on the healthiest level I would always use fresh ingredients.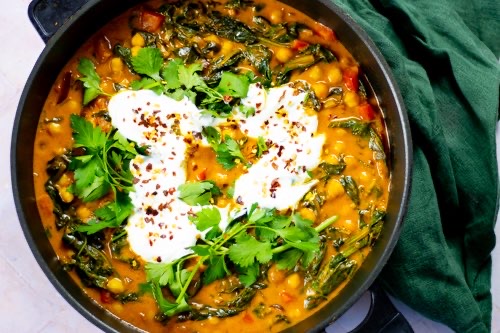 Preptime: 5min
Cooktime: 10min
Waittime:0min
Totaltime:15min
---
Ingredients for the recipe:
| | |
| --- | --- |
| 500g | chickpea |
| 300g | washed spinach |
| 1 | red onion |
| 0.25 | red pepper/paprika |
| 1 | chopped red chili |
| 1handful | parsley and coriander |
| 1 | garlic clove |
| 2tbsp | tomato paste |
| 1 | can chopped tomatoes |
| 1 | can coconut cream |
| 2tsp | turmeric |
| 2tsp | paprika |
| 1tsp | black pepper |
| 1tsp | chili flakes |
| | salt |
| 1 | lime |
| 1tsp | caraway seed |

Click to copy the ingredients as a list to your devices clipboard! Then for example you can paste to your notes app / shopping list!
Click on a list item to cross out what you already finished
Chop the red onion, red pepper and clove of garlic.

Add 3 Spoons of Coconut oil to a pot. Saute (for 30 seconds) the chopped red onion, red pepper, chili and clove of garlic.

Add the tomato paste and let it cook for about 30 seconds. Add the chickpeas and let it cook for about two minutes.

Set the temperature to medium level. Add the spinach and a can of chopped tomatoes. Stir it for a few minutes.

Add the coconut cream, chopped parsley & coriander, spices and the caraway seeds.

Last step is to sprinkle the juice of a lime over. Let it cook for a few more minutes.

ENJOY!