creamy coconut avocado pasta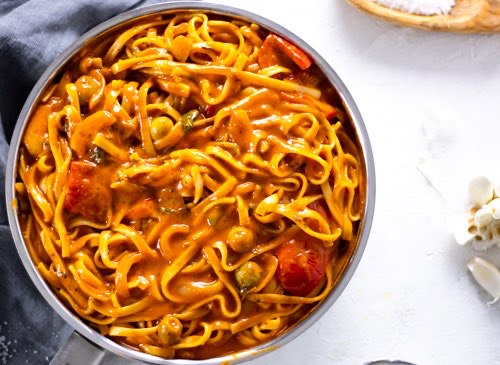 Jump to Recipe
A different Pasta Recipe with lots of flavor. This creamy coconut avocado pasta is the perfect dinner for the people that would like to have pasta with a Caribbean touch topped with a fresh avocado dip.
I really love coconut. It's such a varied ingredient. In the Dominican cuisine it is used for so many different meals. You can use it for your sweets and savory dishes. Sometimes one can taste the delicious unique coconut flavor and sometimes it adds its flavor but it's not dominant. You can be sure that I'm going to share many recipes which contain coconut on this beautiful blog.
But let us talk about this Pasta recipe. My husband loves Pasta and so does my daughter. That's why I make sure to cook at least one Pasta recipe a week. Most of the time I make them on busy days as they're mostly fast made and easy. This time I wanted our Pasta to be comfy, flavory, creamy, nourishing but mainly to have a fresh taste.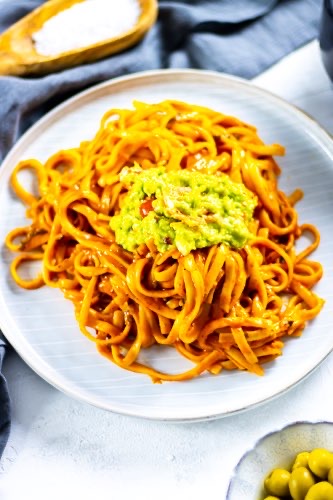 ingredients for this delicious creamy coconut avocado pasta
Onion.

Garlic.

I love to stamp the garlic cloves, they lose a lot of juice this way and can add so much flavor.

Bell pepper.

The fruit which belongs to the nightshade family is a good source for vitamin C, B6, K1, E and A. One medium sized red bell pepper provides 169 % of RDI for vitamin C.

Capers.

Don't underestimate these salty flower buds. They contain a high amount of sodium and vitamin K. Capers contain coppers, which is an essential mineral. It is involved in iron metabolism and brain function. Here you can read more about it. It is recommended to eat a small amount of capers as it has potential downsides. Because of its high amount of sodium, which can cause high blood pressure which is a major risk factor for heart disease and stroke. To avoid that and get all the benefits of eating capers, enjoy it in moderation.

Green olives.

The fruit is an excellent source of healthy fats, Iron, Vitamin E and copper.

Sieved tomatoes.

High quality is key.High quality sieved tomatoes are rich in lycopene, a powerful antioxidant. Lycopene has many health benefits, like protecting your cells from free radical damage. Sieved tomatoes are also rich in vitamin C and b ceratone, another powerful antioxidant with anti-inflammatory properties.

Sage.

is rich in antioxidants which can help lower the risk of getting cancer, may support memory and brain health and may combat skin aging, to name a few.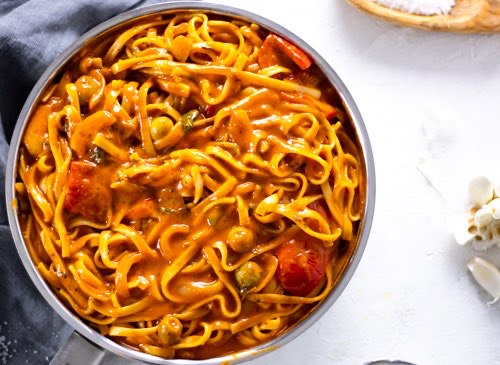 Preptime: 10min
Cooktime: 20min
Waittime:0
Totaltime:30min
---
Ingredients for the recipe:
| | |
| --- | --- |
| 1 | small onion |
| 2 | garlic cloves |
| 0.5 | red bell pepper |
| 1tsp | capers |
| 1tbsp | green olives |
| 500ml | sieved tomatoes |
| 500g | fettuccine |
| 600ml | coconut cream |
| 2tsp | brown sugar |
| | salt |
| 3 | leaves sage |
| | chilli flakes |
| 2tbsp | olive oil |
| 1handful | parsley |
| 2tbsp | tomato paste |
| 1handful | coriander |
| 1 | avocado |
| 1 | lime |
| 1handful | cherry tomatoes |
| | sea salt |
| | pepper |

Click to copy the ingredients as a list to your devices clipboard! Then for example you can paste to your notes app / shopping list!
Click on a list item to cross out what you already finished
Add water and salt to a pot and bring it to boil (for the pasta).

Chop the garlic cloves, parsley and coriander.

Cut the onion and red bell pepper in the size you like the most. For this recipe I always cut them into 4 pieces.

Set your stove on high level.

Use a Pan and add the olive oil. Add immediately the chopped garlic, parsley, coriander, onion, red bell pepper and tomato paste.

Let the ingredients unleash their flavors. While they are unleashing their flavors stir it so nothing burns. This will take about 2 minutes.

Add the olives and capers and saute for a minute.

Add the sieved tomatoes and stir it. Wait until it is cooking. In the meantime cook your fettuccine as said in the instruction.

When the sauce boils, set the stove on medium level and add the coconut cream.

Cook the Fettuccine.

Add all the spices and sage, put the lid on the pan and let it cook for about 10 minutes.

In the meantime mash together the avocado, garlic clove, tomatoes, lime juice and sea salt.

Take the pan off the stove and add the cooked pasta. Mix it until it is creamy and smooth.

Last step is to serve the pasta with the creamy avocado dip on top.

ENJOY!