easy and healthy almond chickpea vegetable curry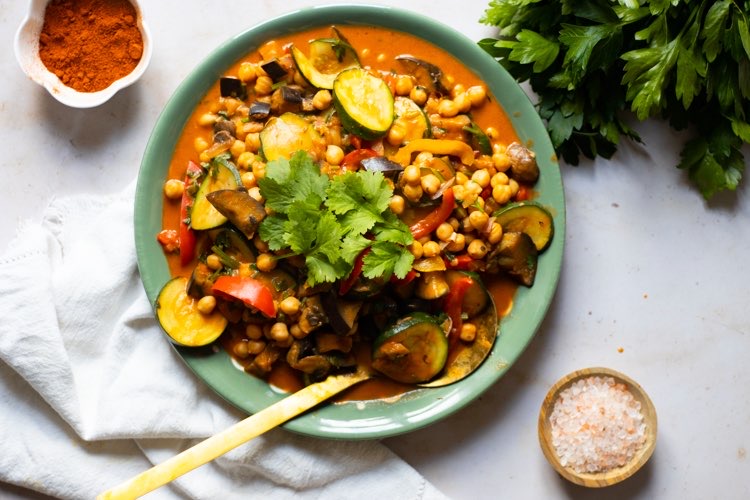 Jump to Recipe
This easy and healthy almond chickpea vegetable curry is the perfect vegan weeknight dinner recipe. Full of flavors, vitamins, and super delicious.
I look forward to our vegan weeknights. These are the days when I make sure to add a lot of vegetables to our unique dishes and make them extra delicious. Actually, I have to because I have two very honest toddlers at home. They love vegetables but of course not all of them. Like we do, they eat with their eyes, so these are the times when I make the meal extra colorful and simply aesthetically pleasant.
ingredients for the easy and healthy almond chickpea vegetable curry
Chickpeas.

Our source of protein in this meal. But chickpeas can do so much more than provide you with protein, they have an extraordinary nutritional profile. They contain a good amount of Fiber, Folate, Manganese, and Copper. Because of the protein and fiber, you might feel full for a long time, which is what we want.

Zucchini.

I love to use different colors. Summer squash is a perfect source of fiber, vitamins, minerals, and antioxidants. You can read more about the health benefits of zucchini here

Eggplants.

are another good source of antioxidants such as Vitamin A and C.

Mushrooms.

are a good source of vitamin D, decrease the risk of cancer, protect brain health, and stimulate a healthier gut.

Onion.

White or red you choose!

Garlic.

Fresh smashed Garlic for the best flavor.

Cilantro.

Fresh Cilantro harmonizes well with the other ingredients.

Bell Pepper.

Make it colorful and use different colors.

Parsley.

You can chop the herbs for a smoother and more colorful look.

Tomato paste.

High-quality organic Tomato paste.

Spices.

Cumin, Cayenne pepper, ginger powder and thyme.

Almond butter.

A rich in nutrient ingredients, which makes the dish super creamy and gives it a slightly sweet taste.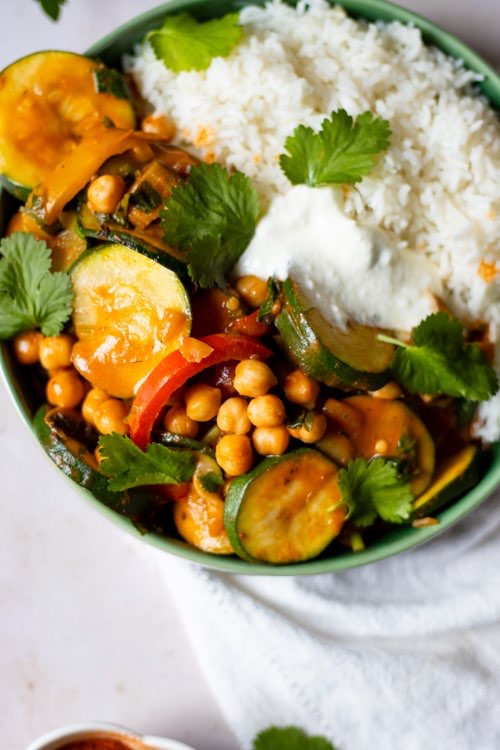 what vegetables to use
You can add more vegetables if you feel like it. Other vegetables that fit perfectly in this
chickpea recipe are broccoli, carrots, green beans, or spinach
.
how to store this simple vegan weeknight dinner
The almond chickpea curry can be stored in containers. If you're putting it hot in the container, wait until it's cold before putting the lid on.
After it cools off you can put it in the fridge for about 4 days. I would recommend adding some caraway seeds to avoid bloating.
what sides to use
The amazing thing about this dish is that you can eat it with so many different side dishes, like bread, potatoes, glass noodles, couscous, or my favorite simple white rice.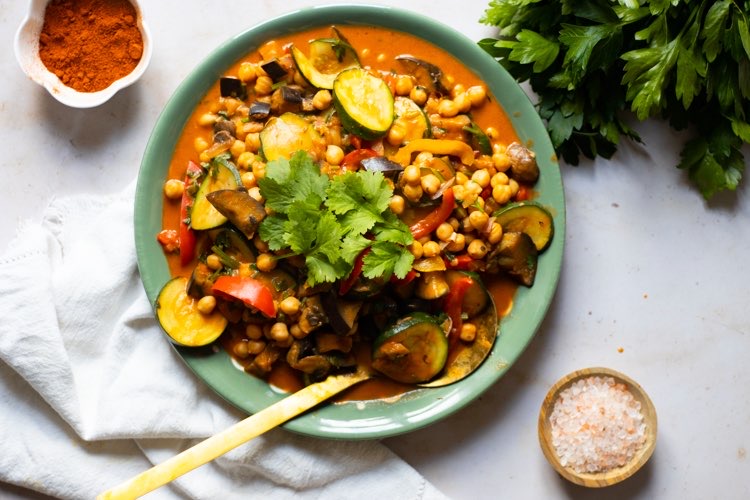 Preptime: 5min
Cooktime: 15min
Waittime:0
Totaltime:20min
---
Ingredients for the recipe:
| | |
| --- | --- |
| 500g | chickpeas |
| 1 | eggplant |
| 1 | zucchini |
| 1 | red bell pepper |
| 1 | yellow bell pepper |
| 200g | mushrooms |
| 1 | onion |
| 2 | garlic cloves |
| 3tbsp | tomato paste |
| 500ml | water |
| 3tsp | almond butter |
| 0.5handful | cilantro |
| 0.5handful | parsley |
| 2tsp | cumin |
| 1tsp | ginger powder |
| 1tsp | cayenne pepper |
| 1tsp | thyme |
| | salt |
| | some olive oil (or any oil of your choice) |

Click to copy the ingredients as a list to your devices clipboard! Then for example you can paste to your notes app / shopping list!
Click on a list item to cross out what you already finished
If you're planning to eat the healthy chickpea curry with rice, than this is the right time to cook the rice.

Wash the vegetables.

Cut the Zucchinis into rings. The mushrooms and bell pepper in slices and the eggplant into cubes.

Peel and chop the onion.

Peel and mash the garlic cloves.

Put a pan on medium-high heat and add some oil to it.

Saute the onion for about a minute.

Add the mashed garlic cloves and saute for about 30 seconds.

Add the vegetables and let it cook for about 3 minutes. Don't forget to stir it.

Add the Tomato paste and let it cook for 2 minutes.

Add water and stir it. Let it cook for about 5 minutes.

When the water is boiling add the chopped herbs and almond butter.

Add the spices and let it cook for 5 minutes.

ENJOY!