easy christmas butter cookies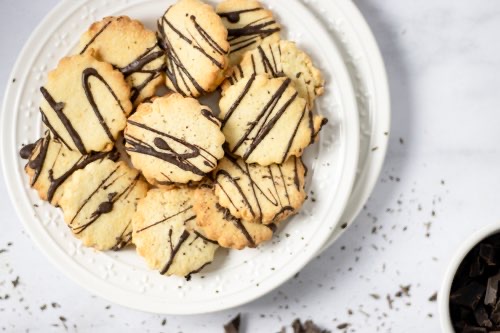 Jump to Recipe
Easy Christmas butter cookies for your next baking party. It's a super simple recipe that can be made with kids.
It's a tradition to bake cookies before Christmas and enjoy Christmas time even more.
That's why it's important to have a traditional Christmas cookie recipe that you can make every year. These butter cookies are sweet, soft, and addictive. My kids love them simply because you can decorate them as you like. The kids can make them colorful, and I pour a little melted chocolate on top of them. They look pretty and taste even better. Everyone wins. But please do not think the butter cookies taste boring just because I called them butter cookies. They have the right amount of flavor that it's possible to give everyone the room they need to garnish them as they want to.
ingredients for the easy christmas butter cookies
All-purpose flour.

I use 405 types.

Butter.

High-quality unsalted butter.

Eggs.

One egg so the dough stays together.

Ground Hazelnut.

If you don't have hazelnut or are allergic to it, ground almond works as well.

Marzipan.

You can use almond paste as well. Add a little bit more sugar if you're using the almond paste.

Vanilla extract.

Sugar.

White sugar is the best to use for this recipe.

Chocolate.

We are going to decorate the cookies with chocolate. I use 90% Dark organic chocolate.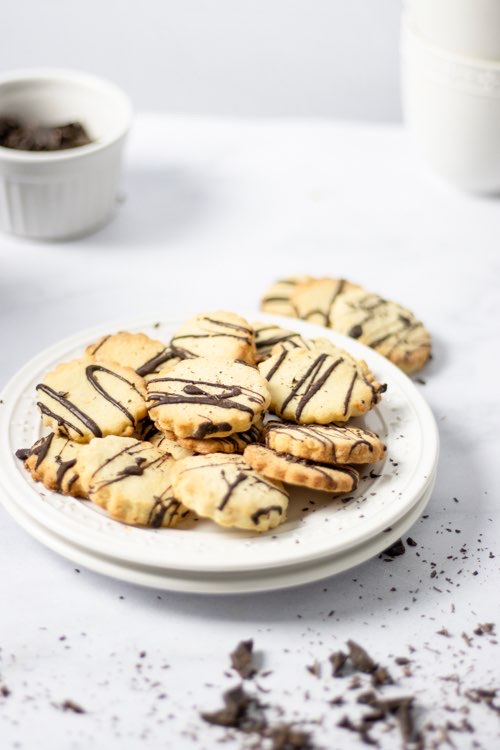 how to make the christmas butter cookies
Whisk butter, eggs, vanilla extract, and sugar together.
Shred the Marzipan.
Add ground hazelnut, Marzipan, and All-purpose flour and mix until combined.
Roll out the dough and press the cookies into shape with a cookie cutter.
Bake cookies.
Decorate with chocolate or colorful with icing sugar.
how to store the christmas butter cookies
The cookies can be stored in a cookie jar for months. After that, you can serve them on a plate, and you don't have to cover them up, as they can be eaten hard.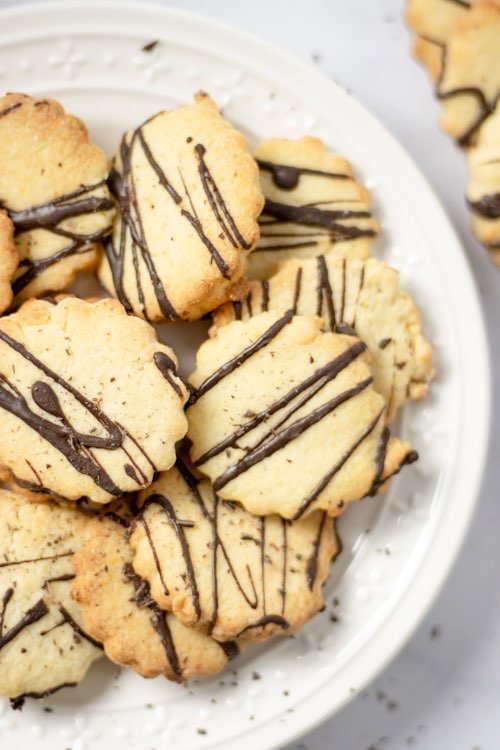 any tips?
If you want an extra kick, add a little bit of fresh lemon zest.
If you want the best taste, don´t serve them right away. Wait a few days. The cookies will taste so much better.
Store the cookies in a metal cookie jar. They will taste good for several months.
You can prepare the cookies and gift them to anyone you want. They are a perfect small gift.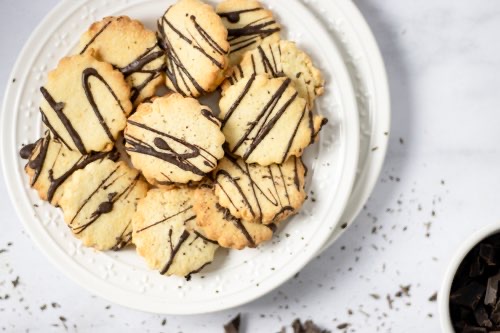 Preptime: 10min
Cooktime: 12min
Waittime:30min
Totaltime:52min
---
Ingredients for the recipe:
| | |
| --- | --- |
| 130g | butter (cold) |
| 150g | all-purpose flour |
| 50g | ground Hazelnut |
| 100g | white sugar |
| 30g | Marzipan |
| 1 | Egg |
| 1tbsp | vanilla extract |
| 50g | dark chocolate |

Click to copy the ingredients as a list to your devices clipboard! Then for example you can paste to your notes app / shopping list!
Click on a list item to cross out what you already finished
Preheat the oven to 180°C (352°F).

Mix in one bowl the flour and ground almond.

Shred the Marzipan and add it to the flour and almond mixture.

Add eggs, butter, vanilla extract, and sugar in another bowl. Whisk it with a hand mixer or stand mixer until it´s creamy.

Add the flour and almond mixture and whisk until well combined.

It should be one big dough. If the dough is soft, put it in the fridge for about 30 minutes.

Remove the dough from the fridge when hard.

Dust your working surface with flour.

Cut the dough into pieces.

Roll the dough out on the dusted surface.

If the dough sticks to the roller, rub the roller with flour and sprinkle a little bit on the dough.

Now roll the dough to a thin dough sheet. Remember if you roll out the dough very thin, the cookies get harder.

Cut the cookies into your favorite shapes with a cookie cutter. (use a Christmas cookie cutter)

Put some parchment paper on a baking sheet and put the cut cookies on it.

Put the baking sheet in the oven and bake for about 10-12 minutes or until golden.

Remove the cookies from the oven and let them cool off.

In the meantime, melt the chocolate in the microwave or in a water bath.

Sprinkle the melted chocolate over the cookies by dipping a fork into the melted chocolate and then moving the fork quickly back and forth over the butter cookies.

Now let them cool off completely and store them in a jar.

They are ready to serve!

ENJOY!