easy healthy crunchy peanut butter granola recipe
Jump to Recipe
This easy healthy crunchy peanut butter granola recipe is a super simple, delicious high protein breakfast recipe.
Why buy granola when you can prepare it easily at home? This peanut butter granola recipe is super healthy with nutrient-dense ingredients, sweet and crunchy, and the perfect granola to combine with yogurt and fruits.
It's by far the most popular granola recipe in our household. My kids want to eat it every day at any time. But I`m only offering it for breakfast or as a snack sometimes. What I love about homemade granola is that you can prepare it once and eat it literally for weeks. The perfect recipe to stock up your pantry.
ingredients for the healthy peanut butter granola recipe
Oats.

You will need old-fashioned organic oatmeal for this recipe. The grain is super healthy; it is high in protein, contains antioxidants (avenathramides, ferulic acid, and phytic acid), soluble fiber, and some vitamins and minerals such as manganese, phosphorus, copper, vitamin B1, iron, selenium, Magnesium, and zinc. Oats have some health benefits - they can lower cholesterol, lower blood pressure, and reduce the risk of type 2 diabetes.

Peanut paste.

Please use peanut paste and not peanut butter with added fat and sugar. If you can't access peanut paste, you can make it easily yourself. It will take a few more minutes, but it`s worth it. Peanut paste is a good protein source and a healthy fat source. It provides Vitamins E, B3, and B6, folate, Magnesium, copper, and manganese.

Maple syrup.

High-quality maple syrup. Maple syrup will sweeten the granola. Make sure to read the label, so you get 100% maple syrup and not maple-flavored syrup.

Coconut oil.

High-quality native coconut oil.

Peanuts.

Unsalted and unroasted peanuts.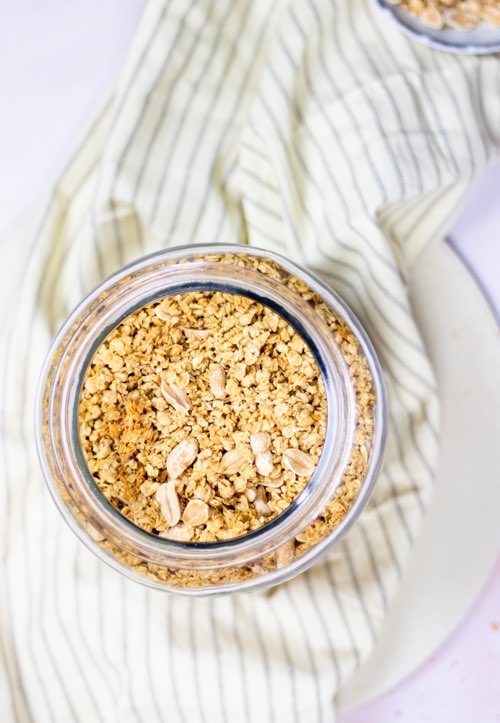 how to store the peanut butter granola
The granola can be stored in a glass jar or any container in your pantry. It will last for weeks. The longest I had peanut butter granola stored in a jar was for about four weeks. We have been on vacation, and after four weeks, it still tasted amazing.
how to eat the peanut butter granola
The peanut butter granola can be eaten like any other granola. It tastes perfect with natural yogurt (no added sugar) and banana; it's simply the perfect combo. But you could also eat it with milk; this tastes delicious as well.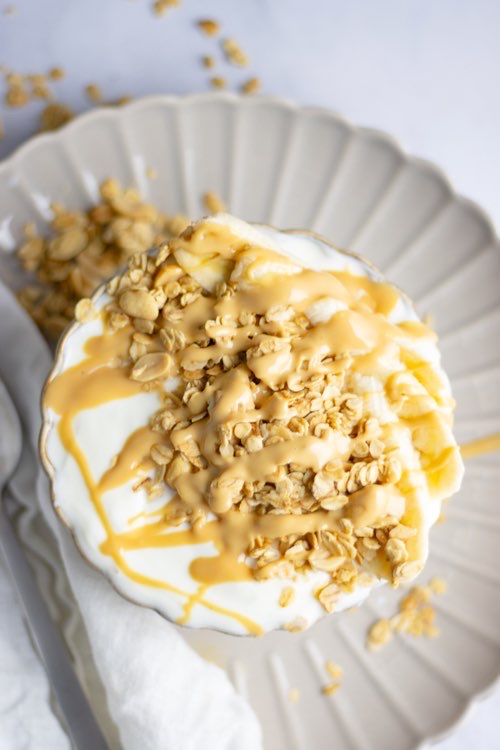 how to make the peanut butter granola
Preheat the oven.
In a large bowl, mix all the ingredients.
Pour the mixture on a baking sheet and bake for about 15-20 minutes.
Let the granola cool off and break the granola apart.
Mix peanuts under and mix well.
Ready to serve or store in a jar.
any tips?
If you want the granola to be clumpy ( big pieces ), than put the granola together and press it down halfway through baking. Let the granola cool completely off before breaking it apart.
Preptime: 2min
Cooktime: 20min
Waittime:0
Totaltime:22min
---
Ingredients for the recipe:
| | |
| --- | --- |
| 500g | old-fashioned oats |
| 80g | peanut paste |
| 80g | coconut oil |
| 100g | maple syrup |
| 200g | peanuts |

Click to copy the ingredients as a list to your devices clipboard! Then for example you can paste to your notes app / shopping list!
Click on a list item to cross out what you already finished
Preheat the oven to 170 °C.

In a bowl, mix together the oats, peanut paste, liquid coconut oil, and maple syrup. Mix everything until well combined.

Spread the mixture on a baking sheet. If you want it crunchy, leave the oats crowded.

Put the baking sheet in the oven for 10 minutes.

Spread the oat flakes or stir and make sure to press the oats together (if you want them crowded). Bake for another 10 minutes or until the flakes are golden brown.

Remove the baking sheet from the oven and let it cool off.

Break the granola pieces apart and spread the peanuts over the baking sheet.

Mix everything well together.

Ready to store in a jar and to serve.

ENJOY!