easy homemade coconut cookies
Jump to Recipe
These easy homemade coconut cookies are soft, sweet and fast made.
Everyone has a traditional cookie recipe at home, which everyone loves. In our household, these amazon coconut cookies are definitely the one. I make them every year during Christmas time. These Coconut cookies are a must in our home, and this is not negotiable. The beautiful thing about them is that you can make them for the whole year without much effort. All you need is 30 minutes.
ingredients for the easy homemade coconut cookies
All-purpose flour.

I use 405-type wheat flour. It is fantastic for this recipe.

Coconut flakes.

This recipe is not only for the taste. Coconut flakes are not only delicious but they are also packed with nutrition. They are a healthy source of fat, fiber, iron, and protein. Coconut has antibacterial effects, may promote blood sugar control, and contains powerful antioxidants.

Butter.

We will need high-quality butter. You can use cold or soft butter; it depends on your time.

Sugar.

I use brown sugar for this recipe, but white sugar works well too, if you don't have any brown sugar at home.

Vanilla extract.

As always, high-quality vanilla extract, no flavor, please.

Eggs.

2 eggs for this recipe.

Baking powder.
how to store them
You can put them on a plate if you want to eat them right away or store them in a cookie container. I recommend storing them in a container; they will last for months.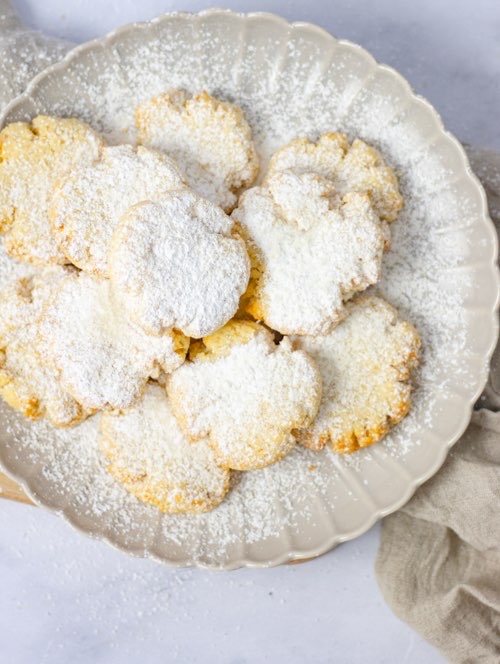 any tips?
If you have time, use soft butter and put the batter in the fridge for 20 minutes afterward.
Don't eat the cookies right away. Wait for 2 days. Trust me; they will taste heavenly good. The ingredients had enough time to harmonize with each other.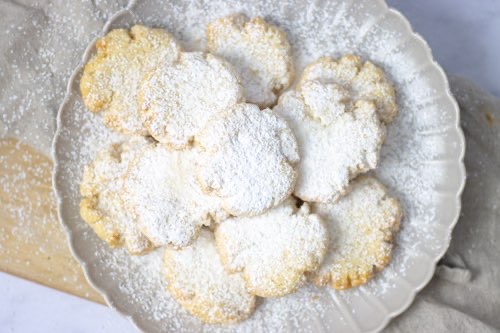 Preptime: 2min
Cooktime: 10min
Waittime:15min
Totaltime:27min
---
Ingredients for the recipe:
| | |
| --- | --- |
| 450g | all-purpose flour |
| 250g | brown sugar |
| 250g | butter |
| 200g | coconut flakes |
| 3tbsp | vanilla extract |
| 1tsp | baking powder |
| 2 | eggs |

Click to copy the ingredients as a list to your devices clipboard! Then for example you can paste to your notes app / shopping list!
Click on a list item to cross out what you already finished
Preheat the oven to 180°C (375°F) and line a baking pan with parchment paper.

Mix flour and baking powder together.

Add mixed flour, brown sugar, and coconut flakes in a big bowl.

Add eggs and soft butter.

Add vanilla extract.

Mix everything until well combined.

Roll 1 tbsp of dough into a ball, then put the ball on the baking pan. Flatten the ball with the spoon.

Put the baking pan in the oven for 10-12 minutes.

Remove the baking pan from the oven and let the cookies cool off.

Put the cookies in a cookie jar or place them on a plate.

ENJOY!