full of flavor black beans and rice (dominican moro de habichuela negra)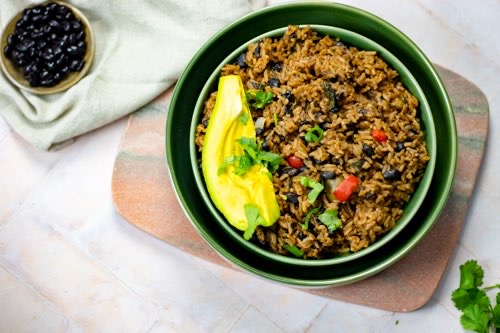 Jump to Recipe
Full of flavor black beans & rice aka Dominican Moro de habichuela negra is one of the best dishes out there. Flavorful, wholesome and just mouth watering good. This should be on everyone's cooking list.
Moro de habichuelas is a Dominican black beans and rice dish. It is a very popular dish in Latin America. Even though every country has their own way of making black beans and rice, like
this Puerto Rican rice and black beans recipe
, they taste very similar. I'm really obsessed with Moro de habichuelas, guandules, corn and so many more. I'm going to share all these recipes. In the Dominican Republic every kitchen has its own unique recipe of the traditional Dominican dishes. My recipe is inspired by the recipe of my mother. She is the queen of the Dominican kitchen. Everything she makes tastes like heaven.
I make this recipe if...
I'm homesick, want to escape the cold weather, thinking of my childhood or need variation in my diet.
Moro de habichuela
is the perfect side dish for your favorite meat, fish or just salad and avocado. But I don't want to debase this meal, it is so good it could stand alone on your weekly meal plan.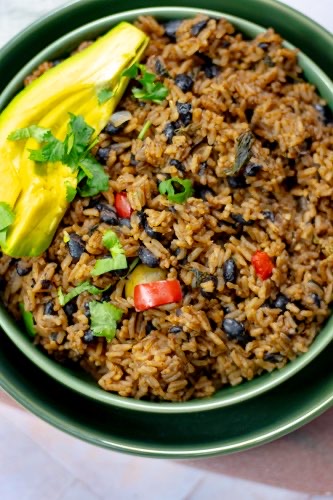 The recipe is originally vegan. If you want to keep your meal vegan, eat a colorful salad with tomatoes, red paprika, cucumber, onion, avocado and what you really shouldn't forget is the beetroot with a sprinkle of lemon juice. This is so good my mouth is watering, while writing about it.
key ingredients for a moro de habichuela
Rice.

This is one of the two essential ingredients for this dish. For a typical Dominican rice recipe, you will need a long grain rice like basmati or jasmine rice. These two sorts of long grain rice will harmonize perfectly with the other ingredients. It will not be too dry nor too moist.

Beans.

The second essential ingredient for any Moro is the bean. There are so many different Moro recipes they mostly all contain beans. For this recipe you will need black beans. If you don't have any black beans, you can use red beans instead. If you're using dry black beans you have to prepare the beans overnight and cook before using it for this dish.

Bell pepper.

Red bell pepper is the perfect one for this dish. If you don't have any bell pepper use pointed red paprika.

Cilantro.

Fresh cilantro is one of the key ingredients in the Dominican kitchen as it gives the dishes a unique taste. It sets its aroma perfectly free while cooking in the rice water.

Garlic.

It wouldn't be a good Moro if it doesn't contain fresh garlic. The perfect way to prepare the garlic cloves is by using a pilon, which is an essential Dominican kitchen tool also known as a wooden mortar and pestle. If you don't have a mortar and pestle you can press the garlic clove with a knife, mince it or use a garlic press.

Onion.

Another important ingredient for any Dominican dish. The smell of the onion and garlic while they set their aromas free is priceless.

Spices.

Some salt & pepper that's it.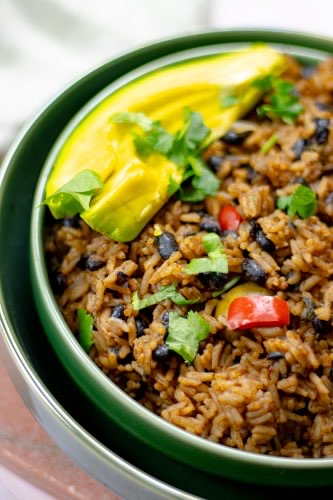 any tips?
At the point where you add the rice, please follow every step correctly. It is very important that you set your stove on the right level as it can get burned easily. This is the most common failure that even advanced Dominican rice cooks have.
If you're not sure about the right heat, set your stove on medium low heat after your water is cooking. This ensures that the Moro de habichuela will not get burned that fast. If you're following this tip the corn rice will need a little bit longer but will taste as good as mine.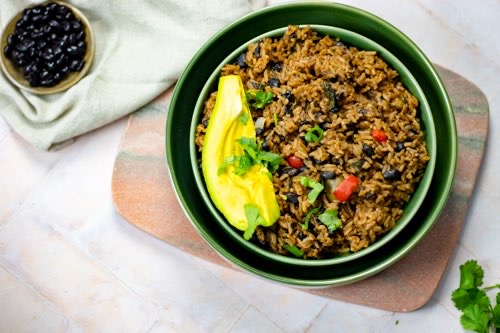 Preptime: 10min
Cooktime: 30min
Waittime:0
Totaltime:40min
---
Ingredients for the recipe:
| | |
| --- | --- |
| 1 | Onion |
| 2 | Salery stick |
| 0.5 | Red Paprika |
| 2 | Garlic clove |
| 4 | Caper |
| 400g | Black beans |
| 500g | Basmati rice |
| 2tsp | Tomato paste |
| 1tsp | Black pepper |
| 2tsp | Vegetable oil |
| | Salt |
| 1000ml | Water |
| 1handful | Cilantro |

Click to copy the ingredients as a list to your devices clipboard! Then for example you can paste to your notes app / shopping list!
Click on a list item to cross out what you already finished
Peel the onion and garlic.

Cut the onion, red bell pepper and celery stick in half.

Give some oil into a pot (capacity of 4 liters) and add the chopped onion, red bell pepper, celery stick, one tsp capers, and 60g tomato paste.

Press the garlic clove into the pot.

Set your stove on high level and let the ingredients set their flavors free for about 1 minute.

Add some salt. Stir it for about one minute.

Add the cooked black beans and let it cook for about 2 minutes. Please keep stirring it as we don't want it to burn.

Add 1-liter water and the cilantro. Put a lid on and let it simmer.

Pretest the water if it needs more salt, if so, add more salt.

Add your washed rice of choice.

Stir your rice every minute and set your stove on medium level.

Let it simmer and stir it until the rice absorbs the water.

Set your stove on low level (If your stove has Level 1-10 set it on a 2 or 3). Build a hill of rice with your cooking spoon and put a paper or kitchen towel on top of your hill.

Put a lid on the pot and let it cook for 20 minutes.

Remove the kitchen towel. Stir the rice to lose it. Put the lid back on and let it cook for 5 to 10 minutes.

Test your rice. It should be fluffy and mostly delicious.

ENJOY!