how to make traditional habichuelas guisadas (dominican stewed beans)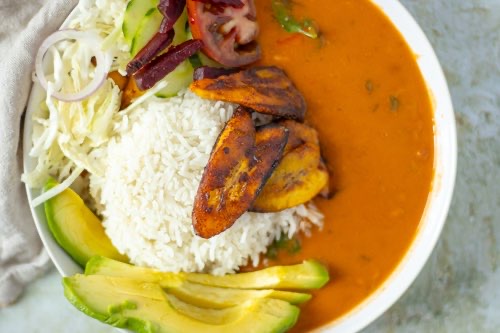 Jump to Recipe
A rich in nutrition, colorful, full of flavor, vegan, traditional dominican dish. Here I'm going to show you how to make traditional habichuelas guisadas ( Dominican stewed beans)
I call this dish the Dominican version of Dhal. No it has nothing to do with curry or lentils but it has so much Potential. This amazing vegan Dominican dish can't be missed in any Dominican kitchen. It is full of flavor, super healthy stew. The sauce is very thick and super satisfying. This high in protein dish together with rice is going to make you full for the whole day.
ingredients for the habichuelas guisadas (dominican stewed beans)
Beans.

Quail beans also known as Pinto beans are my absolute favorite beans for this recipe, but Kidney beans work as well. Pinto beans are extremely healthy as they contain many important vitamins, minerals, fiber and protein. The bean may improve your heart health, improve your blood sugar regulation, and is full of antioxidants.

Bell pepper.

A juicy red bell pepper for the sazon of the beans.

Olives.

I prefer green olives, no stones for this dish. At some point, we are going to blend some of the sauce, and it makes everything so much easier if there is no stone.

Capers.

Works perfectly with the olives, garlic, and onion together.

Celery stick.

The stick releases so much flavor. You can remove it after cooking or blend it with the other ingredients, to get the most flavor.

Onion.

One medium-sized onion for the flavor.

Garlic cloves.

Together with the onion an important ingredient in the Dominican kitchen. For this dish essential.

Cilantro.

What would a Dominican kitchen be without cilantro? Nothing, the herb adds so much taste. If you don't like cilantro, remove it after cooking, you won't have strong a cilantro taste, actually, no cilantro taste at all as it harmonizes perfectly with the other ingredients.

Tomato paste.

For the color and taste.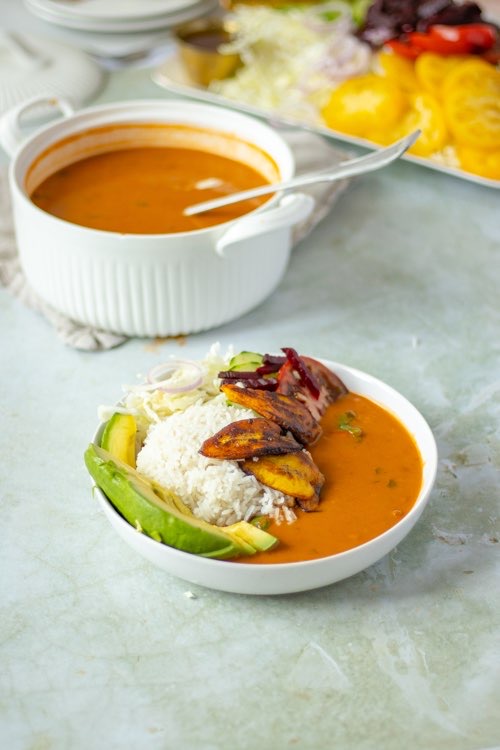 How to cook habichuelas guisadas
There are different ways to cook Dominican stewed beans. You can make them in the slow cooker or in a pot for example.
In this recipe, we are cooking it in a pot. But what we should definitely talk about is what beans we are using. You can use beans like kidney or qual beans for this recipe. The important question is are you using cooked (canned ) or dry beans? I'm going to write this recipe for the people who use canned beans, but I'm going to write about dry beans.
If you decide to make the habichuelas guisadas from scratch, make sure to let the beans soak in water overnight. If you're not doing that, The dish will need the whole day to cook. You can do that if you're cooking them in the slow cooker.
Wash the beans.
Use a big bowl and put the beans inside.
Cover the beans in water. Remember all the beans are going to absorb the water so put enough water in the bowl.
Discard the beans that are floating.
Put the bowl in the fridge overnight.
The beans are going to need like 30 minutes more, then the beans that are already cooked.
how to eat the dominican habichuelas guisadas?
The typical way to eat habichuelas guisadas is with rice and
Ensalada verde
, avocado, fried sweet plantain, and chicken.
If you leave the chicken out, the plate is vegan
.
If you don't want to eat rice you can add potatoes to this dish and eat it with a big side salad.
how to store the stewed beans?
Store the beans in the fridge, but for no longer than 1 day, it can cause bloating. If you have much leftover, freeze the rest.
If you still want to eat the Dominican stewed beans, add caraway seeds, as it helps your digestion.
any tips?
If you're storing the beans in a container while still hot, don't put the lid on while the beans are still hot. The habichuelas guisada is going to get bad very quickly and it will taste sour.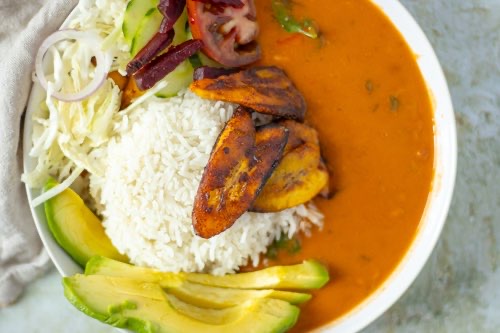 Preptime: 10min
Cooktime: 40min
Waittime:0
Totaltime:50min
---
Ingredients for the recipe:
| | |
| --- | --- |
| 1000g | cooked quial beans |
| 1 | medium size onion |
| 2 | garlic clove |
| 1 | red bell pepper |
| 0.5tsp | capers |
| 1 | celery stick |
| 1handful | cilantro |
| 1.5l | water |
| | salt |
| 3tbsp | tomato paste |
| 4 | green olive |
| 2tbsb | olive oil |

Click to copy the ingredients as a list to your devices clipboard! Then for example you can paste to your notes app / shopping list!
Click on a list item to cross out what you already finished
Peel and chop the onion.

Peel the garlic.

Stamp the garlic with a mortar and pestle. If you don't have one, press the garlic with a garlic presser.

Cut the bell pepper into cubes.

Place the chopped onion, bell pepper, celery stick, capers, and olives with the olive oil into a big pot.

Put the pot on medium-high heat on the stove.

Let the ingredients release their aromas for about a minute.

Add the garlic to the pot and cook for about 30 seconds.

Add the tomato paste and cook for a minute.

Add the soaked beans or cooked beans.

Cook for 2 minutes and stir it.

Add 1,5 l water, salt, and pepper.

Put a lid on and cook for about 15 minutes. If you're cooking with soaked beans you need to wait 30 minutes.

Don't forget to stir it.

If you're eating it with rice, now is the right time to cook the rice.

Add the cilantro to the pot and let it cook for 15 more minutes. 30 minutes if you're using soaked beans or until the beans are softened.

Take a lot of liquid and some beans (about 600 ml) out of the pot and add them to a blender.

Blend it until it becomes a smooth, thick cream.

Add it back to the pot and stir it.

Let it cook for about 5 minutes at a low temperature.

Ready to serve with white rice, a big salad and Avocado!

ENJOY!