new amazing creamy roasted tomato soup with sourdough toast
Jump to Recipe
This new amazing creamy roasted tomato soup with sourdough toast is super healthy, delicious and the best part super simple, as there is no cooking involved.
This is for my lazy people and people who think they can't cook. The soup is the perfect way to boost your health and boost your energy level. You are going to be full for hours but it won't make you tired like other recipes. It's light and packed with the right fats, carbs, and vitamins. The avocado is the perfect source of creaminess. But don't worry if you don't like avocados, it will not taste like them. My husband who doesn't like avocado at all loves this soup. If you want to lose weight or start a healthier journey, this soup is the right one for you.
I want to make clear, that this soup is more than just tomatoes. It will not taste like tomato juice. It's light, fresh, and simply a harmony.
Ingredients for our new amazing creamy roasted tomato soup with sourdough toast
Tomatoes.

For this recipe, we will need

cherry tomatoes

. I tried different kinds of tomatoes, but we get the best, most flavory result with cherry tomatoes. You can use yellow, green, orange, and red cherry.

tomatoes.

One thing I would definitely recommend is to use at least 50 percent red tomatoes. But let's talk about some nutritional facts. Cherry tomatoes are an excellent source of various Vitamins such as Vitamin A, C, E, and Potassium. Like other tomatoes, cherry tomatoes are rich in lycopene, a compound that has many health benefits. Lycopene can help with inflammation and blood clotting, therefore it can minimize your risk of getting a stroke, lower your risk of getting cancer, and it may promote your skin health.

Avocado.

The ingredient that makes the soup really creamy. The superfood is the perfect addition to this healthy dish. Don't worry it won't taste anything like avocado. You are going to have all the nutritional benefits from the fruit.

Onion.

You can use red or yellow onion. I always prefer red onion, because it's even healthier.

Garlic cloves.

The perfect flavor ingredients with a lot of health benefits too.

Thyme.

Tomatoes and thyme belong together.

Rosemary.

This one needed to be part of the ingredient list. It smells like the ingredients are dancing with each other while cooking.

Salt.

Sea salt is the best.

Olive oil.

As always high-quality olive oil for the best health benefits and taste.

Basil leaves.

They make everything taste extra fresh. Garnish the soup with basil leaves, as we eat with our eyes too.

Sourdough toast.

This step is not a must. They are a good and delicious carb source but not essential. My gluten-free friends, don't worry, leave it out.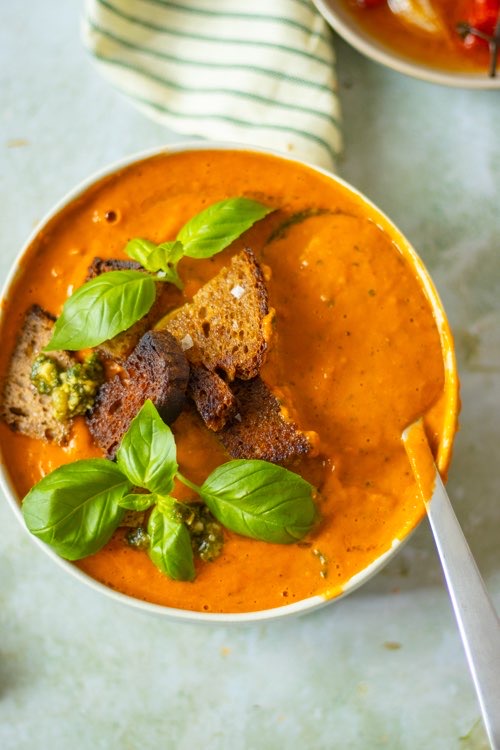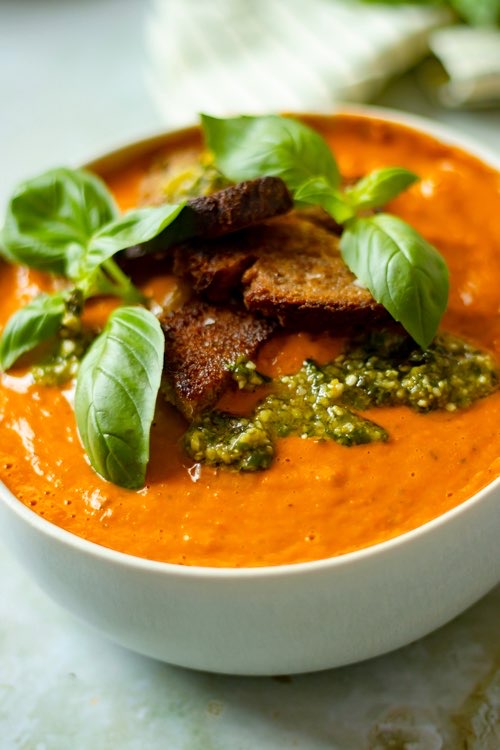 any tips?
The soup is an allrounder. You can make a lot of it and put it into jars and store it for months.
You can use the soup for more recipes. Maybe you would like to use it as a Pasta sauce, which works really well.
It can be stored in the fridge for about 5 days.
I really recommend using a little bit more olive oil, as it gives more flavor and keeps you full for hours.
As we are using minimal ingredients, the ones that we are using are essential for the perfect flavor, so please follow the instructions.
Preptime: 2min
Cooktime: 35min
Waittime:0
Totaltime:37min
---
Ingredients for the recipe:
| | |
| --- | --- |
| 600g | cherry tomatoes |
| 1 | medium-sized red onion |
| 2 | garlic cloves |
| 0.5 | avocado |
| 5tbsp | olive oil (you can add more if you want) |
| | salt |
| 1 | rosemary stick |
| 1tsp | thyme |
| 1handful | basil leaves |
| 0.5 | lemon |

Click to copy the ingredients as a list to your devices clipboard! Then for example you can paste to your notes app / shopping list!
Click on a list item to cross out what you already finished
Preheat the oven on 200°C.

Wash the tomatoes and remove the string.

Peel and cut the onion in half.

Put the garlic cloves, washed tomatoes, onion, rosemary, and thyme on a casserole dish.

Sprinkle olive oil all over the fresh ingredients.

Roast for 30 minutes or until the tomatoes look roasted, the onion soft, and everything smells heavenly good.

In the meantime take two sourdough toast slices and cut them into cubes.

Add some olive oil to a pan and put it on the stove on medium heat.

Add the toast cubes and let them absorb the olive oil. The bread is done when it's crispy.

Put the cubes aside. You can wash the pan in the meantime.

Cut a lemon into 4 pieces and put it again aside.

Take the casserole dish out of the oven. Take the garlic cloves out of the casserole dish and let it cool off.

In the next step, we are going to need a blender.

Take a big spoon and add everything from the casserole dish into the blender. Even the water and oil.

Peel and add the roasted garlic cloves.

Cut the Avocado in half, peel it and add it to the blender.

Add a handful of washed basil leaves.

Add salt.

Put the blender on high speed and let everything become a creamy and smooth soup.

Pour the soup into two bowls.

Garnish with the sourdough toast and fresh basil leaves.

Before eating the soup, sprinkle some lemon over it. But not too much as it can get too sour very quickly.

ENJOY!