our new favorite sun dried tomatoes chickpea lime dip
Jump to Recipe
Our new favorite sun-dried-tomatoes chickpea lime dip is full of flavor, fresh, satisfying, rich in nutrition, and simply amazing.
We are obsessed with this sun-dried tomatoes chickpea dip. How can something be so simple in the making and taste so heavenly good?
Listen, if you love dips like hummus, this is definitely one for you. The amazing thing about dips is that it's so diverse. You can top so many dishes with this dip and make it extraordinary. You can have it for breakfast on sourdough bread and it's again amazing, or you eat it with veggie sticks as a healthy snack.
Ingredients for the sun-dried-tomatoes chickpea lime dip
chickpeas.

are the base of this recipe. The garbanzo beans are a rich source of vitamins, minerals, and fiber. They contain a good amount of Manganese (74% of the DV), Folate (71%of the DV), Copper, Iron, Zinc, Phosphorus, Magnesium, Thiamine, Vitamin B6, Selenium, and Potassium. Thanks to the protein and fiber you are going to feel full for a long time. Chickpeas have a lot of health benefits such as managing your blood sugar levels, thanks to the low glycemic index. The fiber may help regulate blood sugar levels. The soluble fiber in chickpeas may help benefit digestion and reduce the risk of colon cancer.

sun-dried tomatoes.

are rich in vitamins, minerals, and antioxidants. The concentration of lycopene, a powerful antioxidant, is very high. When dried the tomatoes have most of their moisture removed and concentrate their flavor, that's why they have such a strong taste. Other benefits of sun-dried tomatoes are they support the immune system because they are packed with Vitamin C. They may help your digestive health, because of their soluble and insoluble fiber. You can read more here

parsley.

a fresh herb that fits perfectly.

lime.

for the sour taste. But don't worry the sour taste won't dominate. It really gives the dip a fresh kick.

ginger powder.

the perfect partner for cumin. It rounds the dip perfectly up. The power root has many health beneficial properties such as can treat nausea, may lower blood sugar and improve heart disease risk factors, which may help especially people with diabetes type 2.

cumin powder

is the powder spice here. It brings a strong flavor and is a little bit spicy. But we shouldn't underestimate the spice as it has many health benefits. In India Cumin is a traditional medicine which helps treat kidney and bladder stones and more diseases. Cumin has shown antibacterial effects, cancer prevention, cholesterol control and again improve digestion.

salt.

Use sea salt if you have some at home.

water.

to make the dip creamy. The colder the water is the better the result is going to be.

Tomato paste

for the color and strong tomato taste. But don't worry the dip is not going to taste much like tomatoes. We wont use much of those ingredients, but the amount we use is perfect for a perfect not so boring dip.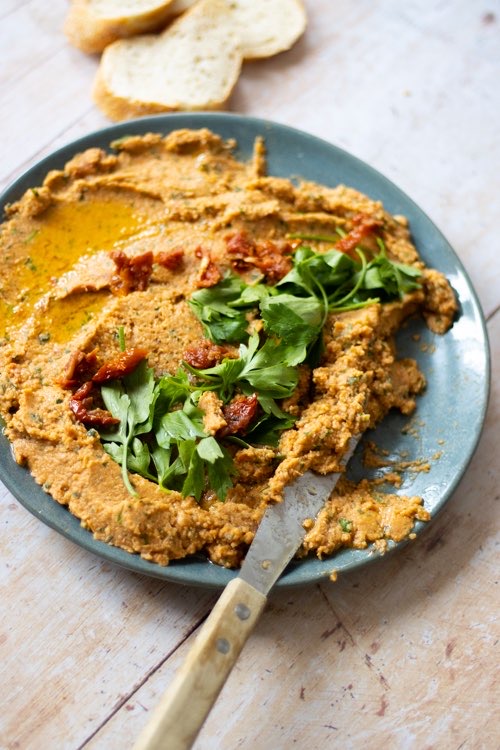 any tips?
If you're fancy and want to spice things up add one 1 tsp of cayenne pepper.
The delicious sun-dried tomatoes chickpea lime dip can be stored in a glass for about a week in the fridge.
The dip is the perfect one for sandwiches, wraps, toasts, BBQs, or party snack boards. There are no limits.
It fits perfectly with arugula, tomatoes, tofu, eggs, beet-root, and avocados. There are more foods just try them out.
Preptime: 1min
Cooktime: 3min
Waittime:0
Totaltime:4min
---
Ingredients for the recipe:
| | |
| --- | --- |
| 1handful | fresh cilantro |
| 500g | cooked chickpeas |
| 5 | sun-dried tomatoes |
| | salt |
| 150ml | cold water |
| 1 | lime |
| 2tsp | ginger powder |
| 3tsp | cumin powder |
| 1tsp | thyme |
| 1tbsp | tomato paste |

Click to copy the ingredients as a list to your devices clipboard! Then for example you can paste to your notes app / shopping list!
Click on a list item to cross out what you already finished
Add the cooked chickpeas (you can prepare them the night before or use canned chickpeas) to a food processor.

Add the washed and fresh parsley.

Add the tomato paste.

Add the sun-dried tomatoes.

Add the spices.

Add the salt.

Add ice-cold water. I love to add ice cubes to the water and use it.

Add the juice of one lime.

Blend it for about 2 minutes or until it's smooth.

Serve it on a plate. Drizzle some olive oil on top and garnish with parsley and chopped sun-dried tomatoes.

ENJOY!