simple homemade pomegranate passion fruit iced tea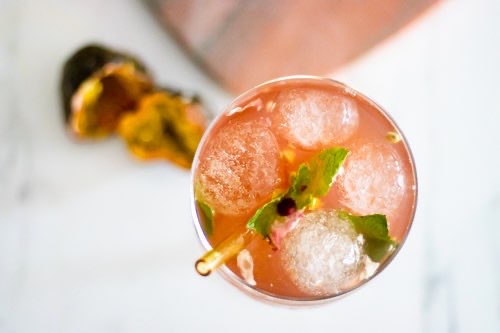 Jump to Recipe
Refreshing simple homemade pomegranate passion fruit iced tea for the hot summer days.
Oh yes, I'm finally sharing our absolute favorite refreshing Iced tea recipe. I'm so excited to share this recipe because this one is definitely healthy. This sweet Iced tea is made with fresh passion fruit, lime, mint, and passion fruit. Perfect combo, trust me. Of course, I had to bring some tropical fruit as a Caribbean girl. The Iced tea is full of antioxidants, vitamins, and anti-inflammatory fruits and all the ingredients have health benefits.
ingredients for the simple homemade pomegranate passion fruit iced tea
Pomegranate.

A high in fiber, vitamins, and minerals fruit. It may have anticancer properties and may support your brain health, to name a few.

Pomegranate tea.

This is the basis of the iced tea. Oftentimes black or green tea is used as the basis. But I wanted something caffeine-free, delicious, and healthy too, as I wanted to create a healthy drink that the kids are going to love.

Passion fruit.

Is a good source of fiber, and vitamin C, is Rich in antioxidants, and has many more health benefits.

Lime.

This one will give the iced tea a slice of sourness. It won't dominate, but you will still taste the fresh lime juice.

Mint.

The leaves are not only healthy, but they are also super delicious and will add a lot of freshness to the tea. It will definitely be one of the key ingredients in this drink.

Maple syrup.

We need to sweeten things up, therefore we are using maple syrup. It has a light caramel taste in it, which makes the tea interesting.

Iced cubes.

What would an iced tea be without a lot of ice? That's why we need a lot of ice cubes to garnish it with.

Water.

We need boiling water to make the tea.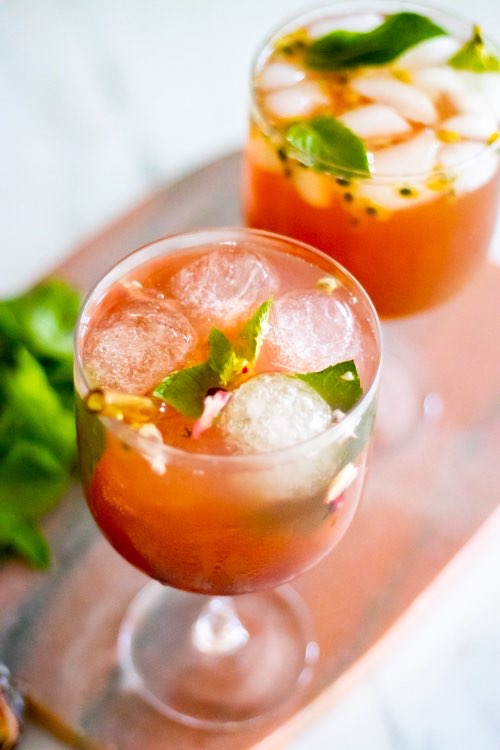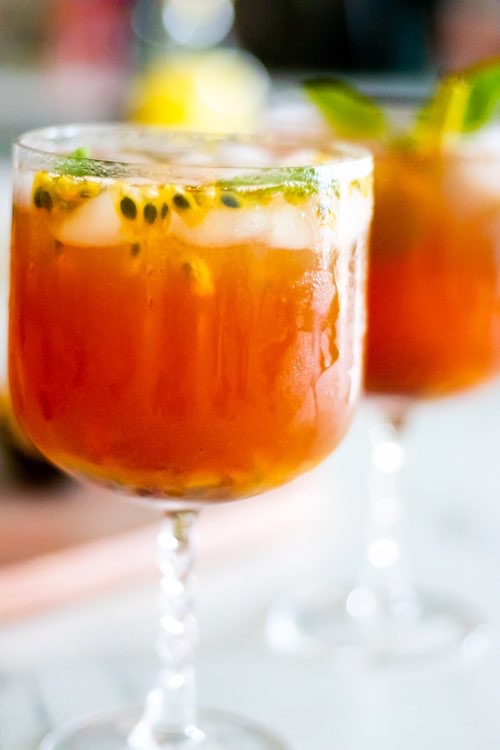 any tips?
You can drink the tea while it's hot, too.
You can drink the tea as a cold brew, but I guarantee you that is going to taste the best if you wait and let it cool off.
Don't worry if you think the tea is not sweet enough. Before adding more maple syrup, wait as it is going to taste sweeter after waiting for a while.
The best way to keep the iced tea fresh is by storing it in the fridge. It lasts for at least three days.
Put the ice cubes in a glass and never in the pitcher as it will change the taste.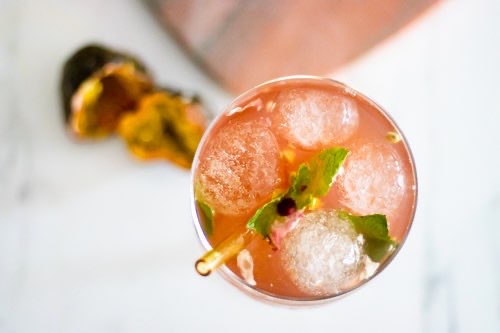 Preptime: 5min
Cooktime: 0min
Waittime:20min
Totaltime:25min
---
Ingredients for the recipe:
| | |
| --- | --- |
| 1 | pomegranate |
| 4 | passion fruits |
| 1 | lime |
| 4 | pomegranate tea bags |
| 10 | mint leaf |
| 80ml | maple syrup |
| | ice cubes |
| 1.5l | boiling water |

Click to copy the ingredients as a list to your devices clipboard! Then for example you can paste to your notes app / shopping list!
Click on a list item to cross out what you already finished
Bring 1,5 l of water to boil.

Add the 4 Pomegranate tea bags to a pitcher.

Pour the boiling water into the pitcher and put it aside for about 10 minutes.

In the meantime cut the passion fruits in half.

Wash the mint leaves and add them to a glass.

Scoop out the passion fruit seeds and pulp and add them to the glass.

Garnish with fresh mint leaves.

Pour the tea into the glass.

Put some pomegranate seeds on top of the ice cubes in each glass.

Add lots of ice cubes to a glass.

The tea is ready to serve, when cold.

Cut a Pomegranate and remove the seeds add it to a bowl.

Let the tea cool off and give it some time to combine all the flavors.

Stir everything well.

Add the maple syrup and juice of one lime to it.

Add the passion fruit seeds and mint leaves to the pitcher.

After 10 minutes remove the pomegranate tea bags.

Muddle the mint leaves and passion fruit seeds until they release their aromas.

ENJOY!