simple whipped feta roasted garlic tomato dip
Jump to Recipe
Super simple whipped Feta roasted garlic tomato dip! This is a super easy recipe for any occasion.
I'm very excited to share this recipe. It's a super simple, amazing dip which you can have on every meal. But be careful; this Roasted garlic tomato dip is super addictive.
The whipped Feta has a perfect consistency and is amazingly creamy. The tomatoes are perfectly roasted with lots of flavors. The cold feta cream with the warm flavors of tomatoes, garlic, and herbs are perfect together.
ingredients for the simple whipped feta roasted garlic tomato dip
Tomatoes.

I love fresh cherry tomatoes as they have a fruity and sweet taste.

Rosemary.

You can add fresh or dried rosemary to the dish.

Garlic.

Fresh juicy garlic cloves will be roasted in the oven and set their aroma free.

Feta.

High-quality feta cheese for the best result. Please don't use any light version, as it will impact the outcome. Feta cheese can help your bone and gut health and lower the risk of diabetes.

Cream cheese.

Same here; please don't use any light/low-fat version, as it will change the outcome of the dip.

Olive oil.

High-quality extra virgin olive oil.

Spices.

Nutmeg, Thyme, and Italian Oregano.

Lime.

The lime will add a little bit of sourness to the salty cream. It makes it extraordinary.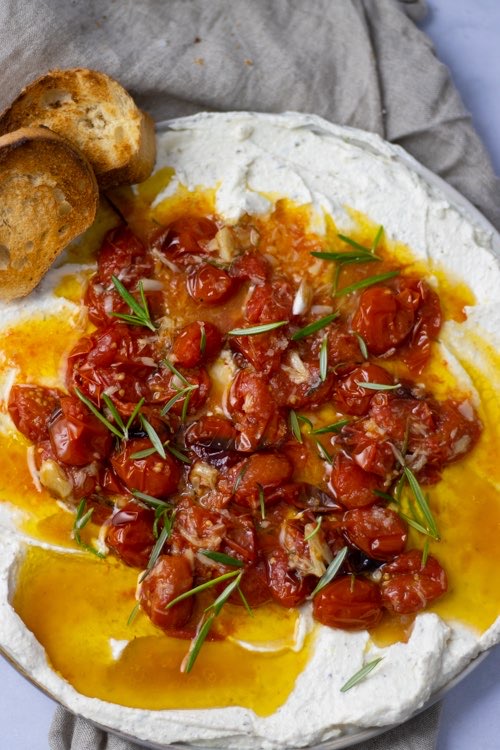 how to make the creamy whipped feta dip
Roast the tomatoes in the oven.

Add the peeled garlic cloves, tomatoes, rosemary, and olive oil to a baking casserole—Bake for about 30 minutes in the oven.

Make the whipped Feta cream in the meantime.

Add cream cheese, feta cheese, nutmeg, thyme, and a little bit of salt to a food processor, or if you don't have one, in a blender and mix until it's creamy, on high speed. This will need about 5 minutes.
Serve the whipped Feta on a plate and garnish with olive oil, roasted tomatoes, and garlic.
how to serve the creamy whipped feta dip
You can serve the whipped Feta dip and roasted garlic tomatoes with bread as an appetizer.
You can serve the Feta dip with cooked potatoes.
Amazingly, you can serve the cheese dip and roasted garlic tomato dip with salad and rice.
You can have it on your morning toast.
There are so many options.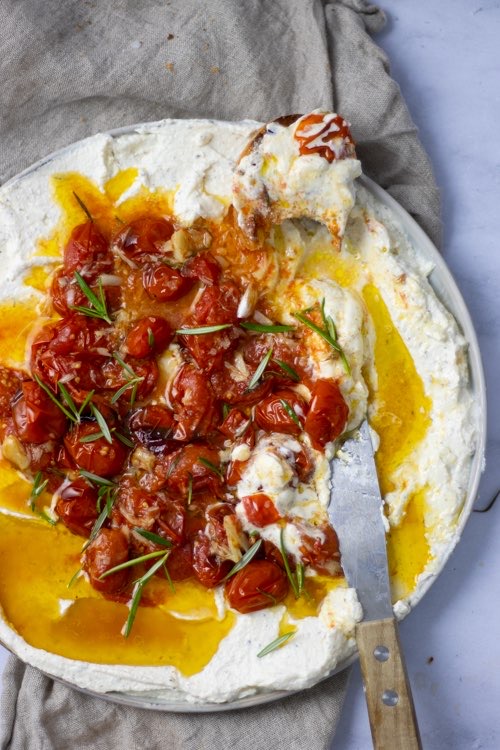 how to store the simple feta roasted garlic tomato dip
The feta dip can be stored in a container or in a jar for about a week or longer in the fridge. Always use a clean knife, spoon, or whatever you serve the cheese dip with. The dip will last longer if you use fresh cutlery.
any tips?
If you have access to a food processor, make sure to use this. If not, use any kind of blender. If the equipment you´re using has little power, the Feta will only need longer until it gets creamy. If you can´t make one homogeneous mass out of it, add a little bit of water, spoon by spoon, until it´s a creamy mass.
If you don´t have cherry tomatoes, use any sweet tomatoes.
Roast the tomatoes first. In the meantime, make feta dip. By that, you are making sure that when the tomatoes are done, you can serve them immediately. It tastes best when the two recipes come together while the tomatoes are still hot.
Preptime: 2min
Cooktime: 30min
Waittime:0
Totaltime:32min
---
Ingredients for the recipe:
| | |
| --- | --- |
| 500g | cherry tomatoes |
| 4 | rosemary stick |
| 1 | feta cheese |
| 250g | feta cream |
| 300g | cream cheese |
| 1 | lime |
| 0.5tsp | nutmeg |
| 1tsp | thyme |
| 1tsp | italian oregano |
| 50ml | olive oil |
| | sea salt |

Click to copy the ingredients as a list to your devices clipboard! Then for example you can paste to your notes app / shopping list!
Click on a list item to cross out what you already finished
Preheat the oven to 200°C (392°F).

Peel the garlic cloves and wash the tomatoes and rosemary stick.

To a baking pan, add the tomatoes, garlic cloves and rosmery.

Pour the olive oil over and make sure to mix it well with the other ingredients so that everything is mixed with the olive oil.

Put the baking pan in the oven and bake for about 30 minutes.

In the meantime, cut the feta cheese into cubes and add them to a food processor.

Add cream cheese, nutmeg, thyme, and Italian oregano to the cheese and mix on the highest speed for about 5 minutes or until it´s a creamy dip.

Pretaste it and if needed, add a little bit of salt and half lime.

Mix again. Test if more lime juice is needed, if so add more.

Take a plate and spread the cream/ dip over the whole plate.

Take the baking pan out of the oven when the tomatoes and garlic cloves are soft and have a golden color. Not too dark!

Remove the garlic cloves and mash them until they become a paste.

Add the garlic paste to the tomatoes and add some sea salt.

Put everything out of the baking pan on the whipped feta dip.

ENJOY!