single portion simple savory pumpkin breakfast bowl
Jump to Recipe
A Single portion simple savory pumpkin breakfast bowl that is super healthy and delicious. Packed with nutrient-dense ingredients, this bowl is going to give your body what it needs and your soul a warm delicious meal.
Okay, one thing about me is that I love warm savory breakfasts. I would pick a soup over every toast or any granola bowl. My body just works differently after having a calm warm breakfast. This healthy breakfast bowl is one of those meals which makes my body work right. While I like to have this bowl for breakfast, someone else would love to have it for lunch. That is totally fine. You can prepare this fall breakfast bowl and bring it to work, school or Uni.
ingredients for the single portion simple savory breakfast bowl
pumpkin.

(Hokkaido) is a super healthy winter squash. My favorite fall vegetable is low in Calories and rich in fiber, Vitamin A, Vitamin C, Potassium, Copper, and Manganese.

mushrooms.

Are a super healthy source for a savory flavor. They are an allrounder. They decrease the risk of cancer, lower the sodium intake, promote lower cholesterol, and protect the brain health to name a few. Read more at www.uclahealth.org/

spinach.

The green leaf is a superstar. It improves the immune system, enhances eyes sight, helps preventing diabetes, promotes heart health and protects the skin.

onion.

This is a great source for some flavor. The onion harmonizes well with the other ingredients.

zucchini.

A small zucchini as we are making a single bowl.

eggs.

2 eggs

olive oil.

High quality native olive oil.

salt.

thyme.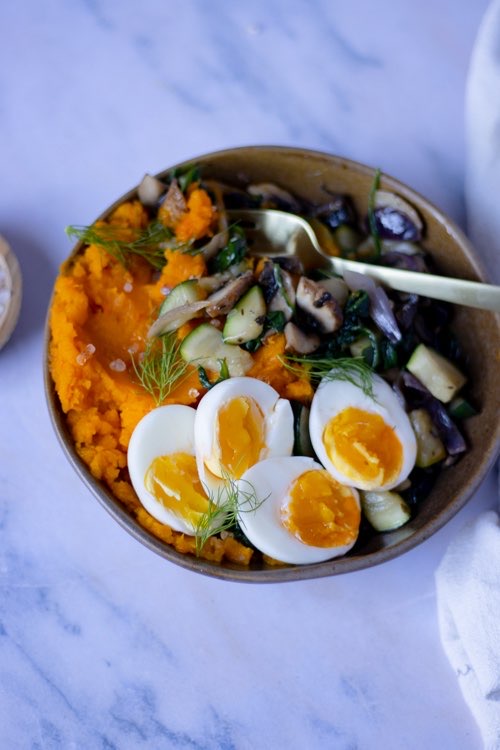 how to make the eggs
You can have boiled, scrambled eggs or fried eggs. It's up to you.
If you like boiled eggs (my favorite version for this recipe) then boil the eggs in a pot or use an egg boiler.
soft

- boil a medium sized egg for about 4 minutes

softly set yolk

- boil a medium sized egg for about 6 minutes

fully hard

- boil a medium sized egg for about 9 minus
how to store the bowl
You can prepare the bowl and put it in a container, if you don't want to eat it right away. The healthy breakfast bowl can be stored for about 4 days in the fridge.
Preptime: 3min
Cooktime: 15min
Waittime:0
Totaltime:18min
---
Ingredients for the recipe:
| | |
| --- | --- |
| 200g | pumpkin |
| 1 | small zucchini |
| 100g | mushroom |
| 50g | spinach |
| 1 | small red onion |
| 2tbsp | olive oil |
| 2 | eggs |
| | salt |
| | thyme |

Click to copy the ingredients as a list to your devices clipboard! Then for example you can paste to your notes app / shopping list!
Click on a list item to cross out what you already finished
Cut the Pumpkin into small cubes.

Add the Pumpkin cubes into a pot. Add water and salt to it and bring it on medium-high heat to boil.Cook it for about 15 minutes or until the cubes are soft. You can check it with a fork.

Add water to a small pot and bring it to boil on high heat. Add the eggs (carefully) to the pot and cook for the amount of time it needs to (depends how you like your eggs).

Wash the Zucchini, mushrooms and spinach.

Chop the onion.

Cut the Zucchini into cubes and slice the mushrooms.

Add olive oil to a pan on medium-high heat and saute the onion for about 30 seconds.

Add the zucchini cubes and saute for about a minute.

Add the mushroom slices and saute for another minute. Don't forget to stir it sometimes.

Add 2 tbsp of water,some salt and 1 tsp thyme to the pan.

Stir it and the vegetables are ready.

Remove the pumpkin cubes out of the water and mash them with a fork. You are done when the cubes become one smooth mass.

Peel the eggs and cut in half.

Add everything to a bowl.

ENJOY!