super simple and healthy yellow coconut peas rice with feta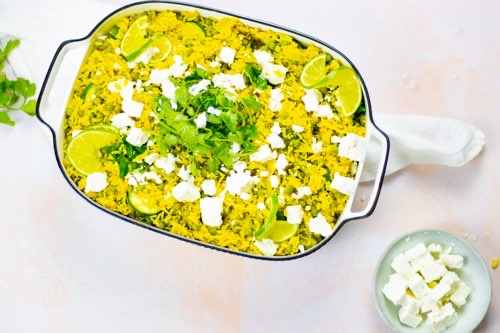 Jump to Recipe
Easy, healthy, bright, and delicious that's how I would describe this super simple and healthy yellow coconut peas rice with feta recipe.
I really love a good colorful rice dish. This super simple and healthy yellow coconut peas rice with feta recipe is one of our favorites at the moment. The kids love the one pot recipe too, which I love, because this dish is super healthy.
This is also a super meal prep dish.
Ingredients for the super simple and healthy yellow coconut peas rice with feta
Rice.

Basmati or jasmin rice.

Green peas.

which by the way are actually not considered as vegetables, if not as part of the legume family, which consist of plants that produce pots with seeds inside. Other examples for legumes are chickpeas, peanuts, and beans.
The nutrition profile of green peas is awesome. They contain about every vitamin you need, antioxidants and fiber. Green peas are a great source of high complex carbs and protein. They are rich in Vitamin C, E and zinc and other antioxidants which helps strengthen your immune system.

Spinach.

Helps fight oxidative stress, which can increase the risk of getting cancer and diabetes, thanks to the antioxidant. The super healthy vegetable helps moderate your blood pressure, because of the high amount of nitrates.

Zucchini.

I use green zucchini for this recipe, but you can of course any zucchini you like. Zucchini is often considered as a vegetable but it`s botanically defined as a fruit. It is a nutritional rich fruit with a high amount of vitamin A, Manganese, Potassium, Vitamin K and Vitamin B6. Zucchini is also rich in carotenoids, which are antioxidant, these may benefit your eyes, skin, heart and may help protect you against certain types cancer.

Onion.

One juicy yellow onion for a good flavor.

Garlic clove.

4 juicy garlic cloves.

Lime.

Lime is the perfect source for sourness. Especially if you're using coconut cream, as both work really good together.

Coconut cream.

Is a great source of protein, Phosphorus, folate and choline to name a few. Coconut cream is relatively high in saturated fat.

Water.

We will need water for the rice to cook.

Turmeric.

The most important spice for this dish.

Ginger.

Freshly grated or powdered, for this dish I use both forms. If I have fresh ginger, which I most of the time have, I prefer it. Ginger is such a powerful spice. It is used in cuisines all over the world, it has its origin in Asia. The root may help people with diabetes manage their blood sugar levels, decrease menstrual bleeding, and relieve nausea. It has very few vitamins and minerals, but we have super foods in this dish, which will fill your vitamins up.

Salt.

Feta.

200 g creamy and salty feta is perfect for this dish. The dish tastes a little bit sweet. Together with the unique feta taste it's just so satisfying.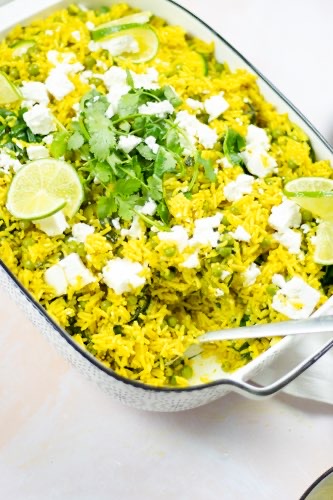 any tips?
Don't be irritated by the amount of water, as the rice will not be dry, like a typical Moro such as this one. It's supposed to be a creamy rice recipe but not a risotto either.
If you want to eat it with meat, turkey meatballs are perfect for this dish.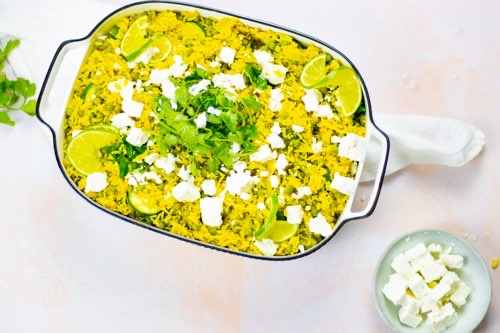 Preptime: 5min
Cooktime: 45min
Waittime:0min
Totaltime:50min
---
Ingredients for the recipe:
| | |
| --- | --- |
| 400g | rice |
| 400g | peas |
| 200g | coconut cream |
| 1 | zucchini |
| 100g | spinach |
| 4 | garlic gloves |
| 1 | lime |
| 1handful | cilantro |
| 1handful | parsley |
| 1tbsp | ginger |
| 1tbsp | tumeric |
| | Salt |
| | Oregano |
| | black pepper |
| 1200ml | water |
| | coconut oil |

Click to copy the ingredients as a list to your devices clipboard! Then for example you can paste to your notes app / shopping list!
Click on a list item to cross out what you already finished
Peel and chop the onion and garlic.

Wash the spinach and zucchini and peas.

Wash the rice.

Cut the zucchini into rings.

Add 1 tbsp coconut oil to a large pot/pan and put it on the stove on medium high level.

The pan has to be big enough as the rice is going to get double of the volume.

Add the chopped onion, turmeric, oregano, pepper, and ginger to the pan. Sauté for a minute.

Add the minced garlic. Sauté for 30 minutes.

Add the zucchini rings and peas.

Add the spinach. Sauté everything for about 3 minutes.

Add the coconut cream.

Add 900 ml Water, lime juice and salt. Put a lid on the pan.

Chop the parsley and cilantro and add it to the pan.

When it's cooking add the rice and stir it. Put the stove on medium low heat (4 out of 10).

Stir it now and then. When the rice absorbed the water, about 10 minutes later, put a paper towel on top of the rice and put the lid back on the pan.

Put the heat on level 3 out of 10.

Let it cook for about 15 minutes, then remove the paper towel and stir the rice to loosen it.

Put the lid back on and let it cook for another 10 minutes.

In the meantime, cut the feta into cubes.

The rice is ready to serve. Sprinkle the feta and fresh cilantro on top.

ENJOY!