the best easy sweet potato eggplant dip recipe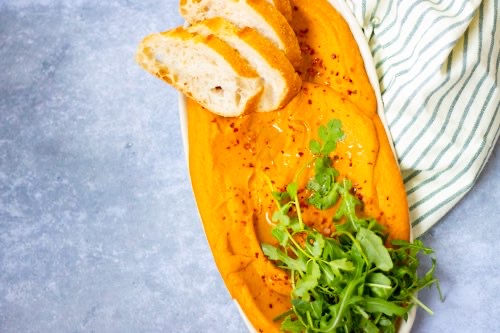 Jump to Recipe
The best easy sweet potato eggplant dip recipe is a colorful healthy and delicious vegan dip for any occasion.
Dips are the perfect allrounder to have in the fridge. Once made and put in a jar, it can be used for breakfast, snacks, lunch, and dinner.
This delicious sweet potato eggplant dip is amazing. You can dip veggies in it, Make a delicious pasta sauce, use it as a sandwich cream and use it for so many more things.
But the best easy sweet potato eggplant dip is not only delicious it is also super healthy and a nutritional bomb. Another good thing is that it is a super simple recipe. It is super fast prepared and no cooking involved as we are going to use the oven.
ingredients for the best easy sweet potato eggplant dip recipe
Sweet potatoes.

This superfood is rich in Vitamins and Minerals, such as vitamins A, B, and C.. It is also rich in Calcium, Iron, Magnesium, Phosphorus, Potassium, Thiamin, and zinc. Thanks to the Carotenoids, an antioxidant that gives the sweet potatoes their color, eating sweet potatoes might

lower your risk for cancer

. It may help control your blood sugar. Just like regular potatoes, the glycemic index of the sweet potato is low, when boiled, which means your blood sugar won't rise as quickly as it would if the potatoes were roasted, baked, or fried. It may promote

gut health

. Sweet potatoes contain soluble and insoluble fiber, which our bodies cannot digest, therefore the fiber stays in the digestive tract.

Eggplant.

is technically a fruit and not a vegetable. The fruit provides is a rich nutrient-dense food that provides a good amount of fiber, Manganese, Folate, Potassium, Vitamin K, and Vitamin C. Aubergine has many health benefits for example it may help reduce the risk of heart disease.

Garlic.

We need it to give the dip a good flavor and of course to boost up our immune system.

Bell pepper.

is perfect for this dip. It complements the main ingredients.

Olive oil.

Like I always say please use the best quality olive oil that you can get.

Cashew butter.

Thanks to this ingredient the dip is as fluffy as it can be.

Please use cashew butter that only contains cashews

. If you can't find it, make it at home it's very simple.

Lemon.

makes it a little bit sour but not too sour that you think about it. It simply levels the dip up.

Spices.

Coriander, smoked paprika, and salt to round it up.
how to eat the best easy sweet potato eggplant dip
The roasted sweet potato dip is the perfect creme for your meal prep lunch. Once made you can make at least 5 different lunches for the week and you won't get tired of it.
A delicious vegetarian sandwich with lots of vegetables and a good amount of the best easy sweet potato eggplant dip and you are going to be in heaven.
A simple 1-minute spinach tomato Proscuitto wrap and the experience is going to be totally different.
On your third day, you can make a pasta bowl with zucchini, mushrooms, and arugula, and toss some dip on top. A cold comfort lunch.
Make yourself a salad and use the dip as a dressing.
Rice bowl with black beans, tomatoes, avocado, red onion, eggplant, zucchini, and the sweet potato dip on top. To make it super simple and delicious make my moro de habichuela negra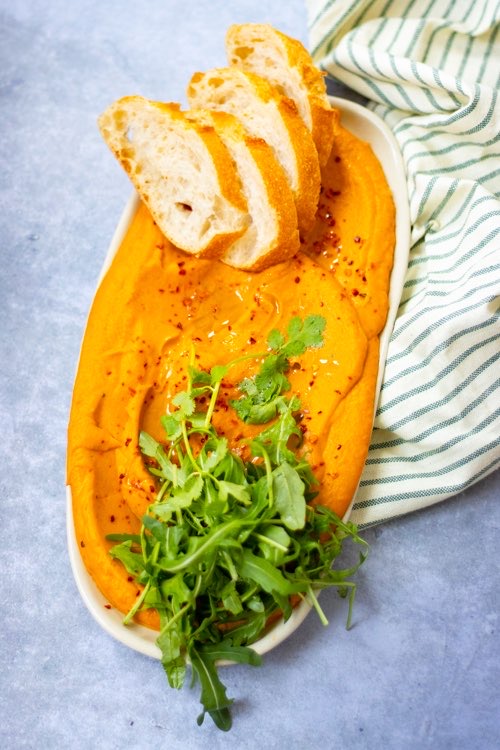 how to store the sweet potato creme
You should store the dip in the fridge as it lasts longer. It will stay fresh for at least a week.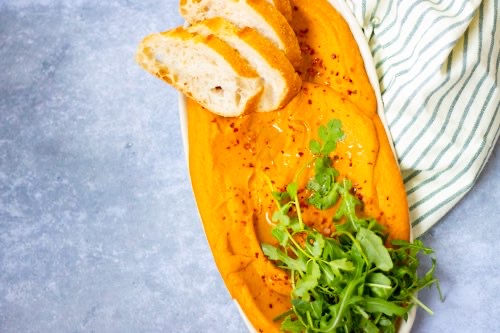 Preptime: 5min
Cooktime: 32min
Waittime:0
Totaltime:37min
---
Ingredients for the recipe:
| | |
| --- | --- |
| 1 | red bell pepper |
| 2 | eggplant |
| 1 | red onion |
| 1 | sweet potato (about 400g) |
| 1 | garlic clove |
| 1 | lemon |
| 2tsp | grounded coriander |
| 2tsp | grounded smoked paprika |
| 3tbsp | olive oil |
| | salt |

Click to copy the ingredients as a list to your devices clipboard! Then for example you can paste to your notes app / shopping list!
Click on a list item to cross out what you already finished
Preheat the oven to 200°C.

Peel the onion and sweet potato.

Cut the onion, bell pepper, and sweet potato.

Put everything on a baking sheet. The unpeeled garlic clove too.

If you like you can peel and cut the eggplant as well. If not, put the whole eggplant on the baking sheet as well.

Pour some olive oil over the vegetables.

Bake for 30 minutes and take it out of the oven.

If not peeled, cut the eggplant in the middle and take the flesh out with a spoon.

Peel the garlic clove.

Add everything to a blender or food processor. Don't forget to add the juice, that remains on the baking sheet, too.

Add the lemon juice, cashew butter, and spices.

Blend for about 2 minutes or until it's creamy.

If needed add 3 tbsp cold water.

ENJOY!