the best healthy vegan lentil stew recipe
Jump to Recipe
The best healthy vegan lentil stew recipe! A satisfying, colorful, nutritional, easy-made, vegan, one-pot stew.
We all need a super healthy recipe, which we can go back to when feeling like we need to fill our bodies with the best ingredients to perform well and feel amazing. Especially during the Christmas time when the chances are high that we overeat sugar and foods that aren't nourishing our bodies well. The cold season also started, and that's when we can rely on nourishing and comfort foods that taste like a hug. This stew/soup is the perfect source for that.
ingredients for the best healthy vegan lentil stew recipe
Lentils.

 Brown lentils are my favorite for this stew recipe. They have an earthy flavor tone and are perfect for stews and soups. The highly nutritious edible seeds are a great source of protein, fiber, iron, Vitamins B, Zinc, and Potassium. Lentils have many health benefits, such as antioxidant and anti-inflammatory properties. They may help lower the risk of heart disease and improve cholesterol and blood pressure level.

Potatoes.

 They are a great source of carbs. The starchy vegetable helps thicken the stew.

Carrots.

 The highly healthy orange vegetable is an excellent source of Vitamin A, Vitamin K, Potassium, Fiber, Vitamin C, Calcium, and iron. They are rich in antioxidants.

Celery.

 Not only will it add a lot of flavor to the soup, but it is also a healthy ingredient. Celery may support digestive function, be anti-inflammatory, may improve memory, and may improve blood sugar management.

Onion.

 One big yellow onion will add so much flavor.

Parsley.

The green herb rounds the soup perfectly up.

Ginger.

 This is the key ingredient to make the stew extra healthy and give it a sweet, spicy touch.

Bay leaves.

Spices.

Apple cider vinegar.

 Just a little bit to make the soup a little bit sour.
how to store
You can eat the lentil stew in a bowl like it is, as it has everything you need to nourish your body. But if you want some extra carbs you can it eat it with rice or a delicious slice of sourdough bread is also perfect. If you have someone who needs or is craving meat add a spicy sausage, it fits perfect.
any tips?
If you don´t have much time, cook the lentil stew on high heat, the soup should be done in 40 minutes (it is done when the lentils are soft).
Cook the Lentil stew on low-medium heat for at least an hour to get a flavorful vegan lentil stew.
Wash the lentils before cooking. If you rinse them before cooking, you remove impurities.
Cut the potatoes and carrots into small cubes.
Add cumin to avoid bloating.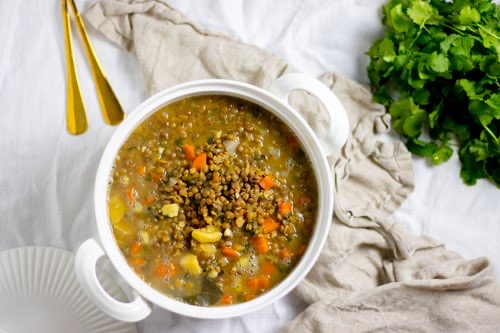 Preptime: 0min
Cooktime: 10min
Waittime:60min
Totaltime:70min
---
Ingredients for the recipe:
| | |
| --- | --- |
| 250g | brown lentils |
| 300g | potatoes |
| 2 | celery stickes |
| 3 | carrots |
| 1 | big onion |
| 1handful | parsley |
| 1tsp | fresh grated ginger |
| 2000ml | water |
| | salt |
| 4 | leaves |
| 1tsp | thyme |
| 1tsp | black pepper |
| 1tsp | oregano |
| 2 | garlic cloves |
| 1tsp | coriander |

Click to copy the ingredients as a list to your devices clipboard! Then for example you can paste to your notes app / shopping list!
Click on a list item to cross out what you already finished
Peel the onion.

Chop the onion and celery sticks.

Mince the garlic.

Wash the potatoes and carrots.

Peel and cut the potatoes and carrots into cubes, rings, or whatever you prefer.

Grate the ginger.

Wash the parsley and chop it.

Rinse the lentils.

Use a big pot and put it on medium-high heat on the stove.

Add some oil and saute the onion for about 30 seconds.

Add the celery, minced garlic and grated ginger and saute for another minute.

Add the potato and carrots cubes and stir them well.

Add the lentils and saute for a minute.

Pour the water over and add some salt.

Let it cook until its starts to boil.

When boiling, add spices and chopped parsley. Let it cook for 40 minutes on medium heat.

Add the apple cider vinegar and stir it well. Let it cook for another 10 minutes.

Pre-taste the stew. It is done when the lentils are soft.

ENJOY!