the best pumpkin spice latte
Jump to Recipe
The best pumpkin spice latte is a delicious vegan hot drink. It is the perfect cozy fall drink with lots of flavors.
The Pumpkin recipe spam is still ongoing. You can't imagine how long I've waited until I tried a pumpkin spice latte for the first time. I actually always thought I would not like it. This was true. I was not fond of the Starbucks pumpkin spice latte at all. But I did not give up. I was thinking about Pumpkin (which I'm absolutely a fan of) and the spices and I couldn't Imagine not liking it, because I love all the ingredients individually. That's when I got in the kitchen and created my own version. I really fell in love with this recipe.
It's cozy, sweet, and filling, and tastes like a warm fall hug.
ingredients for the best pumpkin spice latte
pumpkin.

(Hokkaido) is a super healthy winter squash. My favorite fall vegetable is low in Calories and rich in fiber, Vitamin A, Vitamin C, Potassium, Copper, and Manganese.

oatmilk.

Is free from lactose, soy and a healthy vegan milk alternative. It is a good source of protein, fiber, vitamin B12, Calcium, and riboflavin (Vitamin B2). Diary milk and oat milk have very different nutritional profiles, therefore they should not be compared, there is more about it here

espresso.

Delicious freshly made espresso is perfect for the vegan pumpkin spice latte recipe. I added one espresso per portion, but if you like your coffee stronger, you are free to add as many as you like.

cinnamon.

High quality cinnamon is key.

cloves.

This allrounder has a very strong taste and gives the dish so much flavor.

allspice.

A spice which I grew up with. It has a unique taste and reminds one as a combination of nutmeg, cinnamon and cloves. Its soo good. A must have in the kitchen, if you don't know or have it. But this delicious spice is so much more than just a tasty spice. It has many health benefits, such as cancer fighting properties, antimicrobial and antifungal effects, anti-inflammatory effects, and blood sugar management. But please use allspice in small amounts as it has some negative effects if you use it in high amounts.

maple syrup.

It's a healthier alternative to sweeten this delicious homemade pumpkin spice latte up and it gives it a caramel note.
how to store the pumpkin spice latte
The homemade pumpkin spice latte can be stored in the fridge for about 4 days. This is perfect as you can make one big bottle and warm it up the rest of the week.
any tips?
I really recommend using homemade mashed pumpkin, it simply tastes best.
You can have the Pumpkin spice latte cold. It tastes awesome.
Once stored in the fridge and warmed up, always add a fresh espresso shot for the best taste.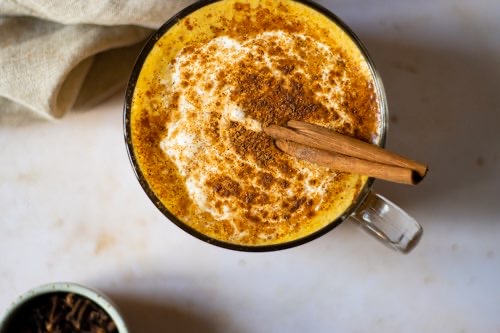 Preptime: 2min
Cooktime: 20min
Waittime:0
Totaltime:22min
---
Ingredients for the recipe:
| | |
| --- | --- |
| 800ml | oatmilk |
| 200g | mashed pumpkin |
| 100ml | maple syrup |
| 2tsp | ground cinnamon |
| 2tsp | ground cloves |
| 2tsp | ground allspice |

Click to copy the ingredients as a list to your devices clipboard! Then for example you can paste to your notes app / shopping list!
Click on a list item to cross out what you already finished
If you're using canned mashed pumpkin then skip to step 5. If not cut, cut the pumpkin into small cubes.

Add water and the pumpkin cubes to a pot and bring it on high heat to boil.

Cook the cubes for about 15 minutes or until they are soft.

Remove the pumpkin cubes from the water and mash them with a fork until combined and smooth.

Add the mashed pumpkin, oat milk, maple syrup, and spices to a blender.

Blend for about 3 minutes or until well combined, on high speed.

Pour the blended pumpkin oat milk drink into a pot.

Put the pot on medium heat on the stove. Cook for about 5 minutes.The drink is done when it starts boiling.

In the meantime make the espresso shots. One shot per portion.

Pour the hot pumpkin latte in two glasses.

Add one espresso shot to each glas.

Sprinkle some pumpkin spice on top.

Ready to get cozy.

ENJOY!