the best simple and moist tropical coconut sheet cake
Jump to Recipe
The best simple and moist tropical coconut sheet cake is for the ones who want a simple fast made cake which can be made for any occasion.
The coconut sheet cake reminds me of a typical rich in texture and flavorful Dominican cake. We love it for a weekend treat. We sit together, drink coffee, eat a piece or two, the kids are happy, and we simply enjoy the afternoon. But this coconut cake can be so much more than just a weekend treat. It is the perfect cake for birthday parties, a sunday afternoon or a simple everyday treat. It is so simple to make that you are going to enjoy it even more. The sweet coconut sauce and dry coconut flakes combined with the rich in flavor cake, it's perfection.So much going on, so much texture. Kids and Adults are going to love this tropical cake hit.
Ingredients for the best simple and moist tropical coconut sheet cake
Butter.

We are using melted unsalted butter for this cake. The melted butter makes the batter soft, without contributing to its structure.

Flour.

Type 405 or 550. In the US it is also known for all purpose flour.

Sugar.

We are using white sugar for the batter. The batter is not going to turn out very sweet as we are going to pour over the sweet coconut cream over the cake.

Baking powder.

2 tsp of baking powder, so the batter will rise.

Orange zest.

For a fresh taste.This is perfect for the cake.

Coconut flakes.

We are not adding any coconut in the batter, as everything with coconut comes after baking. The vanilla orange batter mixed with the sweet coconut cream and coconut flakes make this simple cake perfect. So much texture.

Vanilla extract.

You can use organic vanilla extract or real vanilla.

Milk.

will make the cake moist. Please don't use reduce-fat milk as we will need the fat for a light and strong texture.

Coconut cream.

This will give the cake a super moist coconut taste.

sweetened condensed milk for a sweet, creamy coconut sauce.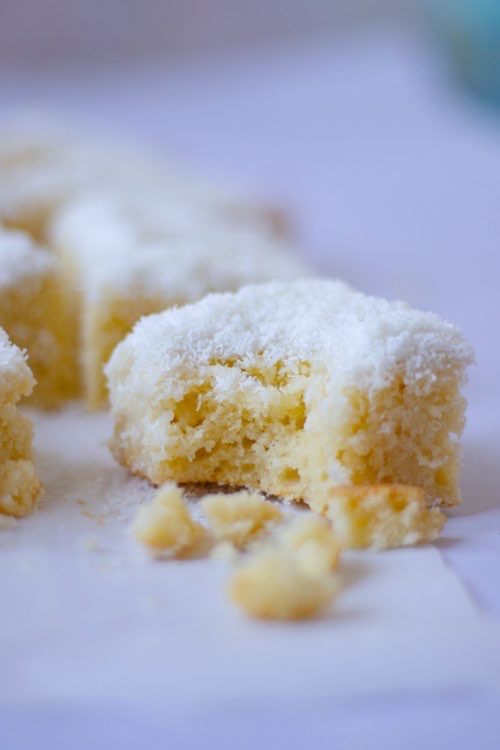 any tips?
As every oven is different, check on the cake. Maybe you need to level down the heat or you need to bake the cake longer.
The cake should have a beautiful golden color when ready.
Preptime: 10min
Cooktime: 20min
Waittime:10min
Totaltime:40min
---
Ingredients for the recipe:
| | |
| --- | --- |
| 360g | butter |
| 250g | sugar |
| 520g | wheat flour |
| 2tsp | baking powder |
| 200g | coconut flakes |
| 4 | eggs |
| 400g | sweetened condensed milk |
| 200ml | coconut cream |
| 200ml | milk |
| 1tsp | orange zest |
| 3tsp | vanilla extract |

Click to copy the ingredients as a list to your devices clipboard! Then for example you can paste to your notes app / shopping list!
Click on a list item to cross out what you already finished
Preheat the oven to 180°C (350°F)

Grease and line a baking pan (30cmx38cm or 15x10 inch)

Melt the butter in a microwave, or on the stove in a small pot on low heat.

Wash an orange, zest it with a microplane, citrus zester, vegetable peeler, or if you don't have any of these equipments, a knife. If you're zesting the orange with a knife or vegetable peeler , minze the lemon zest.

Mix the flour, baking powder,lemon zest in a bowl together.

If you're using a hand mixer- you will need a large bowl, if you're using a stand mixer- use the bowl that comes with the mixer.

Add the eggs to a big bowl and whisk them for 2 minutes on high speed.

Add milk, sugar,vanilla extract, and butter to the bowl. Mix for 2 minutes on medium speed.

Add the dry ingredients and mix it on low speed until no lumps remain.

Pour the batter into the prepared baking pan and bake for about 20 minutes or until a knife/ wood stick inserted in the center of the cake comes out clean.

Let it cool off.

In the meantime mix together 200 ml coconut cream and 400g sweetened condensed milk until well combined.

Pour the sweet coconut milk over the cake.

Sprinkle coconut flakes all over the cake until the top is white.

Cut the cake in 20 pieces.

Ready to serve!

ENJOY!