the perfect quick and healthy cherry almond smoothie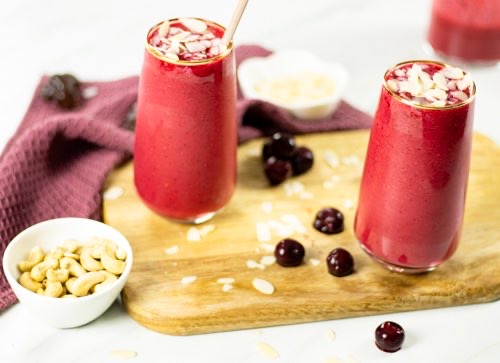 Jump to Recipe
The perfect quick and healthy cherry almond smoothie recipe. A vegan Smoothie recipe to boost up your mood and vitamin level. Cherry and Almond are the perfect match, to create a taste bomb.
I must tell you that I am actually not a fan of drinking my food. Instead, I like to eat my fruits and vegetables and enjoy them to the fullest. But in my current Pregnancy I was craving a cold Smoothie.
Before I created this smoothie, I knew I wanted cherries. As it is currently January, it's not the time for cherries. I would have to wait for another 6 months if I wanted fresh ones. But cherries weren't the only thing I was craving, if not something sour. Okay there's one thing about me you need to know. I love everything that is SOUR and so does my daughter. Lemon, Passion fruit, kiwi and the list goes on.
Ingredients
Let combine these two cravings and use sour cherries. The best thing you can do if you are craving something off season, buy them frozen. They still contain enough vitamins, because they got frozen right after harvesting. Make sure you buy organic, not processed, frozen fruits. Let's get back to the sour craving, what better fruit to use if you're craving something sour, than raspberries. Sometimes I like to have frozen raspberries as a Snack. So yummy.
How I like my Smoothies
For my smoothies I like my fruits to be frozen. The texture is just creamier without adding any cream. I like to use plant-based milk. We can say my smoothies are always vegan. Almond Milk is used in this recipe because I wanted the smoothie to have a nut flavor, but the flavor should not dominate the smoothie. To sweeten it up I added a Spoon organic vanilla flavor. I always like to add nuts or oats, so I'm full for a good amount of time.
Blend it all together for about 2 minutes and now you have your creamy, vegan, red, delicious breakfast.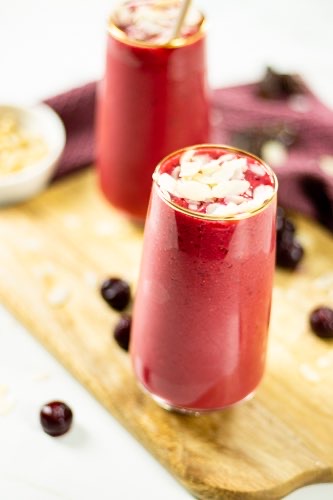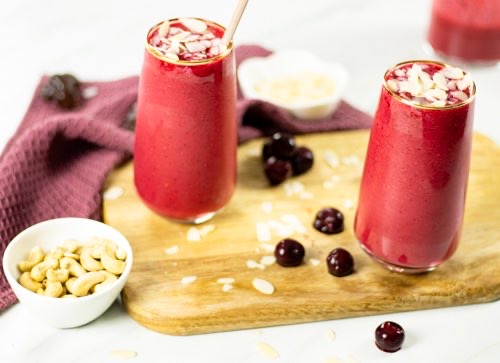 Preptime: 1min
Cooktime: 2min
Waittime:0
Totaltime:3min
---
Ingredients for the recipe:
| | |
| --- | --- |
| 100g | Frozen raspberries |
| 200g | Frozen sour cherries |
| 300ml | unsweetened almond milk |
| 2tbsp | organic vanilla extract |
| 2 | dates |
| 1handful | cashews |

Click to copy the ingredients as a list to your devices clipboard! Then for example you can paste to your notes app / shopping list!
Click on a list item to cross out what you already finished
Add everything to a blender.

Blend it for about 2 minutes or until it's smooth.

Pour it into two glasses and garnish with almond slices to make it pretty.

Ready to enjoy immediately

ENJOY!