winter cheese and leek soup
Jump to Recipe
This winter cheese and leek soup is a super delicious traditional German soup.
This German cheese and leek soup with ground beef is one of my favorite childhood meals during Christmas time. We ate it just during Advent. Growing up, it was a tradition in our household to go to our local Christmas market and eat heavenly good cheese and leek soup.
You don't understand how delicious a soup tastes when you're freezing and the soup warms you up. This soup is literally a big cozy hug. This is a must-have recipe during wintertime.
ingredients for the winter cheese and leek soup
Leek.

The soup is going to have a strong, leek taste. The large long green onion is a nutrient-dense food. It is rich in Vitamin A, C, K, and Magnesium.

Potatoes.

They are the perfect source of carbs for this comfortable winter soup. You can add any yellow potato you like. You can peel the potatoes or leave the skin on; it is up to you.

Ground beef.

High-quality organic ground beef, or if you don't like using beef ground pork, works as well.

Onion.

I use yellow onion for this recipe, but red onion also works.

Garlic.

4 juicy garlic cloves for some excellent flavor; you can even add more of that's what you prefer.

Carrot.

The carrots will add some color and sweet flavor to the dish.

Celery.

The celery sticks together with the carrots work as a kind of vegetable broth taste.

Parsley.

I recommend using fresh parsley.

Bay leaves.

Fresh or dried, you choose.

Cheese.

I love Parmigiano Reggiano and Gouda cheese for this recipe. Both should be bought in pieces and then freshly grated at home.

Heavy cream.

If you have access to Italian heavy cream, use this; it's so good.

Spices.

Italian oregano, Thyme, black pepper, and salt. The motto was dark and green spices for this dish.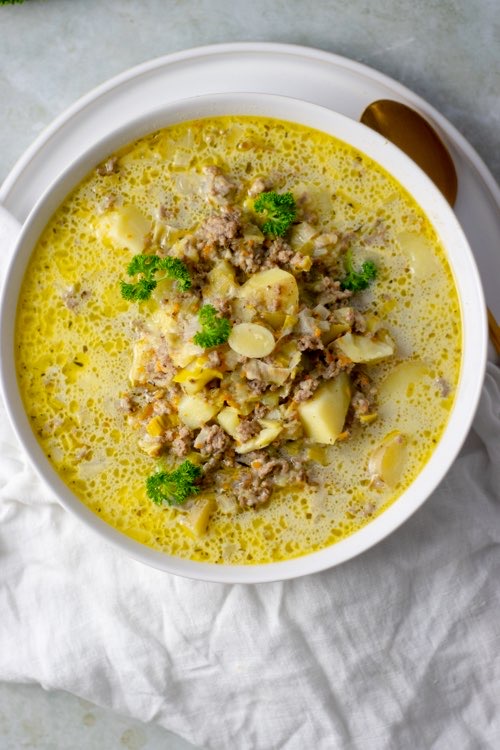 how to cook the cheese and leek soup in the slow cooker.
You can cook the soup in the slow cooker by frying the beef with salt and pepper until it's brown and then adding all the ingredients without the heavy cream and cheese and setting it on a high level for about 6 hours.
After 5 hours and 30 minutes, add the heavy cream and shredded cheese and cook at a low level.
The soup is ready to serve!
how to store the soup
The soup can be stored in a container in the fridge for about five days.
The soup can be stored in the freezer.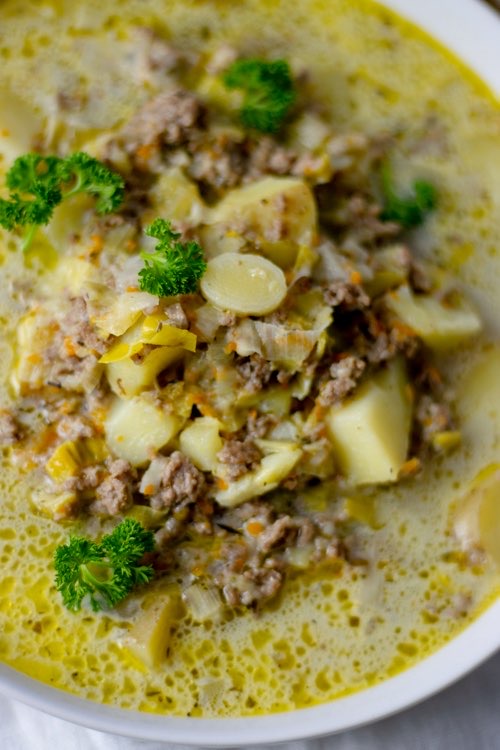 Preptime: 10min
Cooktime: 50min
Waittime:0
Totaltime:60min
---
Ingredients for the recipe:
| | |
| --- | --- |
| 800g | leek |
| 1000g | potato |
| 1000g | ground beef |
| 2 | yellow onion |
| 4 | garlic clove |
| 200g | carrot |
| 2 | celery stick |
| | handful parsley |
| 100g | parmigiano reggiano |
| 200g | gouda cheese |
| | salt |
| 2tsp | black pepper |
| 3tbsp | thyme |
| 2tsp | italian oregano |
| 3 | bay leaves |
| 2500ml | water |
| 200ml | heavy cream |

Click to copy the ingredients as a list to your devices clipboard! Then for example you can paste to your notes app / shopping list!
Click on a list item to cross out what you already finished
Shred the Parmigiano reggiano and Gouda cheese.

Peel the onions and garlic cloves.

Chop the onion and mince the garlic cloves.

Wash and cut the potatoes into cubes and put them aside.

Cut the Leeks into rings, discard the end, and then add them to a bowl.

Now fill the bowl with water and take the rings apart by removing the smaller rings from the bigger outer rings.

Remove the water and put the leek rings aside.

Wash the carrot and remove the end.

Shred the carrots, celery sticks, and parsley in a food processor. If you don't have a Food processor, then cut everything into tiny pieces or grate them.

Add some olive oil to a big pot, and put it on high speed on the stove.

Add the onion, garlic, shredded carrots, parsley, and celery, and saute for a minute.

Add the ground beef salt and pepper and mince the beef apart and fry until brown. It should be cooking well. This will take about 10 minutes.

Add leek rings and potato cubes and cook for 3 minutes. Stir it well.

Pour the water into the pot and add the spices and bay leaves.

Put the heat on medium level and put a lid on the pot. Cook for about 40 minutes, don't forget to check and stir it sometimes.

Add the heavy cream and stir well.

Now add the shredded cheese while whisking.

Let it cook on low heat for about 15-20 minutes. Don´t forget to stir it sometimes, especially when adding the cheese, as it can sit down on the bottom and burn.

Check if more salt is needed; if so, add some salt.

Ready to serve with some delicious Baguette.

ENJOY!