dreamy creamy coconut feta pasta
Jump to Recipe
Are you looking for a delicious simple, fast made pasta recipe, which you have never had before ? This heavenly delicious dreamy creamy coconut feta pasta is one for the books
Have you heard about the famous Tik Tok pasta, which was viral early this year? When I first saw it, I thought that it looked pretty good but I was not going crazy about it. Then it went viral on instagram too and everyone was freaking out , so I thought I should give it a try, but of course make my own thing. All I saw was the ingredients and I immediately got inspired to make my Caribbean feta dream. This recipe is so simple and it sure won't disappoint you!
If you are a beginner in the kitchen you need to make this one. You can't fail with this delicious recipe.You don't need a lot of preparation time and all you have to cook is the pasta and turn on the oven.Imagine your clean kitchen. You're doing whatever you want and smelling the fresh tomatoes, garlic, herbs and feta all coming together and setting their aroma free.If you could feel the smell it would feel like the warm arms of your Mother who just made the best food with all her love.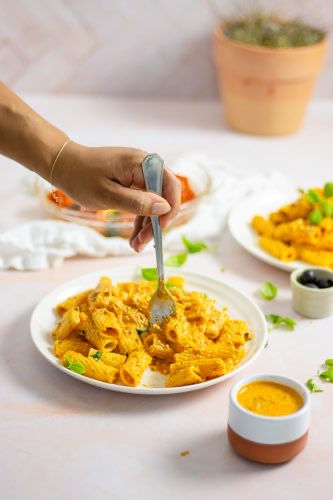 Preptime: 3min
Cooktime: 42min
Waittime:0min
Totaltime:45min
---
Ingredients for the recipe:
| | |
| --- | --- |
| 200g | Feta Cheese |
| 500g | Tomatoes |
| 2tbsp | Olives |
| 1tbsp | Carpers |
| 3 | Garlic Cloves |
| 30ml | Olive Oil |
| 200ml | Coconut Cream |
| 1tbsp | Thyme |
| | Salt |
| 2tbsp | Oregano |
| 1tbsp | Chili Flakes |
| 500g | Pasta |

Click to copy the ingredients as a list to your devices clipboard! Then for example you can paste to your notes app / shopping list!
Click on a list item to cross out what you already finished
Preheat the oven 200 °C.

Put the cheese in the middle of a baking dish.

Add the tomatoes, olives, capers peeled garlic cloves and the spices.

Drizzle the olive oil over the tomatoes and most important the garlic cloves so they can set their aroma free.

Put it in the oven and bake for about 40 minutes.

In the meantime cook the pasta as said in the instruction

Take the baking dish out of the oven.

Put the baked ingredients in a food processor, hand blender or if you don't have any blender use a fork.

Add the coconut cream and blend it until its a creamy sauce.

Taste test the sauce and add salt if needed.

Combine the pasta with the sauce and garnish it with fresh basil.

ENJOY!