easy and perfectly delicious french toast casserole
Jump to Recipe
Spring is finally here that means BRUNCH season has finally started. This French toast casserole is the perfect spring brunch recipe for you and your friends.
Yes of course we can have brunch all year. But there is something different about a Spring brunch. Pancakes with strawberries and blueberries, delicious Quiches with fresh vegetables from the farmers markets, garlic Asparagus or French toast. The list could go on and on.
Have you ever hosted a brunch? I don't want my brunch to be just a breakfast. I want to celebrate food with my friends and family. The planing can get very fast very overwhelming.You don't want to spend the whole morning in the kitchen and by the time your friends arrive you'd be pretty exhausted and can't really enjoy the brunch because you're too tired.The key is to plan ahead and have dishes which you can prepare the night before or even 2 days before.Today I'm going to share one of my favorite special brunch recipes. This one is prepared in 5 Minutes, so delicious, sweet and different: My French toast casserole. This recipe is going to make you dance. It tastes like you spend so much time in the kitchen, but you don't. It is the perfect recipe for brunch or if you want to bring a delicious dessert to a party, because you can impress people and don't have to stress about the making. Minimal effort delicious outcome.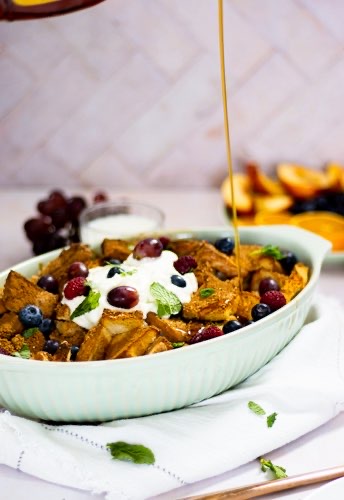 Ingredients
Bread.

The main ingredient is the bread. You can use any white bread for this recipe.If you have many different kinds of bread leftovers you can basically throw them all together.

Milk.

You also need milk for this dish. I use regular milk but if you don't like regular milk I can recommend you almond milk or coconut milk. That doesn't mean that you can't use any other sort of milk, but I didn't try the recipe with another plant based milk. Since I'm using high quality organic eggs, I will never go back to non organic cheap eggs. I recommend you to use high quality organic eggs, believe me you will taste the difference.

Spices.

Okay now let's talk about the important steps/ ingredients, whatever you like to call it, the flavors. Until now we have three basic ingredients which would taste boring if we left out the next ingredients. For an epic taste bomb you will need an

orange-zest, brown sugar, cinnamon, cloves, vanilla extract and brown sugar.
Again it is very important that you use an organic orange because of the amount of pesticides the citrus fruits contain. The CFIA analyzed citrus fruits and found out that almost three per cent of the citrus fruits contain more pesticides than maximum allowed.
Here is one of many great articles where you can read more.
I always use
Ceylon cinnamon
which is also considered as the "true" cinnamon. The Cassia cinnamon which is the cheaper cinnamon contains a significant amount of coumarin, which can be harmful if you take large doses of it. Ceylon on the other hand is much lower on coumarin. You can enjoy all the health benefits cinnamon has by using the high quality one.
I love
vanilla.
As extract or pure. But what I don't like is any kind of vanilla imitation. I know vanilla is very expensive but this is an ingredient which you should invest in. If you can't buy pure vanilla as it is very expensive, make sure to buy vanilla extract, NOT flavor, which only contains good quality vanilla and alcohol, no extra sugar or any other ingredient. I always buy organic Dominican extract. Once you've cooked with it you will never buy another one.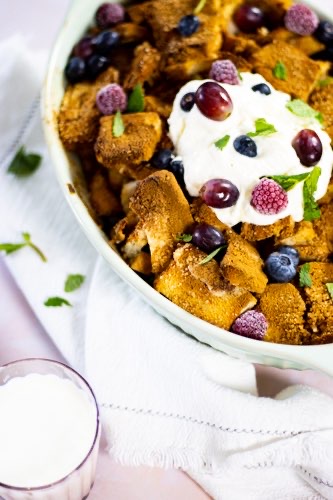 any tips?
My number one tip is to prepare the casserole the night before and leave it in the fridge. The ingredients have so much more time to unfold their flavors which you really can taste.
Use any fruits you like as topping for the casserole. I love to use berries or mango and maple syrup and to give it a fresh kick use fresh mint. It's sooo good.
Bake for 30 minutes 180° C in the oven or until the top is golden brown. Now ready to serve you can enjoy the perfect sweet brunch recipe.
Do you need another perfect brunch recipe? Try this delicious tomato scrambled eggs recipe.
Preptime: 5min
Cooktime: 30min
Waittime:overnight
Totaltime:275min + your waittimemin
---
Ingredients for the recipe:
| | |
| --- | --- |
| 500g | white bread (toast, ciabatta, sourdough..) |
| 6 | eggs |
| 400ml | milk |
| 80g | brown sugar |
| 1 | orange |
| 5 | cloves |
| 2tbsp | vanilla extract |
| 1tsp | ground cinnamon |
| 1tbsp | zest of a lemon |
| 30g | melted butter (optional) |
| 4tbsp | brown sugar |
| 2tsp | ground cinnamon |
| | maple syrup, vanilla sauce, ... |
| | your favorite fruits |

Click to copy the ingredients as a list to your devices clipboard! Then for example you can paste to your notes app / shopping list!
Click on a list item to cross out what you already finished
Preheat the oven 180°C (only if you're doing it right away)

Pour the milk into a bowl. Add the eggs and whisk it.

Add the cinnamon, cloves, vanilla extract, orange zest, sprinkle of salt, juice of an orange and mix it.

Cut the bread into cubes.

Add the bread cubes in a baking sheet. Pour the milk mixture over the bread cubes.

If you have the time I recommend you to leave the prepared French toast in the fridge over night. If not you can go on with the next step.

Mix the brown sugar, cinnamon and if you like the melted butter together.

Sprinkle the topping mixture over the prepared casserole.

Bake until its golden brown and crunchy on top (for about 30-40 minutes, depends on your oven)

Pour maple syrup over and add your favorite fruits.

ENJOY!