delicious tomato scrambled eggs
Jump to Recipe
A simple delicious scrambled eggs recipe with lots of flavors. Bell Pepper, garlic, onions and tomato paste is all you need for this delicious tomato scrambled eggs recipe, which is made in 10 minutes.
The time is finally here. Today is the day I will finally share my popular tomato scrambled egg recipe.By popular I mean friends and family, haha. I don't know why I didn't share this recipe earlier. Actually I thought it was not necessary to share it. A few weeks ago a friend of mine sent me a picture of her version of my scrambled eggs, because she was craving it. Let me tell you, this was everything but not my tomato scrambled eggs. This didn't even look a little bit like that. At this point I knew, okay maybe I should share the recipe.
My mother used to make her bell pepper scrambled eggs every Sunday and I loved it. You knew it was Sunday if Mom made her scrambled eggs and Dad went to the bakery to buy the best fresh baked bread and croissants. As we all got older and I moved out, we didn't spend our Sundays like in the good old days anymore. At that time I needed to make my own recipe. But actually it was never as good as the one my Mom used to make. After watching her make her recipe I knew what I did wrong.
It still doesn't taste like her recipe and if I had to choose I would always choose her version. But it has to be made by her, just because there are a lot of memories which come with her version and you know nobody makes it like your Mama. But I can say it is at least as good as hers. We are at that point where she doesn't make her scrambled eggs very often, if not everybody (my Mom too) asks me if I can make my recipe.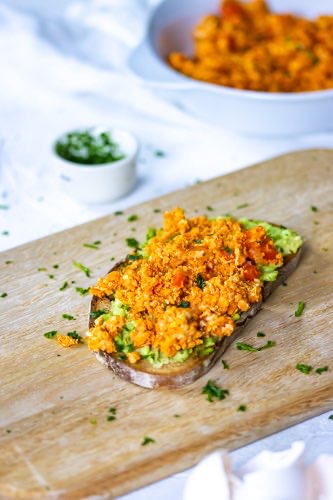 Main Ingredients
You can make your own version of this recipe because it is a very adaptable one. But there are a few things which should be in every version. You will need red bell pepper, onion, garlic clove and tomato paste. These are the basic ingredients to create a bomb flavory scrambled egg.
You can add fresh tomatoes, olives, coriander, parsley or maybe some jalapeños . Sometimes I love to add red, yellow and green bell pepper. Sometimes I'm addicted to the version with red onions and sometimes I love white onions in my eggs. It depends.
What you shouldn't do if you want your eggs to be delicious..
You should always make the sauce before adding the eggs. When I first started making this recipe I always saute the vegetables, then added the eggs, then the tomato paste and then water to create the sauce. You are not going to get a good sauce. The eggs are going to be full of water and the tomato paste couldn't unfold its flavor. No matter how much you change the amount of tomato paste or water. The order is the most important rule in this recipe.
Sides
If people think or talk about scrambled eggs most of the time they are only considering it as breakfast or brunch. But eggs are so much more than just a breakfast or brunch . We like them for lunch and dinner as much as for breakfast.Especially this recipe. You can have it with
rice, mashed potato, mangu (mashed plantain) or yuca
. This is the perfect recipe if you don't have much in your fridge but need a delicious full-fledged meal. If you liked the recipe for lunch or dinner, I recommend you to try my
full of flavor black beans and rice (dominican moro de habichuela negra)
with the scrambled eggs , they match perfectly together.
Maybe you would like to have a delicious smoothie
Preptime: 3min
Cooktime: 7min
Waittime:0min
Totaltime:10min
---
Ingredients for the recipe:
| | |
| --- | --- |
| | sunflower oil (olive oil or coconut oil work really well too) |
| 0.25 | red bell pepper |
| 1 | small onion (red or yellow you choose) |
| 1 | garlic clove |
| 1tbsp | tomato paste |
| 3 | eggs |
| | salt |
| 30ml | water |
| | pepper |
| | parsley |

Click to copy the ingredients as a list to your devices clipboard! Then for example you can paste to your notes app / shopping list!
Click on a list item to cross out what you already finished
Chop the red bell pepper, onion, garlic and parsley.

Add the oil into a pan and set the pan on high level.

Saute the chopped bell pepper, onion and garlic for a minute.

Add the tomato paste and stir it a few times.

After a minute add the water.

Stir it until it's a thick tomato sauce.

Season the sauce.

Set your stove on medium level and create a hole in the middle of the pan and then add the eggs.

Wait until the egg is slowly getting white and then stir it. Then wait again until it is slowly cooking, then stir it. So on until the eggs are fully cooked.

Sprinkle the chopped parsley over the finished scrambled egg and serve it.

ENJOY!