a must have simple and quick delicious healthy porridge breakfast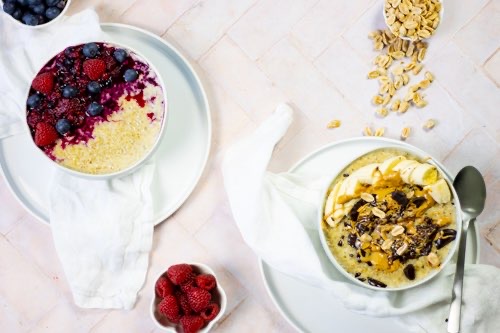 Jump to Recipe
Are you looking for a quick healthy but also delicious breakfast? Creamy oatmeal is the solution, especially this must have simple and quick delicious healthy porridge breakfast recipe.
I'm not a breakfast person but sometimes I have to make sure that I eat on time, so I will function right. I could eat warm savory food right after waking up, but I know I would feel terrible after that. I knew I needed variation in my breakfasts. Sometimes sweet, sometimes salty, but mostly everyday healthy.
The perfect recipe for a healthy start to your day, is my vegan creamy sweet porridge recipe. It is fast made and nourishing. The coconut sugar and cinnamon keep your blood sugar and insulin level low, which is very important if you want to stay satisfied for a while. Oatmeal is a nutrient rich food which provides plenty of vitamins such as magnesium, iron, and folate. It has so many more benefits.
You can prepare it for the week, so you only spend one time 5-10 mins in the kitchen for your breakfast for the whole week. The recipe is also family friendly, thank God, because nobody has the time to make 4 different kind of breakfast each morning.
Ingredients for the quick and healthy porridge breakfast
Oats.

Any kind of oats works for this recipe but keep in mind that using whole grain oats affects the time cooking the porridge. They are one of the healthiest grains. The gluten free grain is a perfect source of very important vitamins, minerals, and antioxidants. Oats are a good source of carbs and fiber, such as Beta-Glucan, which reduce total cholesterol level, blood sugar and insulin response.

Oat milk.

I really love to use oat milk for my porridge. Of course, you can use any milk you want for this porridge recipe. Oat milk is high in fiber, vitamins such as B vitamins and folate. It contains zero saturated fats, mineral potassium, magnesium, and zinc which are important for strengthening and formation of healthy bones. It's cholesterol free, regulates blood sugar level and overall is a super healthy milk choice.

Cinnamon.

If I'm making the quick version of the porridge I use powdered cinnamon, but if I have a little bit more time, I let it simmer on low temperature and use whole sticks. The whole cinnamon stick needs more time to unfold its aroma. Cinnamon is one of the most popular spices out there. It is a power spice as it has been used for medicinal properties for thousands of years in different cultures. To name a few studies have shown that cinnamon oil may help treat some types of fungal infections, prevent Alzheimer's disease, prevent multiple sclerosis and help protect against HIV. In a study from 2016 an cinnamon extract was found which showed anti-HIV activity. This is such powerful information, because those cinnamon extract could one day become a part of HIV therapy.

Coconut sugar.

The ''healthier'' sugar, which is actually not healthier, has more potential health benefits such as preventing low blood sugar and it contains iron, zinc. Calcium and potassium. But coconut sugar is still primary a sweetener and actually contain almost the same amount of nutrients and calories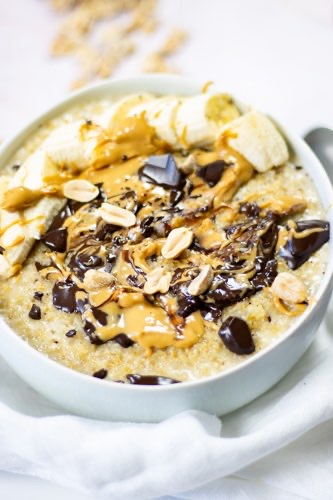 Toppings
There are really no limits on how to eat this porridge. This is one of the awesome aspects of this "basic" recipe. The porridge is the foundation and the toppings can bring it to another level.
Fruits

such as blueberries, raspberries, strawberries, or banana are perfect for this porridge.

Peanut butter, Cashew butter or hazelnut butter

are a perfect tasteful and healthy fat supplier.

Chocolate.

If you or your kids want something sweet but still healthy just top it with a little bit of dark chocolate.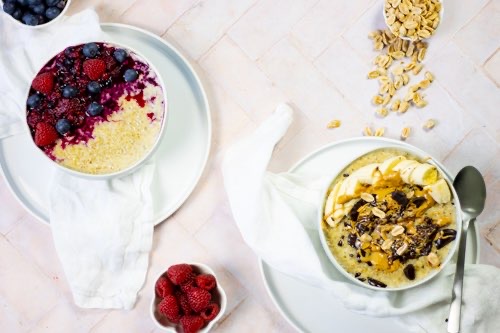 Preptime: 5min
Cooktime: 10min
Waittime:0min
Totaltime:15min
---
Ingredients for the recipe:
| | |
| --- | --- |
| 300g | oat |
| 1000ml | oat milk (or any milk you like) |
| 2tbsp | coconut sugar or brown sugar |
| 0.5tsp | cinnamon |

Click to copy the ingredients as a list to your devices clipboard! Then for example you can paste to your notes app / shopping list!
Click on a list item to cross out what you already finished
Mix the oatmeal and oat milk in a pot.

Put the pot on the stove and set it on medium level.

Add the coconut sugar and the cinnamon.

Stir it till it is a creamy mash.

Pour the finished porridge into a bowl and add your favorite fruits on top. My favorite topping fruits for this recipe are bananas and blueberries.

ENJOY!