quick and super healthy chocolate porridge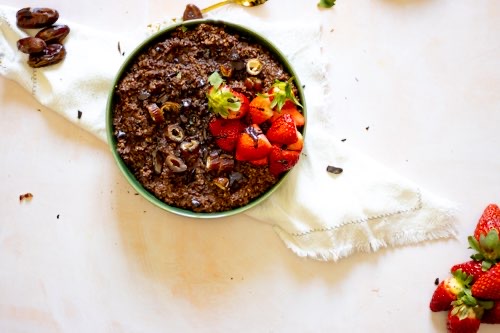 Jump to Recipe
I know it sounds strange, chocolate and healthy? That's not possible. But it is! This chocolate strawberry porridge is 100 percent healthy, but it tastes so much like dessert. The perfect way to start your day.
Why should I make this breakfast?
You need to try this meal. It only takes you literally 5 minutes to make. The flavors of chocolate, strawberry, oatmeal, vanilla and dates combinated are mouthwatering good. The dates make this meal extra sweet, the strawberries juicy and the chocolate heavenly good.
I love berries especially in
my breakfast
, but let me tell you, strawberries are one of my favorite fruits out there. They are colorful, deliciously sweet and sometimes sour (I love that), contain a lot of water and are so low on calories. I don't count calories, but this is good to know. But most important are the nutrition facts of the berry. Strawberries have a lot of vitamin C, manganese and they also have a decent amount of folate. They are the perfect fruit if you're looking after your heart health and blood sugar control.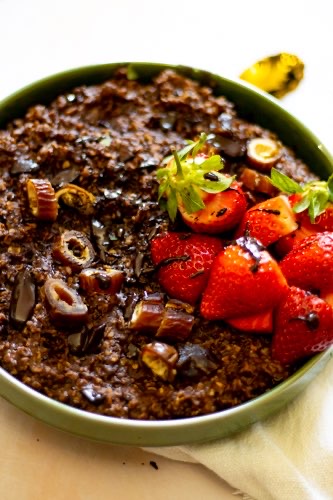 Let's talk about chocolate..
In my country, where you can find the cacao fruit everywhere, it is a very healthy fruit. The cacao powder, which we find in our stores, tastes so different as the ones you can find for example in the Dominican Republic.
You can taste a huge quality difference.
Benefits of eating cacao
My Mother used to tell me about the benefits of the cacao as powder, butter or the whole fruit. Just to make it clear I'm not talking about the regular chocolate with tons of sugar, bad fats and empty calories. I'm talking about good quality cacao which is rich in polyphenols. Polyphenols have significant health benefits, including reduced inflammation and improved cholesterol level. It may lower your risk of heart attack, Improve Blood flow to your brain and brain function and has so many more benefits which you can
read here
. Make sure to buy organic cacao powder and you can enjoy eating it with no guilt.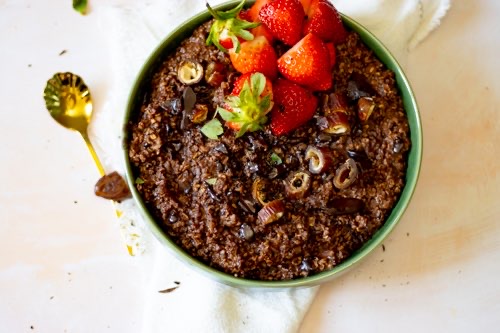 Don't forget to eat with your eyes first! The colors and setting of your meals are important. The contrast of red, dark brown and green are just inviting you to eat this heavenly good super healthy chocolate porridge. After eating this meal you are going to feel so good and motivated, because you started your day with a delicious and healthy breakfast which keeps you satisfied for a long time.
any tips?
If you have time, let it simmer on low heat, so it gets very creamy.
Strawberries are the perfect fruit for this porridge, but you can add any fruit you like. Bananas or raspberries are also the perfect partner.
If you don't have a cinnamon stick, use 1 teaspoon of cinnamon powder.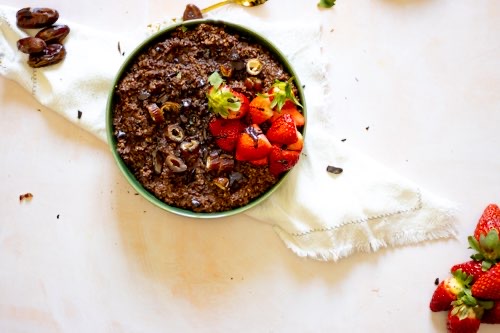 Preptime: 1min
Cooktime: 10min
Waittime:0min
Totaltime:11min
---
Ingredients for the recipe:
| | |
| --- | --- |
| 200g | oatmeal |
| 700ml | oat milk (almond or regular milk works too) |
| 2tbsp | coconut sugar |
| 3tbsp | cacao powder (100% cacao powder) |
| 1tsp | vanilla extract (100% vanilla) |
| 1 | cinnamon stick |
| | Strawberries |
| 6 | Dates |
| 10g | dark chocolate (90%) |

Click to copy the ingredients as a list to your devices clipboard! Then for example you can paste to your notes app / shopping list!
Click on a list item to cross out what you already finished
Mix the oatmeal, oat milk, vanilla extract and the cinnamon stick in a pot.

While constantly stirring, bring it to a boil. Cook until the porridge is creamy and warm.

Add the coconut sugar and cacao powder and let it simmer for 2 minutes.

While you let the porridge simmer, wash and cut the strawberries, cut the dates into rings and chop the chocolate into little pieces.

Add the porridge into two bowls and garnish with the toppings.

ENJOY!