how to make the perfect iced vanilla oat milk latte
Jump to Recipe
A cold and fresh but still creamy drink is what we all need on a hot summer day. I'm going to share how to make the perfect iced vanilla latte, so you won't ever need to go to Starbucks to get yourself one.
I'm very simple when it comes to my coffee, but not the quality though. I want it black with a little bit of sugar in it. Okay, I love a good cappuccino too, but I'm not one of those people who order any fancy coffee drink with tons of sugar.
I'm not going to lie, a good cold coffee with a lot of ice can be very satisfying. That's why I wanted to create my very own cold coffee drink. One thing was clear, the recipe had to be simple and fast made, as nobody wants to turn into a full-time barista for their coffee at home. But the taste had to be barista worthy.
This simple but amazing Iced vanilla oat milk latte is the perfect recipe if you want to make your barista-worthy cold coffee drink at home.
Ingredients for the iced vanilla oat milk latte
vanilla extract.

Please use 100 percent high-quality original vanilla extract and not vanilla aroma. Small things like this make the drink perfect.

espresso.

A good quality mild Italian espresso is the best for this combo, but every coffee works well as long as it has a strong taste. We will need that because we won't need much coffee. If the coffee is too soft the oat milk will dominate the drink too much and the taste will change.

oat milk.

I recommend using the barista oat milk version as it is creamier. But please don't use sweeten oat milk.

maple syrup.

Original high-quality maple syrup is key for a delicious caramel sweet taste. You won't feel bad using maple syrup as it has many health benefits (you can read more here)

ice cubes.

Big ice cubes are necessary for a not-watery drink.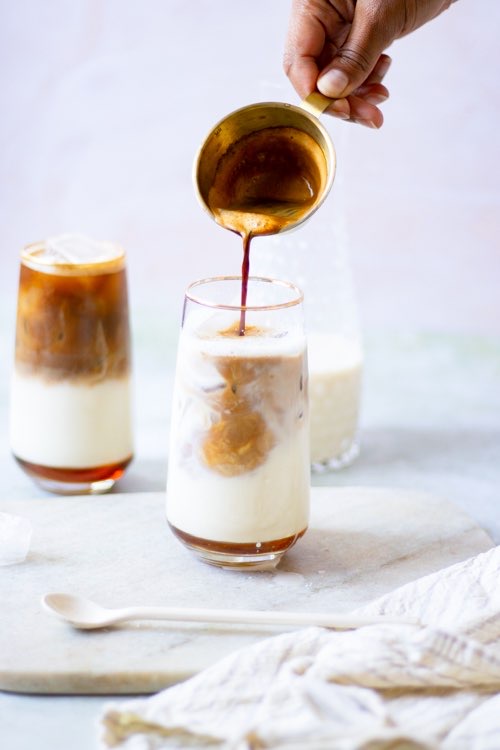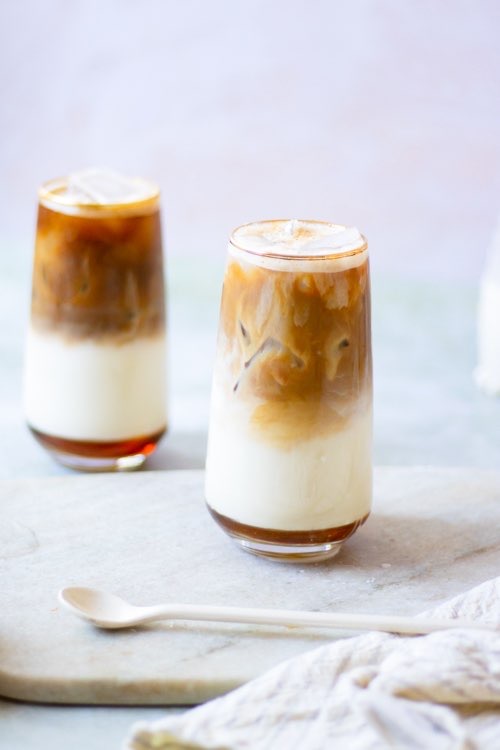 any tips?
Use a big Ice cube for a refreshing drink.
Put the milk and vanilla extract in the fridge before making the drink to make it extra good.
Use a fresh-made espresso because nothing tastes better than fresh coffee.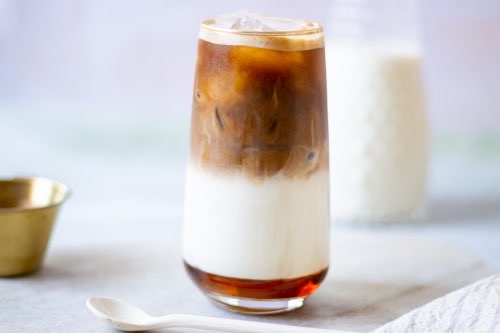 Preptime: 2min
Cooktime: 0min
Waittime:0
Totaltime:2min
---
Ingredients for the recipe:
| | |
| --- | --- |
| 1 | espresso shot |
| 2tbsp | vanilla extract |
| 3tbsp | maple syrup (if you have a sweet tooth, use more) |
| 300ml | oat milk |
| | ice cubes |

Click to copy the ingredients as a list to your devices clipboard! Then for example you can paste to your notes app / shopping list!
Click on a list item to cross out what you already finished
Make an espresso shot.

Use a big Glas (16 oz or 0,5l) and fill it with ice cubes.

Add maple syrup to the glass.

Pour the milk into the glass.

Add the espresso shot.

Add the vanilla extract.

Stir it!

ENJOY!