the best banana bread out there with a caribbean twist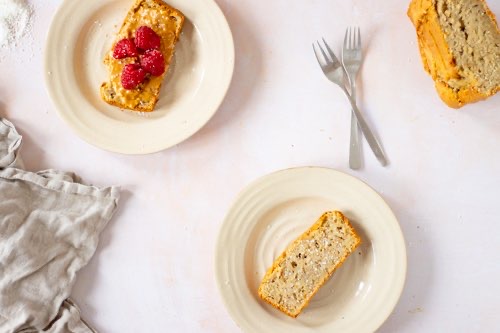 Jump to Recipe
Are you looking for a not so boring, super moist, full of flavor banana bread? The best banana bread out there with a Caribbean twist is the recipe you're looking for.
I'm so excited to share this recipe with you. It's one of my favorite day to day recipes.The day has come where I am finally going to share my famous banana bread recipe. To be honest I needed way too long to share this delicious recipe.I simply thought that there are so many delicious banana bread recipes out there. Why share another one ? Because there is no banana bread recipe like this out there. I call it my Caribbean banana bread.
Ingredients for the best banana bread recipe out there with a caribbean twist
Bananas.

We need ripe bananas.Bananas are a rich source of carbs.They are high in starch and sugar. Green bananas contain about 80% of starch, as they are ripening the starch turns into sugar. When bananas are fully ripped they contain only 1% starch, because everything turned into sugar (Read More)

Wheat flour.

Most of the time I use white wheat flour, but sometimes I use all purpose flour, as well.

Eggs.

The eggs that I buy must be organic and I don't make any exceptions. You can truly smell and taste the difference. The quality of good eggs is out of this world.

Baking powder.

Cinnamon.

One of my favorite spices. This super talent has been shown to improve diabetes type 2 symptoms. It improves the insulin sensitivity and cholesterol level. Cinnamon has this awesome skill to mimic the effects of insulin.So it allows the body to reduce glucose from the bloodstream.

Brown sugar.

I love that we can use brown sugar, coconut sugar or if we want super healthy maple syrup. The bread will still taste delicious and you don't have to stick to an ingredient. It can be easily replaced.

Coconut cream.

Vanilla extract.

As a Dominican I need to love vanilla. We use it in so many of our sweet dishes.The vanilla extract has to be 100% pure. Vanilla extract is rich in vanillin( a phenolic plant compound). This phenolic plant compound is rich in antioxidant properties, is anti-inflammatory and may protect against neurodegenerative diseases. (Read More)

Sparkling water.

Coconut oil.

No butter in this baking recipe. Coconut oil is perfect for this banana bread recipe. We won't need as much as we would, if we would use butter.
any tips?
Store the bread in the fridge if you want it to last longer. It will still taste delicious for about 5 days. If you leave it outside the fridge it will last for about 2 days.
This banana bread is perfect for a meal prep snack. You can have different ways every day. Plain, with peanut butter and raspberries, in your yogurt will have lots of fruits there is no limit in how you should eat. The perfect meal prep breakfast is definitely my must have simple and quick delicious healthy porridge breakfast.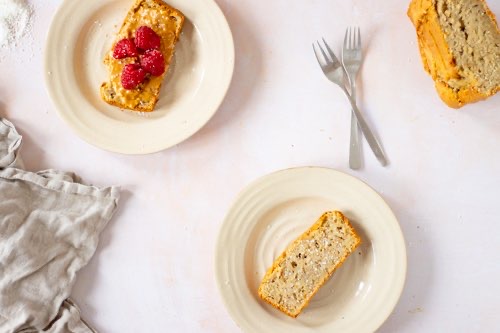 Preptime: 5min
Cooktime: 45min
Waittime:0min
Totaltime:50min
---
Ingredients for the recipe:
| | |
| --- | --- |
| 450g | wheat flour |
| 100g | brown sugar |
| 140g | coconut cream |
| 70g | coconut oil |
| 4 | ripe bananas (360g) |
| 3 | eggs |
| 2tsp | baking powder |
| 1.5tsp | cinnamon |
| 3tbsp | vanilla extract |

Click to copy the ingredients as a list to your devices clipboard! Then for example you can paste to your notes app / shopping list!
Click on a list item to cross out what you already finished
Preheat the oven.

Prepare the loaf pan (30cm x15 cm) with coconut oil.

Mix the flour,cinnamon and baking powder together and put it aside.

Mash the bananas in a bowl.

Add the eggs and coconut oil and mix it.

Add the coconut oil, coconut cream, vanilla extract and sugar and mix everything well together.

Mix in the flour.

Add the sparkling water and mix it.

Pour the batter into the loaf pan.

Bake for about 45 minutes. Before taking the bread out of the oven, check it with a wooden skewer. Insert the wooden skewer in the center, the bread is ready when the skewer is clean. If not bake a little bit longer.

Take the bread out of the oven and let it cool for about 15 minutes. Then remove it from the pan and let it cool for an hour before serving.

ENJOY!