simple streusel pumpkin bread (super moist)
Jump to Recipe
Are you looking for a different type of pumpkin bread? This simple tropical bread is the perfect combination of traditional pumpkin bread with a Caribbean addition.
I'm so excited! My favorite season is here. We can all get cozy, have some hot drinks, eat stews and soups and start enjoying cookies and cakes. This season is all about comfort and this is what I want to bring to your home. Let's start by sharing this fantastic simple tropical pumpkin bread, which is super moist and soo easy.
ingredients for the pumpkin bread recipe
pumpkins.

a nutrient-dense winter squash. It is rich in vitamins, minerals, and antioxidants.

all-purpose flour.

Any cake flour can be used.

baking powder.

brown sugar.

It will add a caramel taste. You can use white sugar as well.

butter.

Melted butter, for a rich and moist pumpkin bread

coconut cream.

We want a loaf of tropical pumpkin bread, this is the perfect source for it. Don't use light coconut milk. We need the fat source of the coconut.

vanilla extract.

High-quality vanilla extract.

eggs.

sparkling water.

For a fluffy bread.

spices.

The most important ingredients for the tasty bread. I love to ground the spices myself. You can make sure to get the best quality and ground everything yourself at home.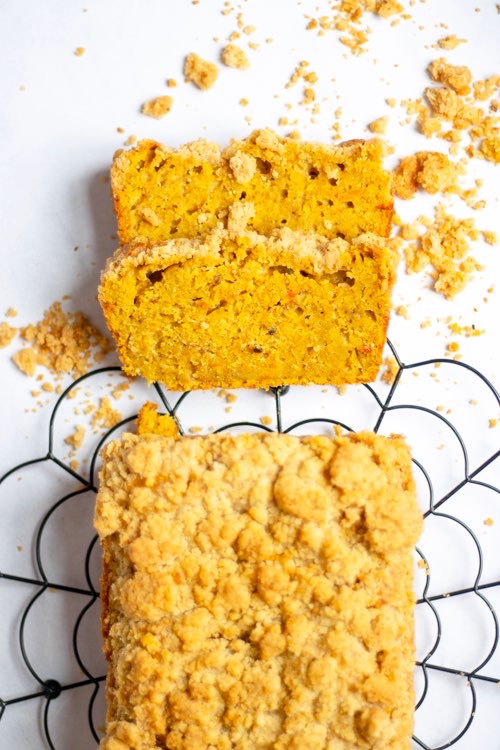 how to store the pumpkin bread
The coconut pumpkin bread can be stored in a container for at least 3 days. If you put it in the fridge for even 6 days.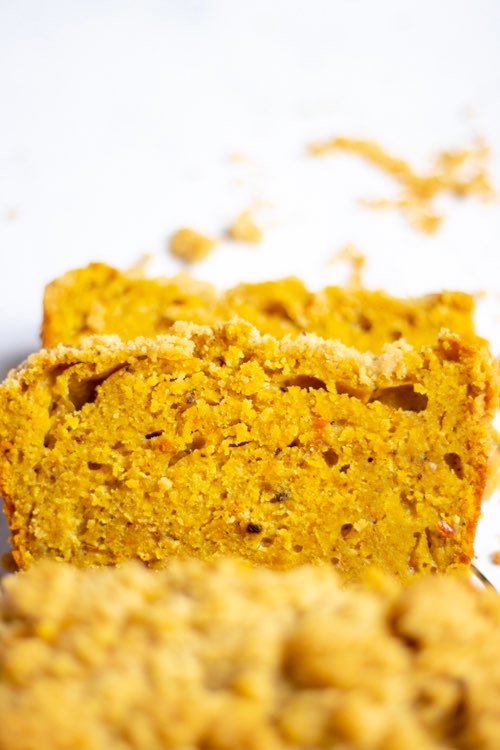 Preptime: 10min
Cooktime: 30min
Waittime:50 minutesmin
Totaltime:90min
---
Ingredients for the recipe:
| | |
| --- | --- |
| 75g | butter (room temperature) |
| 150g | all-purpose flour |
| 100g | brown sugar |
| 1tsp | cinnamon |
| 420g | all-purpose flour |
| 350g | mashed pumpkin |
| 180g | brown sugar |
| 170g | melted butter |
| 200ml | coconut cream |
| 100ml | water |
| 4 | eggs |
| 2tsp | ground pigment |
| 2tsp | ground cloves |
| 3tsp | ground cinnamon |
| 0.5tsp | ground cardamon |
| 2tbsp | vanilla extract |

Click to copy the ingredients as a list to your devices clipboard! Then for example you can paste to your notes app / shopping list!
Click on a list item to cross out what you already finished
If you want to make mashed pumpkin yourself then this is the right time to do it, if not scroll to step 6.

Cut a pumpkin into small cubes and add them to a small pot. Fill the pot with water and put it on the stove medium-high heat.

Cook the pumpkin cubes for 15 minutes or until they are soft.

Remove the water and mash the pumpkin with a fork or mash utensil. The mashed pumpkin should be well combined and creamy.

Put the mashed pumpkin aside.

Mix the flour and baking powder together and put them aside.

Preheat the oven to 170 °C (338 °F).

(The first thing) we are going to make is the streusel for the pumpkin bread. For that, we will need a bowl.

Add 75g butter (room temperature), 150g all-purpose flour, 100g brown sugar, and 1 tsp ground cinnamon to a bowl.

Whisk everything well together until combined.

Put the bowl in the fridge.

In the meantime, we are going to make the pumpkin bread batter. We will need a big bowl and mixer or whisk (if you're not making it with a mixer).

Add melted butter, eggs, brown sugar, vanilla extract, and coconut cream to a big bowl and whisk everything together until well combined.

Add the spices, and mashed pumpkin to the rest and whisk everything until it's smooth.

Add the mixed flour and sparkling water to the rest and whisk until it becomes a smooth batter.

Turn the batter into the prepared pan.

Sprinkle the streusel on top of the batter.

Bake for about 45 minutes or until a wood stick inserted into the center of the cake comes out clean.

Remove from the oven.

Let the cake cool off for about 15 minutes.

Remove the cake from the pan and let it cool off for about 20 minutes.

Cut the cake into slices.

ENJOY!