how to make dominican mangu (mashed plantain recipe)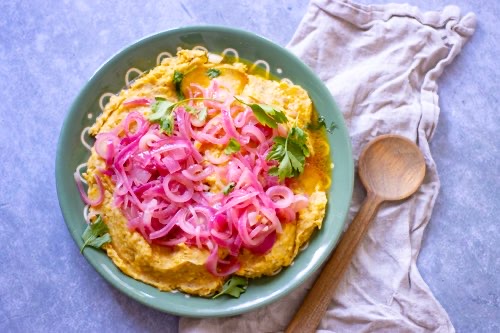 Jump to Recipe
Fluffy, savory, creamy, healthy, full of nutrition, and delicious. That's all you need to know about mashed Plaintain. I'm going to show you how to make Dominican mangu (mashed plantain recipe) aka the best side dish out there.
I'm so thrilled to share a traditional Dominican dish. For some people, this dish might be a simple side dish, but for us Dominicans, it's a lifestyle. Every Dominican needs to have a Mangu recipe, as it is an essential side dish.
The traditional way to eat Mangu is eating it for breakfast with cheese, eggs, and salami. But there are more ways to eat Mangu as it is the perfect side dish for rich in flavor beef, chicken, or vegetable stews.
Mangusi is a Congolese term for boiled vegetables. Brought during the slave trade to the Island it became the national dish Mangu. The dominican cuisine is influenced by many cultures like African, Spanish and Arabic.
Why make Dominican Mangu?
It's super healthy and a good source of complex carbohydrates, fiber, and vitamins.
It keeps you full for hours.
It's super diverse, such as potatoes.
You can use it for your meal prep.
It's the national Dominican breakfast, so you have to at least try it.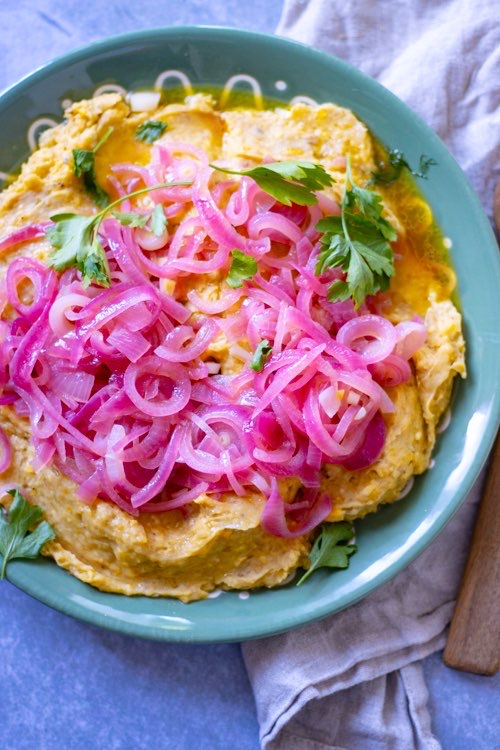 Ingredients for the Dominican Mangu (mashed plantain)
Plantains.

are a member of the banana family. They are healthy and a rich source of complex carbohydrates, Potassium, Vitamin C, Vitamin B-6, Vitamin A, and Magnesium. Vitamin C acts as an antioxidant and boosts the immune system. The fiber in plantains helps lower your cholesterol, which is good for a healthy heart. Plantains are a not significant source of protein, but an excellent source of carbohydrates.

Butter.

Just a tablespoon for the creaminess. If you're vegan, use vegan butter.

Water.

Red onions.

We will need 4 juicy red onions. They are going to be used as a topping. The onions combined with vinegar and salt are out of this world.

Vinegar.

You can use regular vinegar. I love apple cider vinegar as it is extra healthy. It may lower your blood sugar, improve heart health, may improve skin health, and is good for the digestive tract.

Salt.

We are not using any spices, just salt, that's all that this delicious dish needs.

Oil.

You can use any vegetable oil. I love high-quality olive oil because I love the taste and it's super healthy.
How to make Dominican Mangu (mashed plantain recipe)?
The traditional way of making Mangu is very simple. They use a fork, butter, and water. That's it. The plantain has to be cooked fully, so you can simply mash it. I use a potato masher and a mixer, to make it extra smooth.
How to eat Mangu?
Mangu is often eaten for breakfast with fried eggs, cheese, and Dominican salami topped with sauteed vinegar onions.
But you have so many options on how to eat it. You can simply use it as a side dish, or as your main source of carbs on your plate. It is as varied as mashed potato.

It works really well with beef dishes such as Gulasch or chicken dishes like 'Pollo Guisado', just to give you some examples. For my vegan friends, you can eat it with bean dishes or tofu.
any tips?
Use ice cold water to make the mashed potato extra smooth.
If you're vegan or don't like butter I recommend using margarine as it tastes better than butter for this dish or uses more olive oil.
If you're keeping the dish simple or want to try Mangu for the first time I highly recommend making the sauteed vinegar onion. The topping really brings the dish to another level. It tastes out-of-this-world good.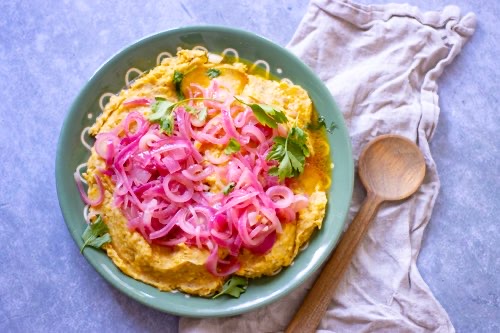 Preptime: 5min
Cooktime: 25min
Waittime:0
Totaltime:30min
---
Ingredients for the recipe:
| | |
| --- | --- |
| 500g | Plantains (4) |
| 1tbsp | butter |
| 2tbsp | olive oil |
| 400ml | ice cold water |
| | salt |
| 4 | onions |
| 100ml | water |
| 3tbsp | apple cider vinegar |

Click to copy the ingredients as a list to your devices clipboard! Then for example you can paste to your notes app / shopping list!
Click on a list item to cross out what you already finished
Cut the end of the plantains and cut it in half.

Cut a shallow slit down the length of each ridge, but don't cut too deep as we just want to cut the skin and not touch the flesh.

Use your fingers to remove the skin from the flesh. If it's too difficult for you watch this one-minute video as it may help you.

Cut the peeled plantain into smaller pieces like 4 to 5.

Add the plantain pieces to a pot and add a good amount of water (the same way as you are cooking potatoes) and salt.

Bring it to boil. Cook it for 20 minutes or until the plantains are tender (test it with a fork if needed)

If you are making the topping this would be the perfect time, if not skip to step 13.

Peel the onions and cut them into rings.

Use a pan and put it on the stove on medium high heat. Add a little bit of oil to the pan and saute the onions for about 2 minutes.

Add 100 ml water, put a lid on and let it cook for 5 minutes.

Add salt and vinegar and cook for another 2 minutes.

Put it aside until the mashed plantain is done on the lowest level and if needed add a little bit of water.

Remove the plantains from the water and mash it immediately with a potato masher or fork. But be careful and don't burn yourself.

Add the ice-cold water and butter and mash it until there a no lumps or just a few.

Add salt and olive oil.

I like to use a hand mixer to get it extra smooth.If you don't have one use your fork.

Ready to serve put the mashed potato on a plate.

Garnish with the sauteed onion and the vinegar juice.

ENJOY!