the most easy and delicious 4 ingredient pumpkin tortellini soup
Jump to Recipe
Are you looking for a simple, fast, healthy and delicious soup? The most easy and delicious 4 ingredient pumpkin tortellini soup, it is. A hit in our family and soon yours too.
Soup season is finally here! There are so many soups and stews that I want to share with you. This is my season ! This is where I flourish the most and feel the most comfy in the kitchen. Let me start with this creamy and simple pumpkin tortellini soup. Of course it had to be a Pumpkin soup. I could not let the pumpkin season pass by without sharing any of my pumpkin recipes, and I have quite a few
Why cook the 4 Ingredients Pumpkin Tortellini soup?
You only need 4 Ingredients + spices to make this delicious soup, so there is not much chopping and cleaning involved.
As said before you don't need to clean much as you will only need a pot.
It's the most simple recipe I've ever shared. You can not fail this one.
The perfect work night dinner as it is done in under 30 Minutes.
Minimal effort as it will only need 10 minutes of your time, the rest 20 minutes is letting the soup simmer.
It's a hit in the family as everyone loves it.
The perfect meal prep for a busy week.
What kind of pumpkin to use?
You can choose any pumpkin. My favorites and the most famous are the Hokkaido and Butternut pumpkins. They are the perfect pumpkins because you can eat the skin. That means no much effort in peeling. There should be no problem in cutting the pumpkin if you use the right knife. Most of use make the mistake to use knifes that are too little for a too big pumpkin which could end in a disaster.If you want to know more about pumpkins visit:
Click Here!
What are the ingredients for the most easy and delicious 4 ingredient pumpkin tortellini soup?
1000 g Pumpkin.

Your pumpkin of choice. I recommend you to use Hokkaido.

150g Spinach.

This is the least amount I would add, you surely can add more

600g Tortellini.

The best choice would be high quality spinach ricotta tortellini)

200g cream cheese.No light version please as we want to taste the creaminess in the cheese.

70 g Tomato paste.

About 3 tablespoons of tomato paste.

2,5 l Water.

1/2 tsp curcuma.

2 tsp paprika.

1 tsp thyme.

1 tsp basil.

Or a handful of fresh basil

1 tsp black pepper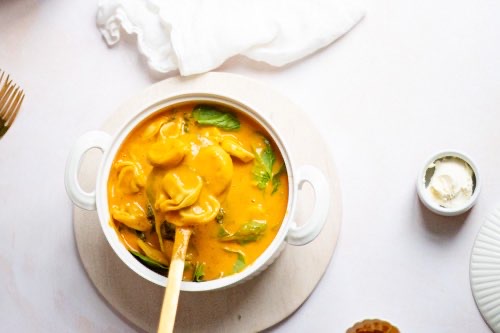 any tips?
Serve the soup with a hot sauce or some chili flakes. They are perfect to spice the soup up a little.
You can store the soup for about 5 days in the fridge. The soup is also perfect for the freezer.
If you're looking for some more soup inspo maybe this delicious wild rice soup is the one all year healthy and creamy vegetarian wild rice soup
Preptime: 5min
Cooktime: 25min
Waittime:0
Totaltime:30min
---
Ingredients for the recipe:
| | |
| --- | --- |
| 1000g | Pumpkin |
| 150g | Spinach |
| 600g | Tortellini |
| 200g | Cream cheese |
| 70g | Tomato paste |
| 2500ml | Water |
| 1tsp | Curcuma |
| 2tsp | Paprika spice |
| 1tsp | Thyme |
| 1tsp | Basil or a handful fresh basil |
| 1tsp | Black pepper |

Click to copy the ingredients as a list to your devices clipboard! Then for example you can paste to your notes app / shopping list!
Click on a list item to cross out what you already finished
Cut the pumpkin into small cubes. (The soup will be done way quicker.)

Add the pumpkin, salt and water into a pot.

Put the pot on the stove on high heat for about 15 minutes or until the pumpkin is ready.

Check the pumpkin with a fork if it's ready. It really depends on how big the pumpkin pieces are.

Take the pot from the stove.

Add the cream cheese, tomato paste and the spices.

Blend everything until it is smooth.

Don't worry if the soup is not creamy.

It will get creamy in the end.

Add the Tortellini and spinach.

Put the pot back on the stove and let it simmer on medium heat for about 8 minutes.

Pretest if the soup needs more salt.

Ready to serve!

ENJOY!