all year healthy and creamy vegetarian wild rice soup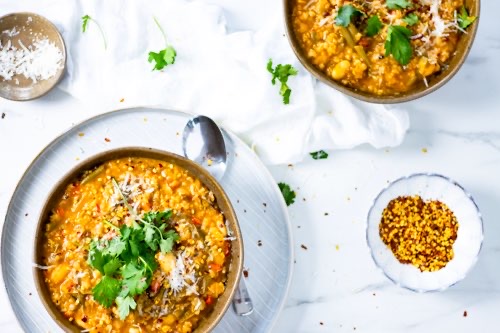 Jump to Recipe
Are you looking for a good, nourishing, colorful, easy and fast to make, delicious soup? Then you should try this delicious all year healthy & creamy vegetarian wild rice soup which has a lot of vitamins, good carbs and thanks to the bean's tons of protein.
Is soup season over? I don't know, because I'm a soup lover, so I eat soup all year. My husband on the other hand has nothing against it but he would consider himself a seasonal soup eater. This recipe needs to be finally shared. That's why I don't care about the soup season discussion that I'm having with myself. The last couple of weeks it's been raining and very gray. It is MAY and stormy here in Germany, of course we need to make a warm and comfy nourishing soup. My husband had nothing against it, because he loves this soup. It's delicious, satisfying and different. You don't need a big bowl of it, even though you want it, because it's so nourishing and delicious. The soup leaves you full for hours. Like I almost always say about my recipes: this one is so easy to make. All you need is one pot. There is no mess involved hence you don't need to clean up much. This sounds perfect for me as a mom and I think for my busy signal hustling friends too. But let's talk about the soup and why you should definitely make it.
Why you should make this wild rice soup recipe..
Let's start with the fact that it is delicious and a simple wild rice soup recipe. We don't eat a lot of wild rice here in Germany nor in the Dominican Republic, that's why I would say it is very different. The ingredients are clean, fresh, wholesome, very healthy and simple. So take a pot and let's start cooking.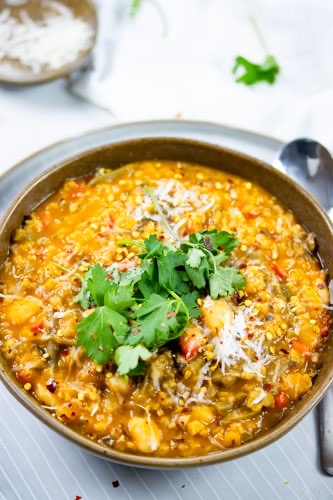 How to store the wild rice soup?
You can store the soup in the fridge for about 4 days. If I'm eating the soup days after I like to add a little bit of ground caraway seeds to prevent bloating. If you know you won't eat the soup for the next 4 days, you can freeze it. If you're cooking the frozen soup add some fresh herbs, salt and Parmigiano Reggiano.
Ingredients
RICE.

Make sure to use 100 % organic wild and Basmati rice. It will give the soup a very unique taste. I like to mix half wild and half Basmati rice together.

BELL PEPPER.

One red and one yellow bell pepper. You can be very flexible with the bell pepper; you can add more if you love bell pepper.

ONION.

I used one big yellow onion. Red onion works well too. GARLIC CLOVES. 2 medium size garlic cloves are perfect. The garlic adds a perfect flavor but is not dominant.

WHITE BEANS.

You can make the white beans the night before or use canned white beans.

GREEN BEANS.

I prefer fresh or frozen green beans, but canned green beans are fine too.

CREAM.

I love Italian cream. If you can get it, I would definitely use it.

CORIANDER.

Some fresh herbs are always good. If you don't have coriander herb, use some coriander spice.

TOMATO PASTE.

PARMIGIANO REGGIANO.

I always buy it in one piece. If I need some cheese, I grate the parmesan. You can taste the difference. For this recipe we will need 40 g of Parmigiano Reggiano. If you are a cheese lover, you can add more.

LIME.

Just half lime to give the soup a fresh taste.

SMOKED PAPRIKA (GROUND).

BLACK PEPPER.

CARAWAY SEED (GROUND).

THYME.

WATER.

1,5 l Water. Most of the time the rice swells up at the end of cooking. If you don't like it that way add a little bit of Water and salt.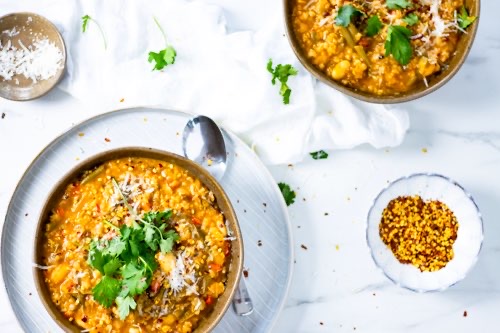 Preptime: 10min
Cooktime: 40min
Waittime:0
Totaltime:50min
---
Ingredients for the recipe:
| | |
| --- | --- |
| 125g | Basmati rice |
| 125g | Wild rice |
| 1 | Red bell pepper |
| 1 | Yellow bell pepper |
| 1 | Yellow onion |
| 2 | Garlic cloves |
| 1tbsp | chopped coriander |
| 125g | Basmati rice |
| 125g | Wild rice |
| 1 | Red bell pepper |
| 1 | Yellow bell pepper |
| 1 | Yellow onion |
| 2 | Garlic cloves |
| 1tbsp | chopped coriander |
| half | Lime |
| 40g | Tomato paste |
| 500g | White beans |
| 500g | Green beans |
| 200ml | Cream |
| 40g | Parmigiano Reggiano |
| 1500ml | Water |
| 3tsp | Salt |
| 1tsp | Black pepper |
| 0.5tsp | Ground caraway seeds |
| 1tsp | Thyme |
| 2tsp | Smoked paprika |

Click to copy the ingredients as a list to your devices clipboard! Then for example you can paste to your notes app / shopping list!
Click on a list item to cross out what you already finished
Chop the onion, garlic cloves and coriander. cut the bell peppers into small cubes.

Give some oil into a pot, put it on the stove on high level.

Add the chopped onion and garlic to the pot and let it release its essence for about 30 seconds.

Add the bell peppers and let it stir for about a minute.

Add the beans and let it cook for about a minute.

Add the green beans and let it cook for about a minute. Don't forget to stir it.

Add the tomato paste. Stir it for about 2 minutes.

Deglaze the vegetable with 1,5 l water and let it cook.

Add the rice, salt and spices. Put the cover on the pot and let it cook for about 15 minutes. Don't forget to stir it a few times.

If you think it is cooking too much, set your stove on medium level.

Add the cream, parmesan and coriander. Let it cook on medium level for about 10 minutes.

Check if the rice is well cooked. If not, you need to let it cook until it's well cooked

Your soup is ready to serve. Garnish it with fresh coriander, if you want some chili flakes and Parmigiano Reggiano.

ENJOY!