easy candied almond recipe
Jump to Recipe
This easy candied almond recipe is an easy recipe. The perfect sweet snack.
I make this recipe every year for my family. There's no Christmas time without the perfect candied almonds, especially for my Mother. I make a bunch at once and gift them to friends and family. The almonds are very addictive so be careful. They taste sweet, salty, nutty and have a glitch of cinnamon, allspice and vanilla, the perfect Christmas treat.
ingredients for the easy candied almond recipe
Almonds.

Did you know that almonds are actually seeds and not nuts ? I didn't. The seed has a fantastic nutritional profile. It contains a lot of fiber, protein, fat, vitamin E, Manganese, and Magnesium. Almonds are an amazing source of antioxidants. They are concentrated in the brown layer of the skin, so use the ones with the skin on. The seeds can lower cholesterol level, and prevent harmful oxidation of LDL (low-density lipoprotein) cholesterol.

Sugar.

I use white sugar for this recipe, but brown sugar works as well.

Water.

You will need a few spoon of water.

Vanilla extract.

High quality vanilla extract, no vanilla flavor.

Cinnamon.

Ground cinnamon for an amazing "Christmas" taste. I highly recommend buying cinnamon sticks and to ground and ground them freshly at home.

Allspice.

I love to cook with this amazing spice. It's an allrounder. The dried berry is not only special because of its unique taste, it is also a very healthy spice which has multiple uses in folk medicine. Allspice contains different plant compounds such as Eugenol (has a potential antibacterial, antifungal, anti-inflammatory, and cancer fighting properties), Quercetin, Gallic acid (antioxidant, which has cancer fighting and antiviral effects), and Ericfolin (has cancer fighting properties).
how to store the candied almond
The cinnamon candied almonds can be put on a candy plate, in a jar, container, wherever you like to store them. You can store them at room temperature for several months.
any tips?
Use a sauce pan.
Use white sugar, so it's easier to see the different stages of the sauce.
Put the heat on medium level as it can get burn super fast and keep an eye on.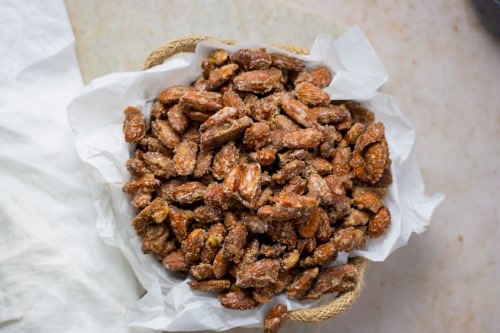 Preptime: 1min
Cooktime: 10min
Waittime:15min
Totaltime:26min
---
Ingredients for the recipe:
| | |
| --- | --- |
| 200g | almonds |
| 120g | sugar |
| 5tbsp | water |
| 1tbsp | vanilla extract |
| 1tsp | ground cinnamon |
| 1tsp | allspice |

Click to copy the ingredients as a list to your devices clipboard! Then for example you can paste to your notes app / shopping list!
Click on a list item to cross out what you already finished
Line a baking sheet or casserole with waxed paper.

Add sugar, water, and vanilla extract to a saucepan. Put the pan on medium heat on the stove.

Bring it to boil. Add the spices and almonds. Stir it a few times.

Cook and stir it.

Always keep an eye on the pan as you need to react very quick. The mixture changes its texture and gets from liquid to syrup, then to a strongly texture and then crystslizes, this is the point where you remove the almonds from the pan.

Move the almonds from the pan to the baking sheet.

Let the almonds cool off.

Separate the almonds with a fork.

ENJOY!