healthy and delicious anti inflammatory smoothie recipe
Jump to Recipe
A healthy and delicious anti-inflammatory smoothie recipe for a quick immune system boost.
Often, I love to have a light breakfast. A smoothie is the perfect choice. It's so convenient that you can quickly throw in many healthy ingredients and get a delicious drink that boosts your energy and fuels you with vitamins, antioxidants, and anti-inflammatory compounds. Having your vitamin level go up can be so easy.
ingredients for the healthy and delicious berry mango smoothie
Raspberry.

The red berry is a fantastic source of fiber, vitamin C, and manganese. Raspberries are an amazing source of antioxidants: vitamin C, quercetin, and ellagic acid. The nutrient-dense berry has significant health benefits, such as controlling blood sugar, and may have cancer-fighting properties.

Mango.

The superfood is packed with 20 different vitamins and minerals. Vitamins A, C, K, E, B6, potassium, copper, folate, and fiber.

Strawberry.

One of the top fruit that contains a high amount of antioxidants. They are a great source of Vitamin C, folate, fiber, antioxidants, and potassium. They may help your heart health, brain health, boost your immune system, and lower bloog sugar.

Spinach.

The green leafy vegetable is a nutrient dense vegetable. It contains a great amount of vitamin C, vitamin K, iron, calcium, and carotenoids. Spinach is rich in different plant compounds which improve your health.

Blueberry.

Blueberries are a perfect source of vitamin C, K, manganese, and fiber. Blueberries are the number one source of antioxidant. No other fruit has the amount of antioxidant as this small blue fruit. They may help lowering your blood pressure, bone health, skin health, managing diabetes, preventing cancer, and improving mental health.

Banana.

The banana will make the smoothie creamy and sweet.

Coconut milk.

Not coconut cream, coconut milk. If you don´t have or like coconut milk use almond milk, this works amazing too.

Vanilla extract.

Organic high quality vanilla extract makes the smoothie perfect.
how to store the berry mango smoothie
The best thing to do is to drink the smoothie right away. But if you have made too much, store it in the fridge in a bottle or glass container, whatever you have, for about three to four days.
any tips?
If you want a great consistency use frozen fruits. Not all fruits need to be frozen just some of them, for an amazing result.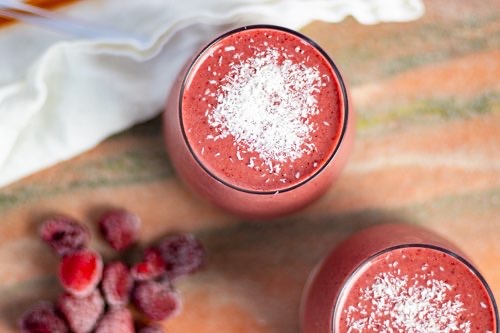 Preptime: 2min
Cooktime: 2min
Waittime:0
Totaltime:4min
---
Ingredients for the recipe:
| | |
| --- | --- |
| 100g | frozen raspberries |
| 100g | frozen strawberries |
| 100g | frozen blueberries |
| 200g | mango |
| 1 | banana |
| 1handful | spinach |
| 800ml | coconut milk |
| 1tbsp | vanilla extract |
| 1 | lemon |

Click to copy the ingredients as a list to your devices clipboard! Then for example you can paste to your notes app / shopping list!
Click on a list item to cross out what you already finished
Add all the fruits and washed spinach to a blender.

Pour the coconut milk and vanilla extract to the blender.

Blend for about 2 minutes until everything is well combined and smooth.

Ready to serve!

ENJOY!