saucy and juicy pineapple chicken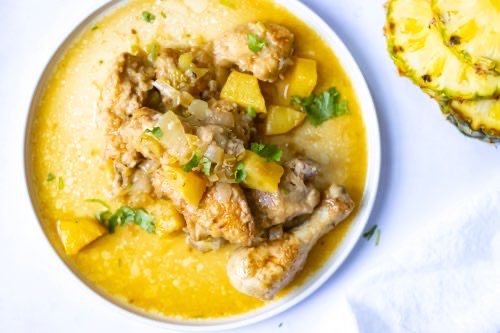 Jump to Recipe
This saucy & juicy pineapple chicken recipe is full of flavor, juicy and colorful. The perfect recipe to celebrate life the Caribbean way.
I know it is already fall and I'm really excited about that, but before I get in the cozy fall mood, I wanted to share some Caribbean inspired recipes. I took some time this summer to get inspired in the Dominican Republic. While I spent some time with my family and friends, I had the pleasure to enjoy the most delicious Caribbean fruits this beautiful Island has to offer. But enough about me bragging about my vacation. Let's get to the juicy part of this Blogpost.
The one and only Yaya (that's how my kids call my mother) must take all the credits for this recipe. It's her recipe and I'm very thrilled that she allowed me to share this recipe with you guys. She has been making this dish since we've been in Germany. Growing up I always thought this is a popular Dominican dish. But it turned out that it was a typical Yaya invented dish.
Why make this dish?
This is a very easy recipe, so everyone can make it. If you're a beginner in the kitchen but want something that has a unique taste, try this one.
You won't have to buy a bunch of ingredients, because with this one my mom kept it very simple, but still delicious.
This recipe is perfect for after workweek night dinner.
This dish is perfect for parties.
This recipe is perfect if you would like to cook for your family and friends.
You can pre cook it and leave it on the minimum level on the stove until your guests arrive. No stress involved.
Perfect for meal preparation as it can stay for at least 5 days in the fridge.
It tastes fresh, sour, sweet and all in one a perfect combination.
What do we need to create this recipe?
Chicken.

I love to use a whole chicken as the different parts contribute to the flavor of the dish, but whatsoever you can use your favorite chicken parts.

Onion.

One onion

Garlic.

2 medium size garlic cloves.

Pineapple.

A fresh big pineapple or 2 small ones. Please don't use canned pineapple because we need the strong and fresh pineapple taste for the recipe.

Celery.

2 Sticks

Cilantro.

A handful chopped cilantro

Soy sauce.

Wheat flour.

A few spoons to make the chicken crispy.

Vegetable oil.

A good amount to fry the chicken. For the sauce we will just need 2 tbsp of the oil, so don't be scared that I will get too oily.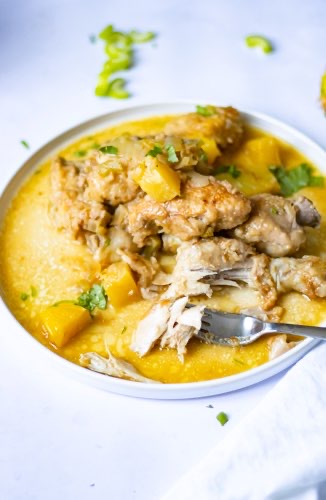 Serve with?
By far the best side dish is rice. It gives the pineapple chicken enough room to shine. It wouldn't feel like a Caribbean dish if it wouldn't be served with rice. A colorful salad with a vinegar dressing and some avocado and you are going to go crazy.
If you want to bring this meal to the next level make it with a Moro, like for example my
Moro de habichuela
.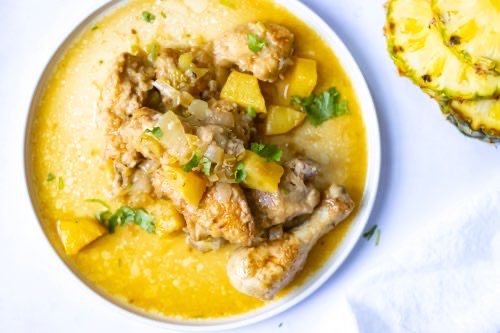 Preptime: 15min
Cooktime: 60min
Waittime:60min
Totaltime:135min
---
Ingredients for the recipe:
| | |
| --- | --- |
| 1500g | Chicken |
| 1 | Onion |
| 2 | Garlic Cloves |
| 1 | Pineapple |
| 2 | Celery |
| 1handful | Cilantro |
| 5tbsp | Soy sauce |
| 120g | Wheat flour |
| 4tsp | Black pepper |
| | Salt |
| | Water |
| | Vegetable oil |

Click to copy the ingredients as a list to your devices clipboard! Then for example you can paste to your notes app / shopping list!
Click on a list item to cross out what you already finished
Clean and cut the chicken. If you don't like to use a whole chicken use your favorite chicken parts. For the ones that are using chicken breast, cut the chicken breast into chicken strips.

Add the chicken pieces to a big bowl.

Peel a big or 2 medium garlic clove(s). Press the garlic clove into the bowl.

Add salt and pepper.

Add 3 tbsp soy sauce and mix everything well.

Add 140g wheat flour to the bowl and stir it until all chicken pieces are covered in flour.

Put a lid on and let the chicken rest for at least an hour. If you have the time prepare the chicken 4 hours before cooking, so the chicken has more time to get all the flavors.

In the meantime peel and chop the yellow onion and put it in a small bowl.

Cut the 2 celery sticks into fine slices and chop it until you have very small pieces. Add them to the onion bowl as we will need them for the sauce.

Cut the pineapple into cubes, slices or however you like them.

Put a nonstick skillet on the stove. Add 100 ml (or more) oil into the skillet-. Fry the chicken on medium high heat. Flip the chicken after a minute or when the downside part is golden brown and crispy.

Take the pieces which are golden brown and crispy out of the skillet and put them on a plate.

After frying the chicken pour the oil in a bowl.

Use 4 tbsp of the oil gain to fry the onion and celery. Roast them for about 2 minutes until they set their aroma free. Don't forget to stir it sometimes

Add 100 ml water and let it cook for 2 minutes. Add 400 ml water, little bit of salt and the pineapple to it. Let it simmer for about 2 minutes.

Add 1 1/2 tbsp of soy sauce and let it cook for 10 minutes.

Add the chicken and put the lid on. let it cook on medium level for about 15-20 minutes.

The chicken is ready to serve. If you're not sure take one piece out and cut it in the middle.

ENJOY!