the most simple healthy and fresh strawberry spinach feta salad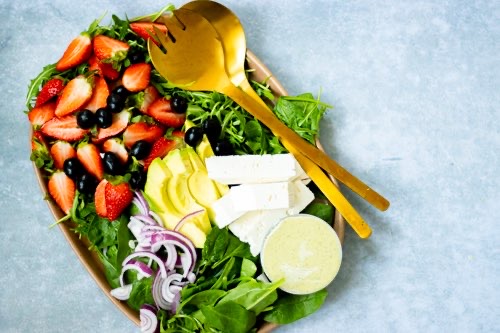 Jump to Recipe
Are you looking for a salad, where there is not much chopping involved? The most simple healthy and fresh strawberry spinach feta salad is the right one.
Salad season is finally here. I'm starting it by sharing this bomb of taste. It's sweet, salty and sour. The different textures of the ingredients make this salad extraordinary. Don't get fooled by the simplicity of making the salad, the taste is everything but not simple. The creamy wild garlic pesto cashew dressing rounds everything up.
Ingredients for the most simple and healthy fresh strawberry spinach feta salad
spinach.

Helps fight oxidative stress, which can increase the risk of getting cancer and diabetes, thanks to the antioxidant. The super healthy vegetable helps moderate your blood pressure, because of the high amount of nitrates.

arugula.

is high in fiber and phytochemicals, which are natural botanic chemicals. Phytochemicals may help reduce inflammation, protect cells and DNA from damage and help regulate, to name a few.

strawberries.

are a good source of Vitamin C,B9,Manganese, and Potassium.

Feta cheese.

is good for your immune system and gut health.

red onion.

olives.

The fruit is an excellent source of healthy fats, Iron, Vitamin E and copper

wild garlic pesto (optional).

I love wild garlic pesto so much. It is the perfect oily sauce to have in the fridge. In this recipe we will need the pesto for the dressing. If you don't have wild garlic pesto, don't worry, use basil pesto like my '3 minutes easy and delicious basil pesto recipe' and add a half teaspoon garlic powder. The dressing is going to turn out so delicious.

Cashew butter.

is a wonderful source of protein. But be aware of other ingredients which could make the butter unhealthy. The best and healthiest nut butter is the one that only contains the nut itself. Check the label. Don't get scared if you see the amount of calories that cashew butter has. The superfood is rich in copper, iron, magnesium, folic acid ,manganese and phosphorus. It is full of healthy fat, a great source of protein, a great source of antioxidants and may help lower your blood sugar.

Avocado.

The combination of strawberries, feta, red onion and avocado is just heavenly good. But let's talk about the berry, yes avocado are considered berries. They are rich in magnesium, B6, vitamin C, vitamin E, and folate and rich in fiber, which is beneficial for your gut health. You can read more about the benefits of eating avocados here.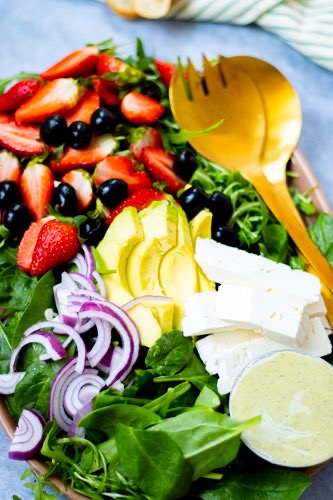 any tips?
Instead of using fresh basil leaves and olive oil, you can use wild garlic pesto or regular basil pesto. This is something (most of the time basil pesto as wild garlic is a seasonal ingredient) I always have in the fridge.
This salad is a very easy 10 minutes healthy lunch recipe. You can easily prepare it 2 days before if you like to have something healthy and ready to eat in the fridge.
I love to double the size of the dressing. You can use it for Wraps sandwiches or as dip, there you have your healthy kind of ranch dressing.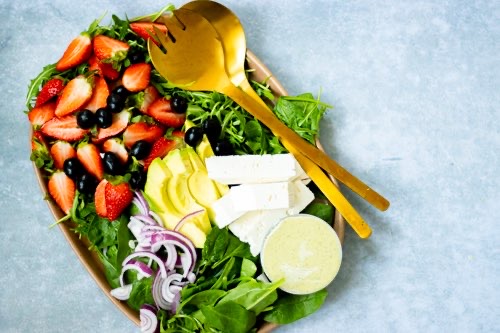 Preptime: 6min
Cooktime: 2min
Waittime:0
Totaltime:8min
---
Ingredients for the recipe:
| | |
| --- | --- |
| 50g | arugula |
| 100g | spinach |
| 200g | strawberries |
| 1 | small red onion |
| 100g | feta cheese |
| 150g | black olives |
| 0.5 | avocado |
| 3tbsp | cashew butter |
| 30g | apple vinegar |
| 20g | sunflower seeds |
| 20g | olive oil |
| 20g | honey |
| 30g | fresh basil leaves |
| 1tsp | italian oregano |
| | salt |
| 2tbsp | water |

Click to copy the ingredients as a list to your devices clipboard! Then for example you can paste to your notes app / shopping list!
Click on a list item to cross out what you already finished
Wash the spinach, strawberries and arugula.

Peel and cut the onion into rings.

Pick the green top steem of every strawberry and cut the strawberries in half.

Cut the feta cheese into cubes.

Peel and slice the avocado.

Mix and massage the spinach and arugula together in a bowl.

Add the onion, olives and avocado slices.

Add the cashew butter, apple vinegar,2 tbsp water, sunflower seeds, honey, fresh basil leaves or (1 tbsp wild garlic pesto) to a blender.

Blend everything well together.

Pour the dressing over the salad.

ENJOY!