3 minutes easy and delicious basil pesto recipe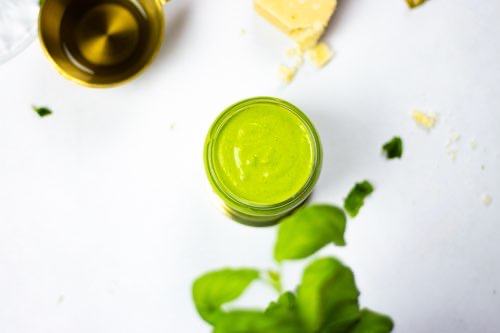 Jump to Recipe
Are you looking for an easy, fast made, delicious Pesto recipe? This basil pesto recipe won't let you down, believe me.
As Spring is around the corner, everyone is looking for fresh and colorful recipes. Pesto should be on your must have in the fridge list.
I have so many different Pesto recipes, which I'm going to share with you. But for today I decided to share the simplest but best pesto recipe. My basil pesto recipe. This one is so simple but so good.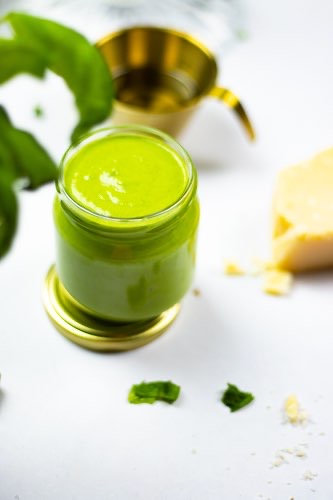 Let me tell you, I haven't eaten pesto until I was 20. My husband introduced me to that green fresh and oily sauce, and I fell in love right away.
How could I sleep on Pesto my entire life?
What ingredients to use...
There are so many bad Pesto in the supermarkets. I really feel sorry for the people who don't know how good fresh Pesto tastes. The ingredients for the traditional Pesto Genovese are Basil, Garlic, pine nuts, Parmigiano Reggiano and Olive oil. The ingredients are not the cheapest ones. That's why many pesto producers use cheap olive oil, cashew instead of pine nuts and not the best quality of cheese.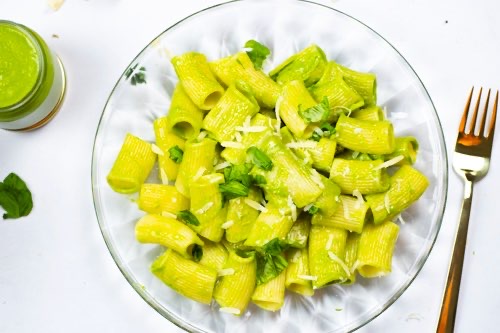 It is very important to use high quality Virgin olive oil, for no matter what meal. If there is one ingredient, I would not save money, it is the olive oil. Once you had really good quality olive oil, you would never go back to cheaper ones. Remember we all want to invest in ourselves, so we must be careful what we put into our body.
Wait what, made in 3 Minutes?
Another reason
why you should make your own pesto recipe
is that it really takes you only a maximum of 3 minutes to make it. Your Pasta needs 10 minutes until it is al dente, so you have an extra 5 minutes to chill.
Pesto is awesome for so many recipes like sandwiches, to marinade chicken and so many more. It lasts at least one week in the fridge.
The last reason why you should make your own pesto recipe is you can freestyle a little bit and add your favorite vegetable. This is my definition of a fresh delicious recipe.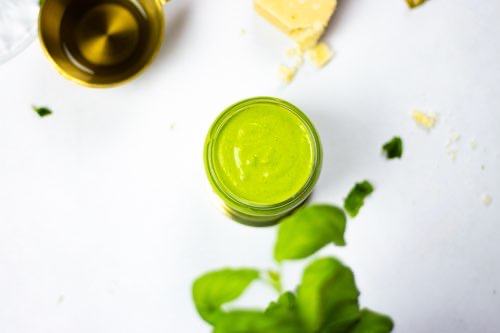 Preptime: 1min
Cooktime: 1min
Waittime:0
Totaltime:2min
---
Ingredients for the recipe:
| | |
| --- | --- |
| 80g | Basil |
| 40g | Pine nuts |
| 60g | Parmigano Reggiano |
| 70ml | Olive oil |
| | Sea salt |

Click to copy the ingredients as a list to your devices clipboard! Then for example you can paste to your notes app / shopping list!
Click on a list item to cross out what you already finished
Wash the basil leaves

Grate the Parmigiano Reggiano.

Add everything into a bowl of a food processor or a blender.

Mix everything for about a minute.

Pretest it. If needed add a little bit of sea salt.

ENJOY!