amazing 10 minute creamy garlic shrimp pasta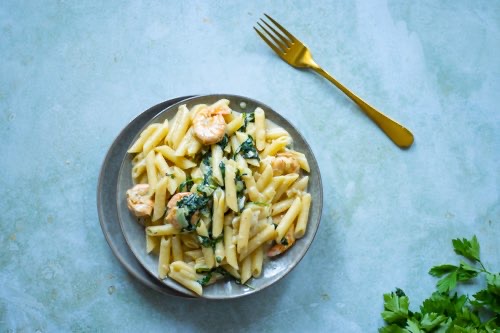 Jump to Recipe
Minimal Ingredients, minimal time effort but maximal delicious that's the motto for this amazing 10-minute creamy garlic shrimp pasta.
Ingredients for the amazing 10-minute creamy garlic shrimp pasta
Pasta.

You are free to use your favorite Pasta. I love Fusilli or Penne for this creamy sauce.

Spinach.

Fresh or frozen, you choose. I prefer lots of fresh spinach for this recipe. You can add as much as you want. The green leaf is a super healthy source of Vitamin A, C, Vitamin K1, Folic acid, Iron, and Calcium. Spinach also contains several plant compounds, such as Lutein, Kaempferol, nitrates, and quercetin. Each of those compounds can improve health, such as eye health, heart health, decrease the risk of cancer and chronic diseases, and many more. You can read more at healthline.com

Shrimps.

Tiger, Brown, White, and Pink Shrimp all work well. Frozen or fresh, it's up to you. Let's talk about some nutritional facts. Shrimps contain antioxidants, which may help your brain and heart, and fatty acids. They are high in cholesterol, which is considered as bad, although a study has shown that only a quarter of the population is sensitive to dietary cholesterol. Please buy high-quality shrimps, because many are low-quality farm-raised, and full of antibiotics. Therefore quality is key.

Garlic.

The main flavor in this dish is that's why we will need 4 garlic cloves. We keep it very simple with the Ingredients, this one is very important. The cloves bring the dish to the next level.

Onion.

One big yellow onion for the perfect flavor. The classic combination of garlic and onion. It's so good.
any tips?
Try to cook the pasta right in the beginning as the sauce won't need much time.
The pasta can be stored for 3 days in the fridge, but I wouldn't recommend leaving it longer than 3 days.
If you're

gluten intolerant

use gluten-free pasta.
If you're

lactose intolerant

use lactose-free heavy cream.
If you use frozen Spinach thaw it before cooking.
If you use frozen shrimps, thaw them before cooking. If not, the sauce will absorb the frozen shrimp water and manipulate the taste.
If you follow the steps you will not have a spicy garlic taste afterward. But if you want to feel garlic free afterward, eat fresh basil leaves. This really helps!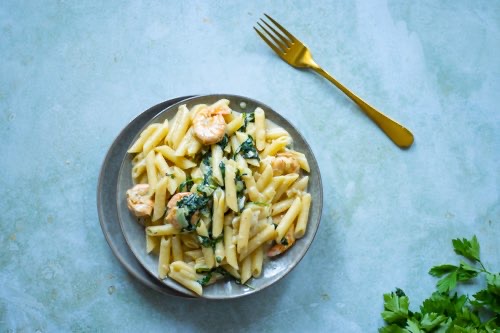 Preptime: 1min
Cooktime: 9min
Waittime:0
Totaltime:10min
---
Ingredients for the recipe:
| | |
| --- | --- |
| 500g | penne |
| 250g | spinach |
| 1 | yellow onion |
| 4 | garlic cloves |
| 300g | shrimps |
| 400g | heavy cream |
| 50g | parmigiano reggioano |
| | salt |
| 2tsp | black pepper |
| | olive oil |
| 1tsp | nutmeg |

Click to copy the ingredients as a list to your devices clipboard! Then for example you can paste to your notes app / shopping list!
Click on a list item to cross out what you already finished
Put a pot with water and salt on a high level on the stove.

Cook the penne or any pasta you like as per the instructions on the packaging.

Peel the onion and garlic clove.

Chop the onion.

You can chop the garlic cloves or for a better flavor result stomp them with a mortar.

Clean the shrimps with lemon and water and remove the dark vein on the back of the shrimp and remove it. If you've never done it before, there are plenty of how-to videos on youtube. You can buy already cleaned shrimp. Please still clean the shrimps with lemon and water.

Dry the shrimps with a towel (paper towel).

Put a pan on the stove.

Put the stove on the medium-high level.

Add a little bit of oil to the pan.

Add the shrimps and salt. Fry them and toss them until they have a pink color.

Add the chopped onion and saute for about 2 minutes.

Add the minced or stomped garlic and saute for 1 minute.

When the shrimps look crispy add the spinach and saute for 3 minutes.

Add the heavy cream and black pepper.

Put the lid on and let it cook for 3 minutes.

Add the freshly grated parmesan.

Add the cooked Pasta.

ENJOY!