amazing 15 minute fresh tomato parmesan pasta
Jump to Recipe
Are you looking for a quick, simple, and delicious recipe? This fantastic 15-minute fresh tomato parmesan pasta recipe is the perfect weeknight dinner meal.
This Pasta recipe is my current obsession. It's so simple and fast-made. It tastes super fresh and there is no big effort involved—just a perfect summer fresh weeknight dinner recipe. My kids love this delicious tomato spinach pasta dish.
ingredients for the amazing 15-minute fresh tomato parmesan pasta
Cherry tomatoes.

are the best tomatoes for this recipe as they have a very strong, sweet, and fresh flavor. To get the most out of them I love to use different colors as they give different flavors. For example, yellow cherry tomatoes taste sour, and so do dark red tomatoes. But bright red cherry tomatoes taste very sweet and juicy. The combination is going to bring so much flavor to the dish, without adding any spices. If you don't have cherry tomatoes, grape tomatoes work really well too. Now let's talk about the health benefits of eating tomatoes. They are a good source of Vitamin C, Potassium, Vitamin K1, and Vitamin B9 (folate). Tomatoes are rich in insoluble fiber.

Spinach.

The perfect partner for tomatoes. The green leaf is a super healthy source of Vitamin A, Vitamin C, Vitamin K1, Folic acid, Iron, and Calcium. Spinach also contains several plant compounds, such as Lutein, Kaempferol, nitrates, and quercetin. Each of those compounds can improve health, such as eye health, heart health, decrease the risk of cancer and chronic diseases, and many more. You can read more at healthline.com

Onion.

One red onion to flavor things up.

Garlic.

We are going to stamp the garlic so it can release all its flavor and the sauce can absorb it all.

Thyme.

This super healthy herb is one of the very few herbs aka spices I'm using in this meal. I try to keep it very simple with the number of ingredients we are using.

Oregano.

Is perfect for the sauce. As said before I try to keep it simple with this pasta recipe, the few ingredients I'm using have to have a strong taste and at the same time complement each other.

heavy cream.

For the creaminess and sweet taste.

Parmigiano Reggiano.

I don't think this tomato pasta recipe would be the same without the cheese. This is the cherry on top.

Olive oil.

Good quality olive oil to saute the onion, garlic, and herbs in it. The ingredients can set their aromas free and the tomatoes are going to absorb it.

Pasta.

You are free to use your favorite Pasta. I simply love this Tomato parmesan sauce with spaghetti or fettuccine the most.

Tomato paste.

The fresh tomatoes are giving the sauce its fresh taste, but with the tomato paste, we are bringing it to the next level. It gives the sauce a tomato-rich flavor and makes the sauce thick.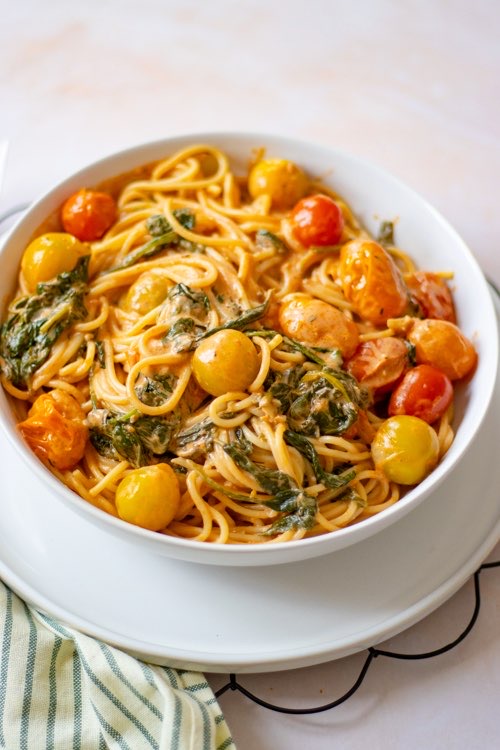 any tips?
You are free to use more tomatoes or spinach.
You can easily meal prep the sauce and when ready to eat make the pasta.
You can store this delicious tomato spinach pasta meal in the fridge for at least 4 days.
If you're gluten intolerant use gluten-free pasta.
Preptime: 2min
Cooktime: 15min
Waittime:0
Totaltime:17min
---
Ingredients for the recipe:
| | |
| --- | --- |
| 500g | spaghetti |
| 200g | spinach |
| 500g | tomatoes |
| 100g | parmigiano reggiano |
| 1 | onion |
| 2 | garlic cloves |
| 2tsp | thyme |
| 2tsp | oregano |
| 200g | heavy cream |
| 1tbsp | tomato paste |
| 2tbsp | olive oil |
| | salt |

Click to copy the ingredients as a list to your devices clipboard! Then for example you can paste to your notes app / shopping list!
Click on a list item to cross out what you already finished
Add water and salt to a pot, put it on the stove at a high level, and bring it to a boil.

In the meantime chop the onion and peel the garlic cloves.

Mash the garlic with a mortar and pestle (If you don't have one use a glass)

Wash the tomatoes and spinach.

When the water is cooking add the pasta and cook for about 7-10 minutes until the pasta is al dente.It really depends on your stove. Set down the level of the stove to medium.

In the meantime add olive oil to a pan and put it on the stove at a medium-high level.

Add the tomatoes and saute for about 3 minutes.

Add the chopped onion and saute the onion for 30 seconds.

Add the mashed garlic and the tomato paste, then saute for about a minute.

Gradually add the spinach. Don't forget to stir it (this takes about 3 minutes).

Add the cream, stir the sauce and let it cook for about 5 minutes with a lid on top.

Check the pasta.

Add some salt and the freshly grated Parmigiano Reggiano to the pan and let it cook for another 2 minutes.

Add the pasta and mix everything well together.

Ready to serve!

ENJOY!