easy cheesy broccoli blue cheese soup (healthy one pot recipe)
Jump to Recipe
This easy cheesy broccoli blue cheese soup is a healthy one-pot recipe full of flavor and creaminess. Made in 20 minutes and with minimal effort, this soup is the perfect recipe for lazy days.
Thank god soup season is here. Don't we all love a good cozy delicious and nourishing soup? I love recipes like this easy broccoli soup recipe because you don't need to prep much, just need one pot and you are ready to go. The kitchen is going to be clean afterward and you're doing something for your soul and body at the same time.
ingredients for the healthy broccoli soup
Broccoli.

A nutrient-dense ingredient. High in Vitamin K, Vitamin C, iron, and potassium. It is also high in plant compounds which studies have shown, have many health benefits. For instance, Sulforaphane may help protect against many types of cancer.

Potatoes.

This super healthy starch ingredient will give the soup a creamy note. It also helps to keep you full for a good amount of time.

Carrot.

The orange vegetable gives the soup a slightly sweet taste. It also helps support your immune system, which is what we all need right now. The digestive health is supported thanks to the compounds found in carrots.

Onion.

We are not having many ingredients, but this one is one of the most important, as it gives the dish so much flavor.

Blue cheese.

The soup is going to have a very unique taste, in a good way.

Water.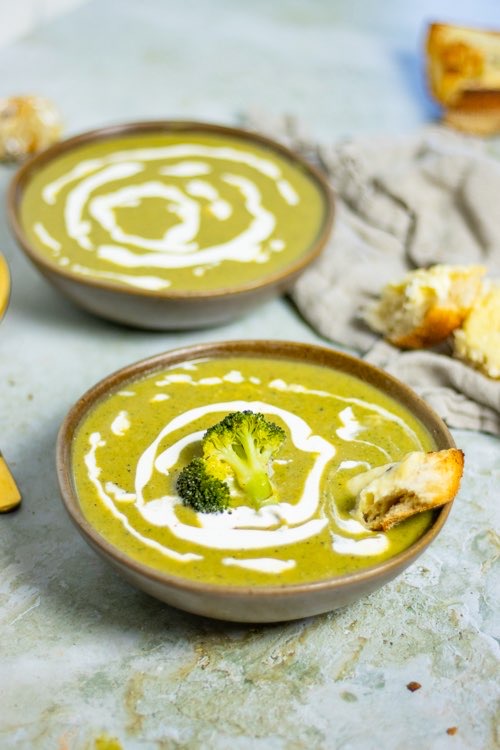 notes
The soup tastes best if eaten immediately. But if you want to store it, use a container and put it in the fridge. It will last up to two days.
The best way to have the soup is with some warm garlic bread. If you put gouda cheese on it, you will be in cheese heaven. Don't worry it will not be too much cheese.
I make the garlic bread with freshly roasted garlic cloves, olive oil, and some salt.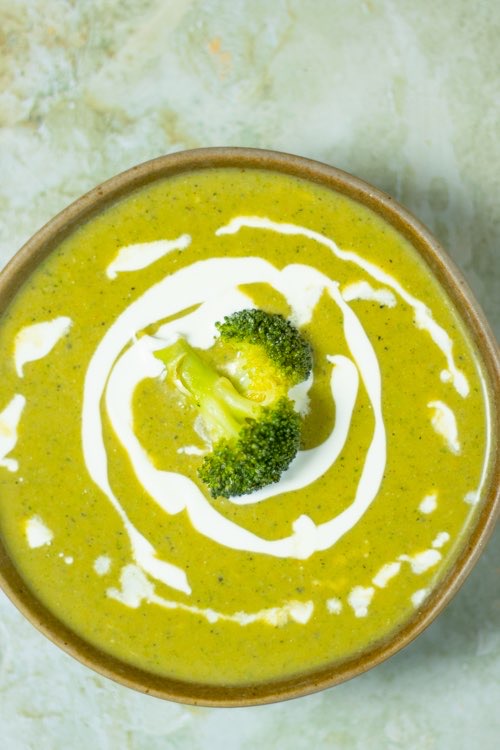 any tips?
Don't let the broccoli get burned. There is a small line between crispy golden onion and burned onion. You will need to let it get brown because we want to taste the roasted flavor in the soup.
You can add the harsh broccoli pieces, as it gives much flavor. But cut it into thin slices.
Be careful with the blue cheese. We want a harmonized soup, therefore the blue cheese shouldn't dominate. If you liked to have more in it wait until the soup cooks for about 2 minutes than taste it. If you still want to add more, you are free to do so.
Preptime: 2min
Cooktime: 17min
Waittime:0
Totaltime:19min
---
Ingredients for the recipe:
| | |
| --- | --- |
| 300g | broccoli |
| 300g | potatoes |
| 1 | carrot |
| 1 | onion |
| 80g | blue cheese |
| 1000ml | water |
| | salt |
| | olive oil |

Click to copy the ingredients as a list to your devices clipboard! Then for example you can paste to your notes app / shopping list!
Click on a list item to cross out what you already finished
Peel and chop the onion.

Wash and peel the carrot and potatoes.

Cut the carrot into three pieces.

Cut the potatoes into small cubes.

Wash the broccoli and slice off the rough bottom ends of the broccoli stalks.

Add some olive oil to a big pot and put it on high heat.

Sautee for a minute or until the chopped onion has a nice roasted brown color.

Add carrots and potato cubes to the pot.

Saute for about 2 minutes. The potatoes should have a beautiful golden color. If the heat is too high turn it down to medium-high.

Add the broccoli.

Add 1 liter of water, immediately.

Add some salt and put a lid on. Let it cook for about 15 minutes.

Remove the pot from the stove when the broccoli and potatoes are soft and the soup is ready to blend.

Use a hand blender or a stand blender, you choose.

Blend the soup until everything is well combined and creamy.

Put the soup back on low heat on the stove.

Add the blue cheese and whisk it until the cheese disappears and becomes one with the soup.

The healthy broccoli blue cheese soup is ready to serve.

ENJOY!