easy honey balsamic glazed vegetable plate
Jump to Recipe
This easy honey balsamic glazed vegetable plate is sweet, sour, salty, and sweet. It is the perfect Holiday side dish.
This is the right recipe if you want to do something different on Christmas this year. It's a very simple and quick-made recipe. I wanted to create something that is not super complicated and can be used for the holidays and, after that, for easy weeknight dinner meals.
The fantastic thing about this dish is it is so varied. You can serve it with mashed potatoes, couscous salad, or rice, or add some chicken; the variations are countless.
ingredients for the easy honey balsamic glazed vegetable plate
Carrots.

They are a good source of vitamins A, K, and C, Calcium, Iron, fiber, and potassium. They have many antioxidants and health benefits, such as boosting your immune system, helping control diabetes, helping with constipation, and so much more.

Cabbage.

It is a nutrient-dense food. It's rich in Vitamin C, K, B6, Folate, Manganese, fiber, Calcium, Magnesium, and Potassium. Cabbage has many health benefits, such as protecting against inflammation, thanks to its powerful antioxidants.

Broccoli.

Rich in Vitamin K1, C, B9, Manganese, Iron, and Potassium.

Zucchini.

Rich in Vitamin A, Potassium, and Folate.

Onion.

I used a medium-sized yellow onion, but you could add a red onion instead. You are also free to use more onion.

Garlic.

Two juicy big garlic cloves.

Balsamic vinegar.

This is going to be the basis of the sauce. Make sure to buy high-quality balsamic vinegar.

Soy sauce.

A little bit. Be careful, as soy sauce can add a strong taste; we want a flavor-balanced sauce.

Clove.

Ginger.

Thyme.

Pepper.

Olive oil.

High-quality extra virgin olive oil.
how to serve the honey balsamic glazed vegetable plate
The mixed vegetables can be served as a side for Christmas or any other holiday. It fits perfectly with all the holidays.
You can make this dish with rice for a weeknight dinner. It's a fantastic option for those days when you don't have much time to cook but want a nutrient-rich meal.
But the dish could also be served with mashed potatoes or my favorite glass noodles.
If you want to add some protein to this recipe and make a whole meal, you can add shrimp or chicken breast. It tastes amazing.
how to store the honey balsamic glazed vegetable plate
The balsamic honey glazed vegetables can be stored in a container in the fridge for about three days. Let it cool off before putting the lid of the container on. You can easily meal-prep it and serve it during the week. The fantastic thing is that you can make different dishes from it, as mentioned above.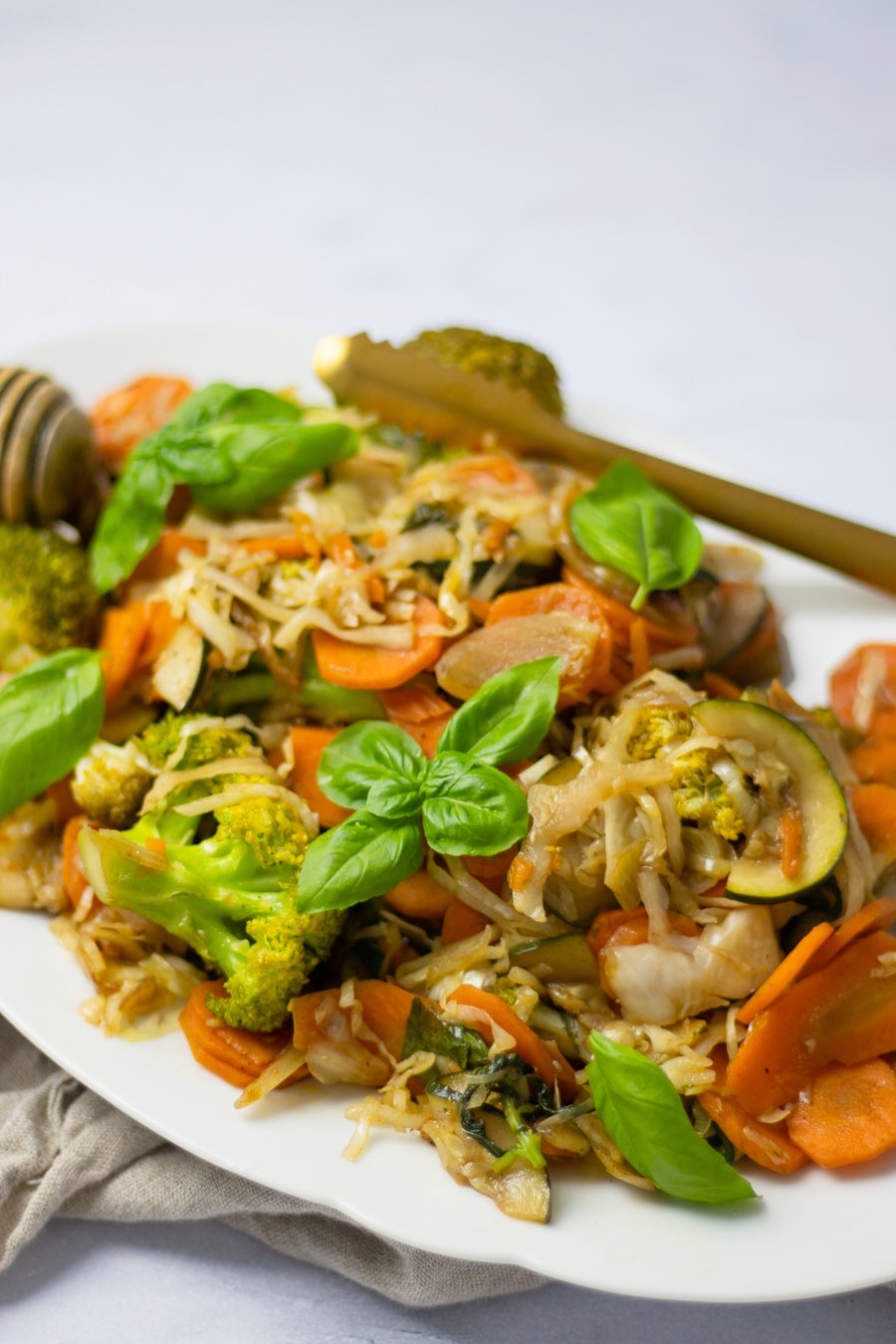 any tips?
If you´re a host for the holidays and want to make your life easier, I recommend cutting the vegetables, making the sauce early or even the day before, and cooking right before serving. As the dish only takes 10 minutes to cook, and you throw everything in a pan or wok, it´s a game changer if you prepare everything ahead.
The tip is for more than just Christmas, if not for anyone who wants to cook at home and wants to make their life easier. If you work long hours and want a quick meal, cut the vegetables up to 3 days prior. The sauce can be made a week ahead.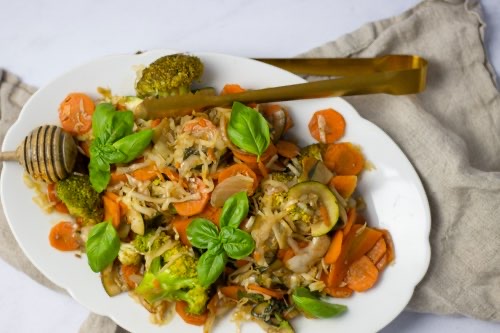 Preptime: 5min
Cooktime: 10min
Waittime:0
Totaltime:15min
---
Ingredients for the recipe:
| | |
| --- | --- |
| 600g | carrots |
| 300g | white cabbage |
| 200g | zucchini |
| 300g | broccoli |
| 1 | yellow onion |
| 2 | garlic clove |
| 50ml | balsamic vinegar |
| 30ml | honey |
| 1tbsp | soy sauce |
| 1tbsp | maple syrup |
| 1tsp | thyme |
| 0.5tsp | ground clove |
| 1tsp | ground ginger |
| 0.5tsp | black pepper |
| | salt |
| 3tbsp | olive oil |

Click to copy the ingredients as a list to your devices clipboard! Then for example you can paste to your notes app / shopping list!
Click on a list item to cross out what you already finished
Peel the carrots, garlic cloves, and onion.

Chop the onion.

Mince the garlic.

Cut the carrots and zucchini into thin slices.

Cut the cabbage in half. Now slice the half cabbage into very thin slices. If you want to make your life easier, shred it.

Cut the broccoli by cutting off the broccoli florets right where the stem meets the thick stalk. If you want to use the big stalk, cut it into small rings.

Mix the honey, maple syrup, soy sauce, balsamic vinegar, ginger, pepper, thyme, ground cloves, and some salt (be careful, as the soy sauce is already very salty) and whisk.

Use a wok or pan and put it on high heat on the stove.

Add the oil to the wok.

Add the chopped onion and saute for about 30 seconds.

Add the minced garlic and saute for about 10 seconds.

Add the carrot, zucchini, shredded cabbage, and broccoli florets and saute for about 3 minutes.

Put the heat on medium heat.

Pour the sauce over and stir it well.

Put the lid on and let it cook for about 5 minutes.

Check if salt is needed; if so, add some more salt.

Ready to serve when the broccoli is al dente. (It depends on how you like the vegetables to be if you want them soft than let them cook for some more minutes)

ENJOY!