the most amazing honey glazed bacon green beans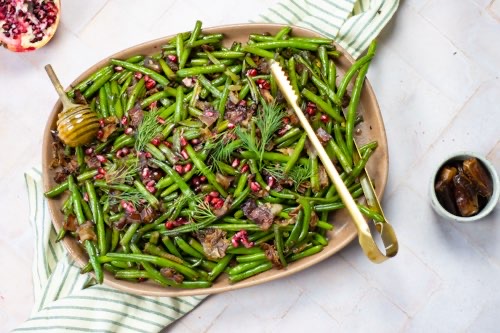 Jump to Recipe
The most amazing honey glazed bacon green beans are sweet, salty, crispy and fresh. They are a hit on the family table.
It's a no from me when it comes to boring vegetables. Yes, I really love basic food now and then, as it can get overwhelming eating all the dishes that I make. But let me tell you, my vegetables must be different and just simply a taste bomb. This amazing honey glazed bacon green beans are an absolute hit at the dining table every time I make them. Friends and family cannot get enough of them. For my people with kids, they are absolutely in love with them.
What makes this dish so amazing?
It looks very basic and simple, but it's simply not. It's a full experience. The typical green bean taste combined with the salty bacon and then topped with the sweet dates are just full on perfect. In the one second, you're tasting the crispy and salty bacon. In the next second you're tasting the sweet dates bites. All topped with a decent sweet honey taste and a bit sauted onion. As we eat with our eyes too, garnished with pomegranate the beans look perfect. Heavenly good is all I need to say.
This recipe is perfect for special occasions such as Christmas. It is so simple in the making that you can easily eat it on a weeknight. The perfect source of vegetables is done in under 10 minutes and so versatile.
You can eat it with mashed potatoes and my delicious, crusted roast, for example.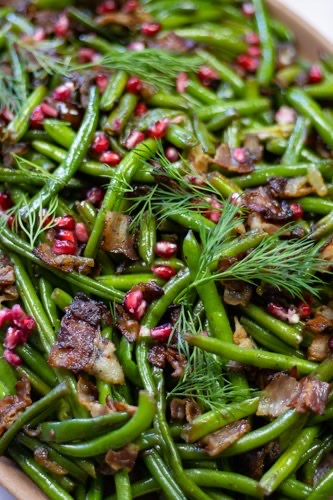 Ingredients for the most amazing honey glazed bacon green beans
Green beans.

The star of this recipe is very healthy. They don't contain any cholesterol, and have some of its soluble fiber. Soluble fiber may help lower bad cholesterol (LDL), support heart health and reduce inflammation. Green beans are a good source of vitamins and minerals such as folate, Vitamin C, vitamin A and manganese.

Bacon slices. Try to use high quality organic bacon. You can taste a huge difference. The bacon will add a salty experience to this dish.

Onion.

Yellow onion fits perfectly for this dish, but red onion works well too.

Dates.

We need to make boring green beans exciting. Dates are the perfect source for an exciting, sweet experience. But dates have more to offer as they have an excellent nutrition profile. They are high in fiber, which can benefit your digestive health and blood sugar control. Dates provide various antioxidants such as flavonoids, carotenoids and phenolic acid.

Vegetable oil.

Salt.

Honey.

Just a little bit for an overall sweet taste.

Pomegranate.

The beautiful fruit is rich in antioxidant and flavonoids, they are known to prevent free radicals from damaging your cells. It can lower your risk of getting cancer.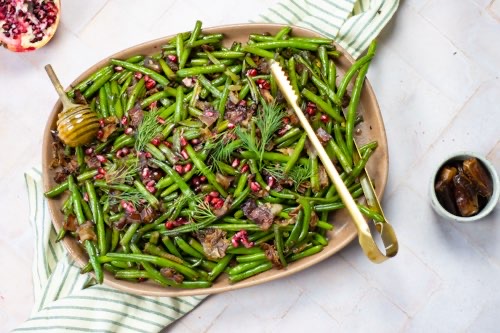 Preptime: 3min
Cooktime: 20min
Waittime:0min
Totaltime:23min
---
Ingredients for the recipe:
| | |
| --- | --- |
| 800g | green beans |
| 200g | bacon slices |
| 1 | pomegranate |
| 1 | white onion |
| 12 | gutted dates |
| | vegetable oil |
| | salt |
| 1tbsp | honey |

Click to copy the ingredients as a list to your devices clipboard! Then for example you can paste to your notes app / shopping list!
Click on a list item to cross out what you already finished
Wash the green beans.

Cut the green beans in half.

Cut the bacon slices and dates in slices.

Chop the onion.

Open the pomegranate and take the seeds out (If you don't know how to open a pomegranate, there are plenty of good videos on YouTube.)

Add 2 tablespoons vegetable oil to a pan. Sauté the chopped onion for 30 sec.

Add the Bacon to the pan and sauté for like 4 mins or until golden brown.

Add the sliced dates, half of the pomegranate seeds and sauté for a minute.

Add the beans and stir it constantly for 3 mins.

Add the 2 tablespoons of honey and salt and stir it for 3 minutes.

Let it cook on medium level for 10 minutes.

To give them a nice look, put the finished beans on a beautiful plate and spread the remaining pomegranate seeds on them.

ENJOY!