the most simple and juicy creamy mushroom pork chop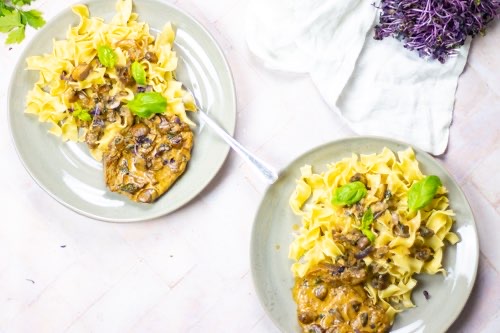 Jump to Recipe
Simple, juicy and just the perfect pork chop recipe.The most simple and juicy creamy mushroom pork chop is the perfect cozy dinner recipe to treat yourself and those around you.
We all need more food that tastes like grandma has made it. I think people would be nicer, happier and just simply satisfied because they had a meal that reminded them of childhood. Of course not everyone had the same dish growing up, but there are some dishes out there that you could instantly tell, ohhh this is made with love and is grandma worthy. This Pork chop recipe is one of them.
Ingredients for the most simple and juicy creamy mushroom pork chop
Pork chop.

There are plenty of names for pork chop. You can use any pork chop you like, but I love to use loin pork chops for this recipe. It's the tenderest and leanest pork chop. But let's talk about the nutritional facts of the meat. Pork chops are a rich source of selenium, a mineral which has anti- inflammatory and antioxidant properties.The good source of protein is also high in zinc.

Mushrooms.

You can use brown and white mushrooms. They are a good source of vitamin D2, which your body turns into the active form of Vitamin D. This is needed to absorb calcium and keep your bones healthy. A very interesting thing about mushrooms is that they offer some vitamin B12 , which is awesome for the vegetarian and vegan community (Read more). Polyphenols, selenium, vitamin C.. to name a few antioxidants may be the potential cancer-fighting properties of mushrooms. Other potential benefits of mushrooms are that they may improve your gut health, thanks to their polysaccharides, which act as prebiotics.

Onion.

You can use yellow or red onion. Onions are nutrient-dense, which means they are low in calories (we don't count calories on CocosTastyWorld) but high in vitamins and minerals. It is loaded with 25 different varieties of flavonoids antioxidants (Read more). Red onions contain anthocyanins (plant pigments) which can reduce the risk of heart disease and protect against certain types of cancer and diabetes. Onions are also a rich source of fiber and prebiotics which may boost the digestive health.

Garlic.

Not only a source for flavory dishes, it also has a lot of health benefits. Garlic was used to reduce fatigue and enhance the work capacity of laborers. Eating high doses of garlic (3 doses a day ) may protect the organs from heavy metal toxicity.

Basil.

Sweet Basil contains eugenol. These antioxidants, along with others, help fight free radicals in the body. The radical can increase the risk for a variety of health conditions such as arthritis, diabetes and cancer. Sweet basil may help reduce Inflammation, protect against infections, prevent heart disease and improve mental health.

Parsley.

I prefer fresh parsley for the taste.

Cream.

400g heavy cream. If you don't have heavy cream use milk and wheat flour to thicken the sauce up.

Olive oil.

Just a little bit to fry the pork chop. If you don't like the olive oil any other vegetable oil works too.

Thyme.

Fresh or dry both work really well in this recipe.

Paprika.

We need a sweet paprika powder for the seasoning.

Salt.

Marjoram.

I use dry marjoram herb for the seasoning.

Coriander.

Seeds or powder. I love to use powder for the seasoning, because its finer and you can spread it better over the meat. But I've done it with fresh stamped seeds and it tastes as delicious as with the powder.

Oregano.

This dish would not be the same without this strong herb.
Sides
Choose your favorite side. This recipe really works with everything. Potatoes, plantains, yuca, rice, pasta, salad or even just bread. But if you want a guess try it with tagliatelle and the
delicious honey glazed bacon green beans
. Another suggestion would be to have it with some rice such as
my moro de habichuelas negra
and delicious green salad.
any tips?
If you want the taste to be as strong as it can get, season the meat early in the morning or even the night before. It has the time to absorb all the flavors.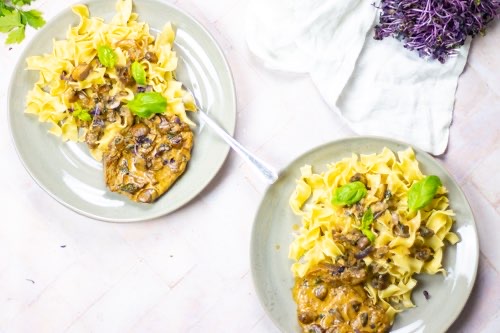 Preptime: 10min
Cooktime: 35min
Waittime:0min
Totaltime:45min
---
Ingredients for the recipe:
| | |
| --- | --- |
| 1200g | Pork chop |
| 3 | Garlic clove |
| | Olive oil |
| 1handful | Fresh basil |
| 1handful | Fresh parsley |
| 1tsp | Thyme |
| 1tsp | Marjoram |
| 1tsp | Coriander powder |
| 1tsp | Oregano |
| 1tsp | Black pepper |
| | Salt |
| 2tsp | Paprika (Ground) |
| | Some olive oil |

Click to copy the ingredients as a list to your devices clipboard! Then for example you can paste to your notes app / shopping list!
Click on a list item to cross out what you already finished
Wash the Pork chops with water and lemon.

Mix the coriander powder, paprika, salt, black pepper, oregano and thyme together.

Season the pork chops with the mixed spices and put it aside.

Peel the onion and garlic.

Cut onions in rings.

Mash the garlic cloves.

Chop the parsley and basil leaves.

Slice the mushrooms.

Put a pan on high level on the stove.

Add some oil and fry the pork chops for about 2 minutes on each side, until they are golden brown. Then turn the heat down on medium level.

Let the pork chops fry for about 5 more minutes. Don't forget to check it as it can burn easily.

Take the pork chops out of the pan and sauté the onion for about a minute in the pan.

Add the mashed garlic for about 30 sec.

Add the mushrooms and stir it. Let it cook for about 3 minutes.

Add the pork chops and let it cook for 10 minutes.

Add the heavy cream and let it cook for 15 minutes. Stir it sometimes.

If needed add some salt.

Turn the heat down if the cream is cooking too much.

ENJOY!