the ultimate healthy apple camembert winter salad recipe
Jump to Recipe
The ultimate healthy apple camembert winter salad recipe is a colorful, nutrient-dense vitamin boost. It is also the perfect Christmas appetizer.
This salad has it all - unique, colorful, sweet, salty, creamy and sour. It is the perfect meal if you need a quick vitamin boost. But it is not only a quick nutrient-dense meal; it can be the perfect holiday salad. It looks amazing, is different, and has a fresh taste all at the same time.
ingredients for the healthy apple camembert winter salad
Lamb's lettuce.

also known as cron salad or field salad is a rich in nutrition salad green. The salad is rich in Vitamin B9, which can act as a stress reliever, as it acts on the nervous system and helps you to sleep well. It is also full of antioxidants, thanks to Vitamin C. Lamb's lettuce is also rich in Vitamin A, which provides beta-carotene, an antioxidant that protects the skin and eyes. Omega-3 in it may help prevent cardiovascular diseases, by reducing bad cholesterol.

Beetroot.

The root vegetable is an excellent source of Vitamin C, iron manganese, potassium, fiber, and Vitamin B9. Beetroot may help lower blood pressure and enhances physical performance thanks to nitrates.

Apple.

The super healthy fruit may protect against diabetes and heart disease and may be beneficial for bone health. For this recipe, I recommend using apples with a balanced sweet-tart flavor and mild acidity (like Elstar or Braeburn apples).

Camembert cheese.

You will need a whole camembert. Try to buy a high-quality camembert

Coconut flakes.

are a healthy source of fat, fiber, zinc, iron, and protein.

Pomegranates.

are rich in vitamins, fiber, minerals, antioxidants, and anti-inflammatory compounds.

Balsamic vinegar.

for the dressing.

Olive oil.

High-quality virgin olive oil.

Maple syrup.

The healthy syrup is going to sweeten the dressing up.
the perfect holiday side dish
You can prepare the salad in a big bowl and serve it as a side dish on the buffet table or if you have it as an appetizer, fill it in small bowls.
any tips?
If you want to prepare the salad ahead of time, cut everything and store them in containers. Drizzle some lime juice on the apple slices so they look good when serving.
Add the toppings and dressing just before serving it, as it will look best.
Make the cheese before serving, so it will still be warm and cheesy.
The portions will double up if you're serving the salad as an appetizer and not as a meal. The serving sizes are for 2, but if you make it as an appetizer, it will be four portions.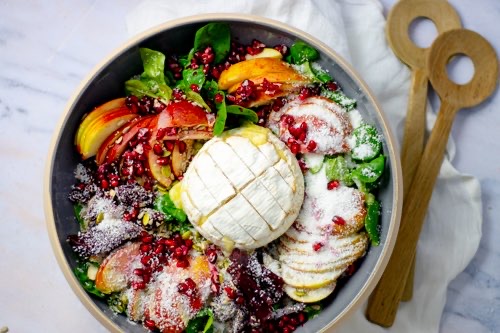 Preptime: 0min
Cooktime: 5min
Waittime:30min
Totaltime:35min
---
Ingredients for the recipe:
| | |
| --- | --- |
| 500g | lamb's lettuce |
| 2 | cooked beetrot |
| 2 | apples |
| 30g | coconut flakes |
| 1 | pomegranate |
| 250g | camembert cheese |
| 50ml | balsamic vinegar |
| 2tbsp | olive oil |
| | salt |
| 1tbsp | maple syrup |

Click to copy the ingredients as a list to your devices clipboard! Then for example you can paste to your notes app / shopping list!
Click on a list item to cross out what you already finished
Cut the top skin of the camembert cheese into four pieces. Put the camembert cheese in a small baking sheet/ casserole and bake for 30 minutes or until the cheese runs down in the oven at 200°C (392 °F).

Wash the Lamb's lettuce, apples, and beetroot (if not cooked).

Peel the beetroot and cook it in a small pot. If you have already cooked the beetroot, skip this step.

Open the pomegranate and remove the seeds. (there are different techniques if you don't know how to peel it).

Cut the Apples in half. Remove the seeds and cut them into thin slices.

Cut the cooked beetroot into cubes, sticks, or slices.

Mix balsamic vinegar, olive oil, salt, and maple syrup in a glass and whisk it well.

Add the Lamb's lettuce, apple slices, cut beetroot, coconut flakes, and pomegranate to a big bowl or small bowls if you're serving it as an appetizer.

Remove the cheese from the oven.

Remove the top skin and pour the cheese all over the salad.

Pour the dressing over and mix well together.

The salad is ready to serve.

ENJOY!