the most simple and healthy 10 minutes bell pepper steak
Jump to Recipe
Bright, colorful and delicious, that's how I would describe the most simple and healthy 10 minutes bell pepper steak recipe. This one should be on your must-cook list.
This is one of my favorite's weeknight dinner recipes. Especially for days where I don't have the time and energy to spend an hour in the kitchen, with preparing, cooking and cleaning. But I don't want to order take out. I just want a healthy nourishing dish for me and my family.
The kids love this dish. It's colorful, they can eat it easily by themselves and it's very delicious. Kids love simple good-looking meals. So, this is a perfect one.
VEGETERIAN AND VEGAN VERSION
Vegetarian:

Obviously there is beef in this dish, but it is easily changeable. You can replace the steak with

seitan or tofu

.

Vegan:

Instead of the steak, use

seitan or tofu

. Replace honey with

agave syrup

.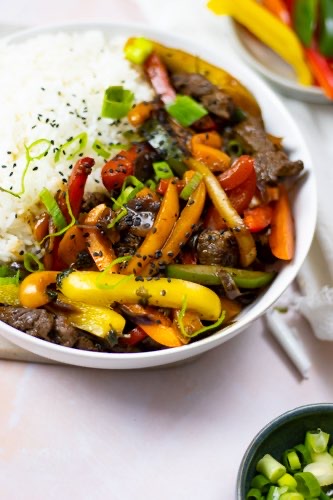 Ingredients
Bell pepper.

Green, red, yellow, orange... any color you prefer. I love using all of them. It makes the dish look amazing and obviously tastes good too. I think it's a must to add the green bell pepper, because beef and green bell pepper are meant for each other.

Steak.

Choose your favorite steak (Rump, flap, flat, strip, rib eye, Denver steak…)

Ginger.

I recommend you to use fresh ginger, because it gives the dish a fresh taste and also because of the health benefits.

Onion.

I always use red onions for this delicious dish, but yellow onion works well too.

Garlic.

One of the main ingredients. It is key for the strong flavor. But don't worry, it will not have this strong garlic taste, as everything harmonizes perfectly together.

Soy sauce.

As I have already written, use high quality soy sauce.

Honey.

Just a few spoons for the perfect sweet touch.

Cilantro.

Again, one key ingredient for the flavorful dish. As we don't use many spices, we need to choose the right ingredients which will give a very strong flavorful taste to the dish.

Salt.

I love to use sea salt for steak dishes, but any other salt works too.

Pepper.

Freshly grated black and red pepper are so good. But you can use just black pepper.
5 reasons why you should make the most healthy and delicious 10 minutes bell pepper steak
Ginger is one of the healthiest spices. It can help lower blood sugars and improve heart disease risk factors. It can help fight infections and may improve brain function. These are just a few of the benefits of eating ginger.
It's a rich antioxidant dish. Ginger, bell pepper and honey are all anti-inflammatory foods. Here are some facts about anti inflammatory foods
It's good for your heart health.
High in protein, iron , vitamin C, vitamin B 12 and more.
It's made in 10 minutes. You don't need to wash too many things up as you will only need one pan or wok.
Sides
Simple white is perfect for this dish. It's a very colorful dish, so the white rice will complement the dish even more. If you don't like rice, you can have mashed potato, homemade fries, glass noodles, cous-cous, oven potato… the list could go on and on.
You can even make an amazing sandwich with this dish. If so, try to use a crispy on the outside and fluffy on the inside baguette like a French baguette.
If you would like to not keep it simple with the sides, then my
moro de habichuela negra (Dominican rice and beans recipe)
is the perfect choice for the most simple and healthy 10 minutes bell pepper steak.
any tips?
This is a 10 minutes recipe, but if you have the time prepare the steak in the morning or even the night before. While the prepared beef rests, it has enough time absorbing the flavor of the onion, garlic, cilantro, salt and pepper. It will bring your meal to the next level. You will still need 2 minutes preparing it.
As the pepper will lose some water the sauce is very runny. I don't have any problem with that, but if you would like to thicken up the sauce, mix 2 tbsp flour with the soy sauce before adding it to the steak.
Preptime: 3min
Cooktime: 7min
Waittime:0
Totaltime:10min
---
Ingredients for the recipe:
| | |
| --- | --- |
| 300g | Chuck steak |
| 2 | Yellow bell pepper |
| 2 | Red bell pepper |
| 2 | Green bell pepper |
| 1 | Red onion |
| 3 | Garlic clove |
| 1handful | Fresh cilantro |
| 1tbsp | Fresh grated ginger |
| 80ml | Soy sauce |
| 2tbsp | Honey |
| 2tsp | Black pepper |
| | Salt |
| | Vegetable oil |

Click to copy the ingredients as a list to your devices clipboard! Then for example you can paste to your notes app / shopping list!
Click on a list item to cross out what you already finished
Cut the red onion into rings

Peel the garlic cloves

Cut the steak into slices (like 1 cm thick). Add the sliced steak into a bowl.

Mash the garlic cloves (I use a Dominican pilon) with your knife or a pestle and mortar.

Add the mashed garlic cloves, onion, cilantro, salt and pepper to the bowl and mix well.

Cut the bell peppers into slices.

Grate the ginger.

Put a pan or a wok on the stove on high level.

Add your oil of choice to the pan.

When the pan is hot, add the ginger and seasoned steak.

Stir it immediately and let it cook for 3 minutes.

Add the bell pepper and let it cook for another 2 minutes.

Add the soy sauce and honey.

Let it cook for 2 more minutes.

Pretest if the steak it's like you prefer it.

When your side of choice is ready, the bell pepper steak is ready to serve.

You can garnish it with sesame seeds and spring onion.

ENJOY!