a classic easy and colorful apricots prosciutto feta salad
Jump to Recipe
A classic easy and colorful Apricots Prosciutto Feta salad with lime and mint for some extra freshness. The summer salad is also a super healthy meal.
My favorite August salad by far. This is the perfect "I'm too lazy to cook but still want something very delicious" meal. There is literally minimum effort involved. One thing about salads that I don't like is the amount of time you spend cutting and chopping all the beautiful ingredients. Sometimes it takes longer to make a salad than it would be to cook a warm meal from scratch.
Because most of the time we want a salad because we want something light and easy.
This salad is not one of those salads. You literally need a max of 5 minutes prepping the salad. There is also no mess involved as we won't make any dressing, because the warm feta together with the lime and mint, create a dressing while mixing everything together.
ingredients for a classic easy and colorful apricots prosciutto feta salad
Apricots.

Flavorful and super rich in nutrition. Don't underestimate the small stone fruit as it has many Vitamins, and contains a high amount of flavonoids and potassium. The fruit is a rich source of Vitamin A and beta-carotene which both work as antioxidants.

Cucumber.

We need something refreshing for this salad to balance the sweetness from the apricots and the salty from the feta. Cucumber is the perfect source for that.

Cherry tomatoes.

You can use red or colorful tomatoes. The different colors add more different flavor to the dish. Red onion. Makes the salad a little bit spicy and flavorful.

Feta.

High-quality Feta for the perfect outcome. The warm Feta will become a creamy kind of sauce which will be the perfect salad dressing.

Prosciutto.

I never loved Prosciutto as much as in this salad. The sweet apricots together with the salty soft Prosciutto, are just amazing.

Olive oil.

As always high quality.

Italian Oregano.

to spice the Feta a little bit up.

Thyme.

Amazing with Italian oregano.

Mint leaves.

Fresh mint leaves add an extra fresh kick to the whole salad.

Lime.

Our source of sourness.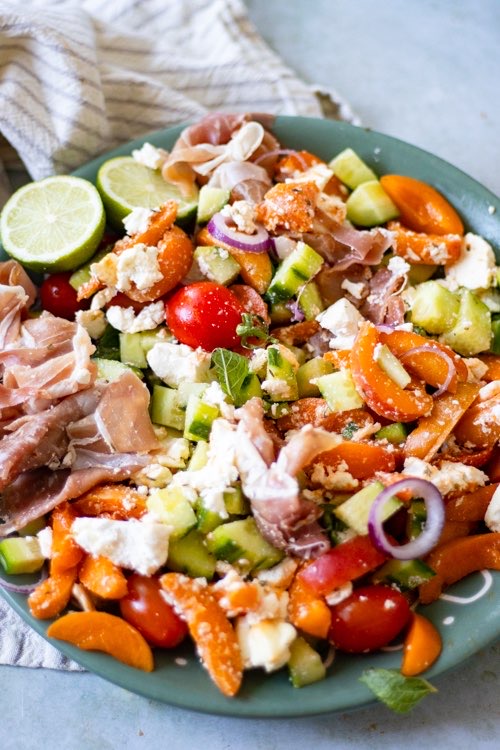 how to store the salad
The apricot Prosciutto feta salad can be stored for about 3-4 days in the fridge.
any tips?
Mix everything together while the feta is still hot/ warm. During that time it is still super soft and can be used as a dressing while mixing everything together. Don't wait too long as it gets hard very quickly.
If you don't have apricots or don't like them, use any stone fruit, they work all very well with the other ingredients.
Preptime: 5min
Cooktime: 10min
Waittime:0
Totaltime:15min
---
Ingredients for the recipe:
| | |
| --- | --- |
| 300g | apricots |
| 1 | cucumber |
| 150g | cherry tomatoes |
| 1 | small red onion |
| 200g | feta |
| 50g | prosciutto |
| 10 | mint leaves |
| 1 | lime |
| 1tsp | thyme |
| 2tsp | italian oregano |
| 2tsp | olive oil |

Click to copy the ingredients as a list to your devices clipboard! Then for example you can paste to your notes app / shopping list!
Click on a list item to cross out what you already finished
Put the feta on a baking sheet, aluminum foil, or a small baking casserole.

Sprinkle one teaspoon thyme and two teaspoon oregano on top of the Feta.

Bake for 20 minutes, until soft at 200 °C in the oven, or for 10 minutes in the air fryer.

In the meantime cut the apricots in half. Remove the stone and cut each piece into 4 pieces. So one apricot becomes 8 apricot pieces.

Add all the apricot pieces to a serving plate or bowl, whatever you prefer.

Cut a cucumber into small cubes.

Peel and cut a small onion into rings.

You can cut the cherry tomatoes in half but you don't have to.

After putting all the ingredients on the serving plate or bowl, Add the Prosciutto slices.

When the Feta is soft add it to the rest.

Drizzle some olive oil and lime juice on top.

Mix everything well together.

Your salad is ready!

ENJOY!