how to make tres golpes (dominican breakfast bowl with mashed plantains)
Jump to Recipe
One of the most famous Dominican meals: Tres Golpes. A delicious bowl with mashed plantains, fried eggs, fried cheese, and fried Dominican salami. Today I'm showing you how to make Tres Golpes (Dominican breakfast bowl with mashed plantains) but a much healthier version than the traditional Tres Golpes, but still as delicious as the original one.
Tres Golpes is a typical famous Dominican breakfast. It has mashed plantains (Mangu) as a basis and comes with fried eggs, fried cheese, and fried Dominican salami. You are free to choose if you want to add some more toppings.
I love to make this dish but the light version. You won't lose any flavors but won't get pimples and extra fat because of the amount of oil that is used in this dish.
Tres golpe is actually the wrong name for this dish as I'm not using the salami, but that's not tragical. You can fry Dominican salami if you like, but it's not needed.
Ingredients for Tres Golpe (Dominican breakfast bowl with mashed plantains)
Plantains.

Delicious plantains for the basis. We are basically making Mangu, which I already posted.

Eggs.

We will need organic eggs.

Halloumi.

In the original recipe, they use white cheese, which can be fried. As I'm living in Germany and we don't have the same white cheese as they are using in the Dominican Republic, I needed to look out for a delicious cheese that would compliment the dish super well.

Onion.

Olive oil.

Salt.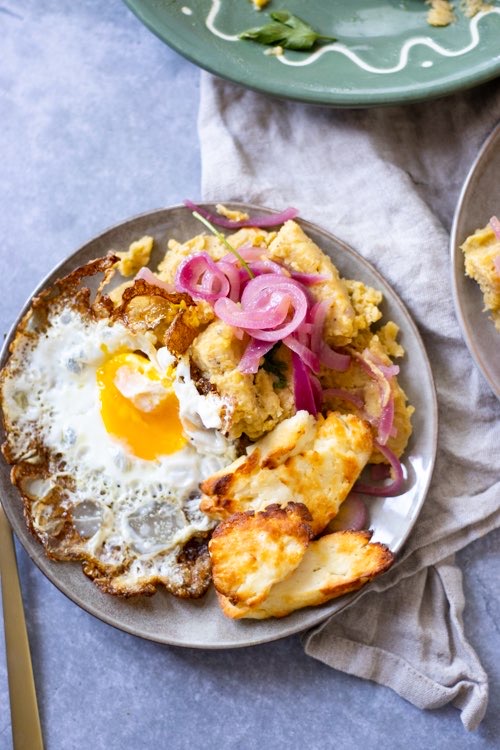 Different ways of making the Dominican breakfast bowl with mashed plantains
You can make the bowl the traditional way with a lot of oil. They love to fry everything in a pan. I'm not a fan of a too oily meal, especially for breakfast. I think this meal doesn't need that amount of oil as it has so much flavor without it.

You can make the cheese in the air fryer, pan, or oven. I prefer the air fryer or oven as it doesn't need any oil at all. The cheese still gets crispy and tastes super delicious. If you're making the cheese in the oven, preheat the oven right in the beginning. The Halloumi will need longer to get crispy but you will have the same outcome as the air fryer version.

If you want to make the eggs without any oil, use a non-stick pan. Talking about eggs, you don't need to make fried eggs if you prefer scrambled eggs or omelets then make them.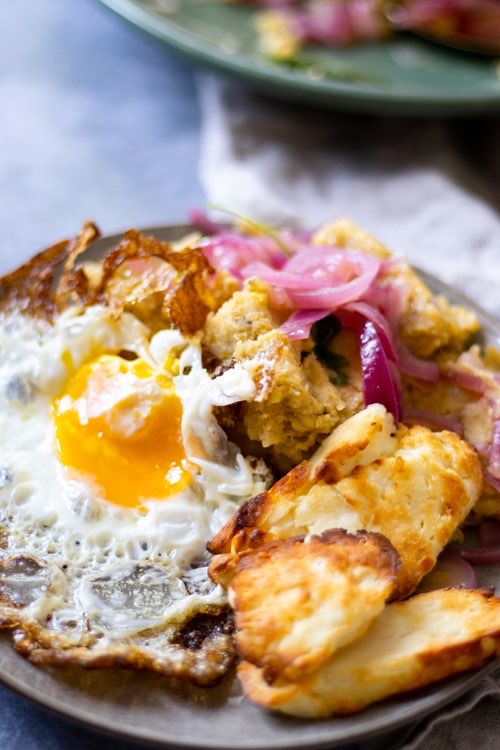 any tips?
Try to eat the cheese while it's still warm. It has the best consistency, elseways it will have a gummy consistency.
If you want to bring it to the next level add some avocado to the dish. This is going to taste amazing.
Preptime: 5min
Cooktime: 25min
Waittime:0
Totaltime:30min
---
Ingredients for the recipe:
| | |
| --- | --- |
| 500g | plantains |
| 1tbsp | butter |
| 2tbsp | olive oil |
| 400ml | cold water |
| 4onions | onions |
| 100ml | water |
| 3tbsp | apple cider vinegar |
| 4 | eggs |
| 400g | halloumi cheese |

Click to copy the ingredients as a list to your devices clipboard! Then for example you can paste to your notes app / shopping list!
Click on a list item to cross out what you already finished
Cut a shallow slit down the length of each ridge, but don't cut too deep as we just want to cut the skin and not touch the flesh.

Use your fingers to remove the skin from the flesh. If it's too difficult for you watch this one-minute video as it may help you.

Cut the peeled plantain into smaller pieces like 4 to 5.

Add the plantain pieces to a pot and add a good amount of water (the same way as you are cooking potatoes) and salt.

Bring it to boil. Cook it for 20 minutes or until the plantains are tender (test it with a fork if needed)

In the meantime cut the halloumi cheese in slices. If you have an air fryer, fry the cheese for about 8 minutes at 200°C or until it is crispy but not too crispy in the air fryer. If you don't have an air fryer, bake the cheese in the oven for 20 minutes at 200°C or until it's crispy.

Peel the onions and cut them into rings.

Use a pan and put it on the stove on medium high heat. Add a little bit of oil to the pan and saute the onions for about 2 minutes.

Add 100 ml water, put a lid on and let it cook for 5 minutes.

Add salt and vinegar and cook for another 2 minutes.

Put it aside until the mashed plantain is done on the lowest level and if needed add a little bit of water.

Remove the plantains from the water and mash it immediately with a potato masher or fork. But be careful and don't burn yourself.

Add the ice-cold water and butter and mash it until there a no lumps or just a few.

Add salt and olive oil.

I like to use a hand mixer to get it extra smooth.If you don't have one use your fork.

For the next step you will need a pan. You can use the same pan where you sauteed the onions. Remove the onions and add some oil to the pan.

Put the pan on medium-high heat on the stove and let the oil get hot.

Fry the eggs in the pan until it has the consistency you prefer.

Ready to serve on 4 plates put the mashed potato on a plate.

Garnish with the sauteed onion and the vinegar juice.

Add one egg on each plate and some halloumi cheese.

ENJOY!