amazing gorgonzola spinach mushroom gnocchi recipe
Jump to Recipe
This amazing gorgonzola spinach mushroom gnocchi recipe is made in less than 10 minutes, and it's taking you to heaven.
We all need a super easy meal here and there, which we can make as quickly as possible but still serve something that tastes like it requires hours to cook because of its flavors. This recipe is definitely one of them. The sauce is one of my family's favorites.
ingredients for the amazing gorgonzola spinach mushroom gnocchi recipe
Gnocchi.

Potato Pasta is a type of dumpling which comes from Italy. The dumplings are made out of potatoes, wheat, and eggs. They are super delicious but not so healthy as they contain high carbohydrates and are low in fiber and other nutritional factors. But enjoyed in moderation, there are no problems.

Spinach.

It is a rich in insoluble fiber green vegetable leaf. Spinach is also rich in vitamins A, K1, C, Folic, Iron, and Calcium. The green leaf is highly healthy, especially for oxidative stress, blood pressure, eye health, and cancer prevention.

Mushrooms.

They are a fantastic source of fiber, protein, and antioxidants. They are a super source to boost your immune system and fight inflammation.

Onion.

I use a yellow onion; red works as well. But if you leave the onion out of the recipe, it is not a must.

Blue cheese.

Italian Gorgonzola cheese for this recipe. It's the perfect type of blue cheese for this amazing creamy gnocchi recipe.

Heavy cream.

Combined with the blue cheese, it's creamy and flavorful.

Parsley.

A perfect herb for the creamy, cheesy sauce.

Italian Oregano.

This dish doesn't need much or any seasoning as the cheese and fresh ingredients already add so much flavor, but Italian Oregano is simply the cherry on top.

Thyme.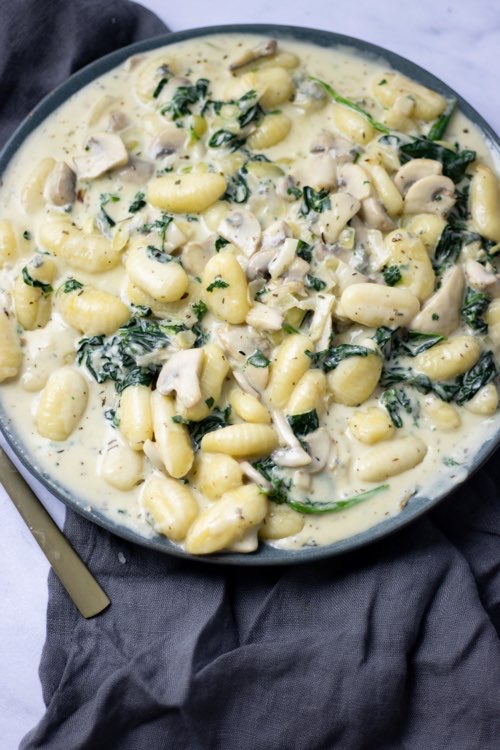 how to cook the fantastic gorgonzola spinach mushroom gnocchi recipe
Chop the onion and parsley.
Wash the spinach.
Cut the mushroom into slices.
Saute everything.
Add Gnocchis.
Add heavy cream and gorgonzola.
Serve
can I serve the sauce with something else?
Yes, of course! The sauce fits perfectly to all kinds of pasta. My favorite pasta for this sauce is definitely Spaghetti. Make sure to cook the sauce and the pasta separately.
How to store the gorgonzola sauce?
The sauce can be stored in the fridge for about five days.
The dish with gnocchis can be stored in the fridge for about three days. I recommend you test it before throwing it away.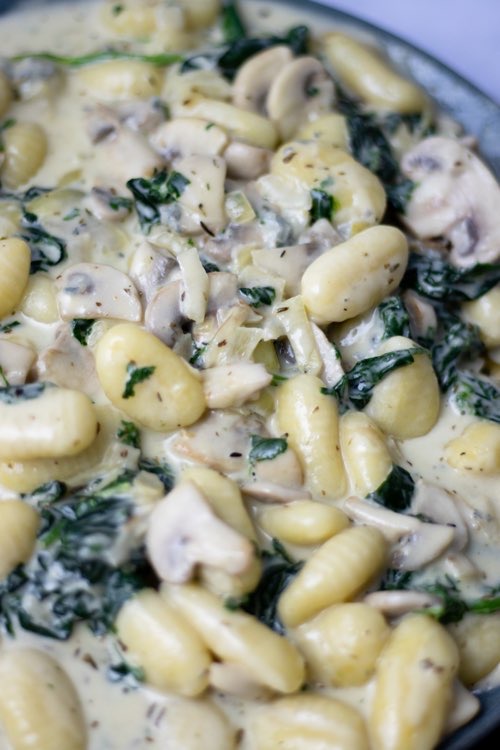 any tips?
If you don´t like onions, leave them out.
If you want to add meat, crispy bacon slices are perfect for this dish.
You don´t need to cook the Gnocchis in the sauce. You can cook them both separately.
You are free to make your own Gnocchis.
If you can´t have enough cheese, add Parmesan, its amazing.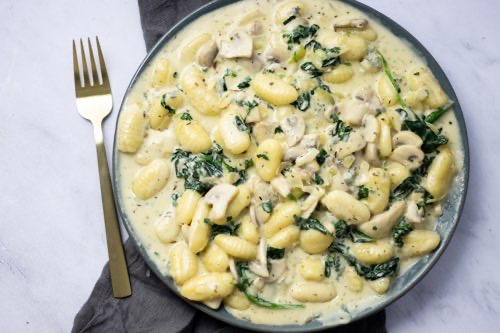 Preptime: 2min
Cooktime: 8min
Waittime:0
Totaltime:10min
---
Ingredients for the recipe:
| | |
| --- | --- |
| 600g | gnocchis |
| 100g | spinach |
| 1 | medium-sized onion |
| 200g | mushrooms |
| 200g | heavy cream |
| 150g | gorgonzola cheese |
| 2tbsp | olive oil |
| 0.33 | handful parsley |
| | salt |
| 1tsp | oregano |

Click to copy the ingredients as a list to your devices clipboard! Then for example you can paste to your notes app / shopping list!
Click on a list item to cross out what you already finished
Wash the parsley.

Peel and chop the onion and the parsley.

Wash the spinach in water by adding the spinach leaves to a bowl and adding water to it. Clean the leaves with your hands under the water and remove them from the water, and put them aside.

Wash the mushrooms and cut them into slices.

Add some olive oil to a pan and put it on the stove on medium-high heat.

Add the chopped onion and saute for 30 seconds.

Add the mushrooms and saute for 3 minutes. Stir it sometimes.

Add the spinach leaves slowly. This will take about 3 minutes.

Add the Gnocchis, heavy cream, and Gorgonzola cheese.

Set the heat to medium level.

Stir everything together until well combined (this will take about 3 minutes).

Add the chopped parsley, thyme, some salt, and Italian Oregano. Cook for 2 minutes.

ENJOY!