homemade fudgy brownies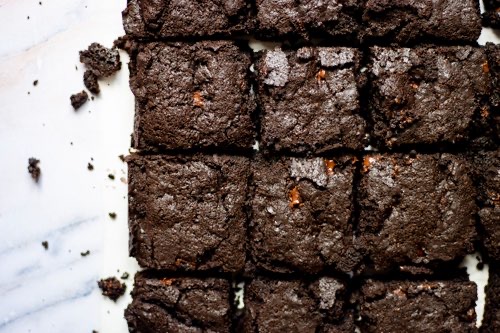 Jump to Recipe
The most simple homemade fudgy brownies for any occasion.
I think everyone should have at least one good brownies recipe. These super simple brownies will save your life if you need a last-minute bake. They are moist, sweet, fudgy, chunky and a super chocolate taste bomb.
The brownies are baked in 20 minutes and are so simple to make. You don't need any machine for this recipe. One bowl and a whisk, that's it.
ingredients for the homemade fudgy brownies
dark chocolate.

High quality 75-90% high-quality dark chocolate. We need the highest quality for the best outcome. High-quality dark chocolate has many health benefits. It is rich in nutrients such as fiber, iron, magnesium, copper, and manganese. It may reduce heart disease risk, May protect your skin from the sun, and could improve brain function. But don't forget, like any other food, especially those that contain sugar, it should be consumed in moderation.

cocoa powder.

is a super healthy ingredient, which can boost the immune system, thanks to its vitamins and minerals, such as iron, zinc, and selenium. It may reduce inflammation thanks to theobromine. You can read more about cocoa powder here.

eggs.

4 eggs are the perfect amount for the brownies.

flour.

You can choose between all-purpose flour and type 405. I love using type 405 for the brownies.

sugar.

Brown sugar for a caramelized taste.

butter.

One of the most important ingredients for this amazing baked dish. It makes the brownies moist.

cinnamon.

Just a sprinkle of cinnamon, because we don't want to taste the cinnamon. It will contribute to an amazing taste.

salt.

Just a pinch.

chocolate chunks.

Dark chocolate chunks. The motto of these brownies is chocolate over chocolate. They make the brownies perfect and over-the-top amazing.
how to store the chunky brownies
The brownies can be stored in a container for about 4 days out of the fridge.
In the fridge, they will last for about a week.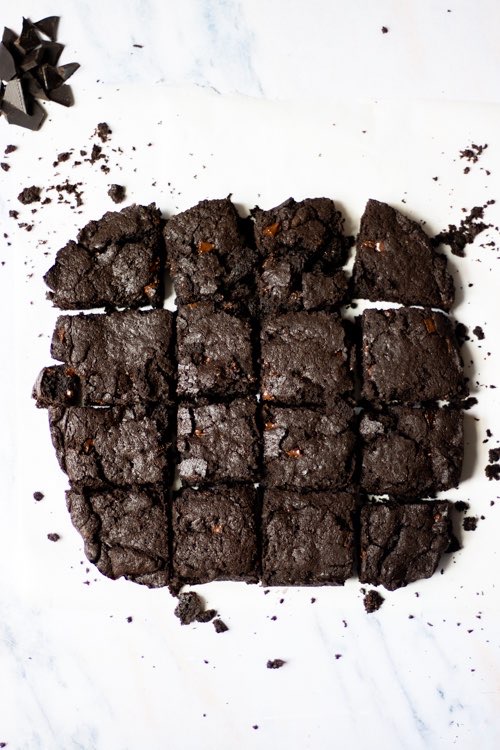 any tips?
Melt the butter and chocolate in the microwave together. You have to be careful. If you don't keep an eye on them, the chocolate can get burned easily. Put them in the microwave for 30 seconds. Remove the plate and stir the chocolate and butter. Put it again in the microwave for 30 seconds. Repeat until everything is liquid. If you burned a piece of chocolate, remove it and use the rest.
If you're storing the brownies in the fridge, I highly recommend warming them up before eating them, for example in the microwave. They taste warm the best.
If you want to bring the brownies to the next level eat them warm with vanilla ice cream.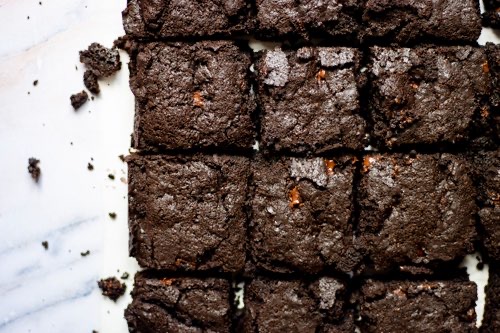 Preptime: 2min
Cooktime: 20min
Waittime:0
Totaltime:22min
---
Ingredients for the recipe:
| | |
| --- | --- |
| 4 | eggs |
| 280g | melted butter |
| 200g | (80-90%) dark chocolate |
| 100g | chocolate chunks |
| 200g | brown sugar |
| 260g | flour |
| | baking powder |
| 0.5tsp | cinnamon |
| 1tbsp | vanilla extract |
| 4tbsp | cocoa powder |

Click to copy the ingredients as a list to your devices clipboard! Then for example you can paste to your notes app / shopping list!
Click on a list item to cross out what you already finished
Preheat the oven to 170°C (350°F).

Grease a 25cm x 25cm pan with parchment paper and put it aside.

Melt the butter and dark chocolate in the microwave or above water bath, carefully.

Mix flour, cacao powder, a sprinkle of salt, and baking powder together and set them aside.

Add the eggs, melted butter, brown sugar, and vanilla extract to a bowl. Whisk everything together until well combined.

Add the flour mixture and chocolate chunks and whisk carefully until combined.

Pour the batter into the pan and bake for about 20-30 minutes. Test if they are done by inserting a knife in the center of the brownies.

Remove from the oven and let it cool off.

Cut it into cubes and they are ready to enjoy.

ENJOY!